The recent Drinks Innovation Summit featured a panel discussion about the possibility of a Rumolution after the Ginaissance we've been experiencing recently.
The panel was one of the most popular sessions of the summit seeing a discussion between Mauricio Vergara, Managing Director of Bacardi-Martini Australia, and David Smith, Managing Director of Diageo Australasia, moderated by CEO of Spirits and Cocktails Australia, Alec Wagstaff.
Bacardi-Martini and Diageo are parent companies to some of the most popular gin and rum brands in Australia, including Bombay Sapphire, Tanqueray, Bacardi and Bundaberg. With such experience in both high performing light and dark spirits, Vergara and Smith certainly qualify as experts on the panel's topic.
The session opened with a dialogue about the state of the spirits category in general for Australia right now.
"Spirits are flying, absolutely flying," said Smith. "I've been in spirits and around spirits for a long time and this is the most vibrant I've ever seen it."
Vergara, who has lots of recent experience in overseas spirits markets, said the drivers of this popularity in Australia are comparable to global drivers.
"Australia is not that dissimilar to what is happening globally. I would say Australia is at the forefront of many of these trends," said Vergara.
"Big trends are in premiumisation. So you see not only in the US but also across Europe, pretty much every single spirit category has premiumised. Consumers are making those trends globally, they're drinking less but better and making more important choices."
We've already seen that premiumisation is a driver of the Ginaissance, with premium gin brands like Bombay and Tanqueray diversifying their offering with new product variations and RTDs. But despite this growth, gin still makes up a relatively small share of the total spirits category, as Smith said.
"Is it all about gin? No, gin is at the forefront, 30 per cent growth in the gin category and its worth about seven per cent of all bottled spirits now in Australia," Smith said.
The latest Australian Bureau of Statistics (ABS) data showing the spirits category in Australia grew by 9.5 per cent from the previous year, the highest growth category in the liquor industry. Lots of different spirits contributed to this growth, dark and light.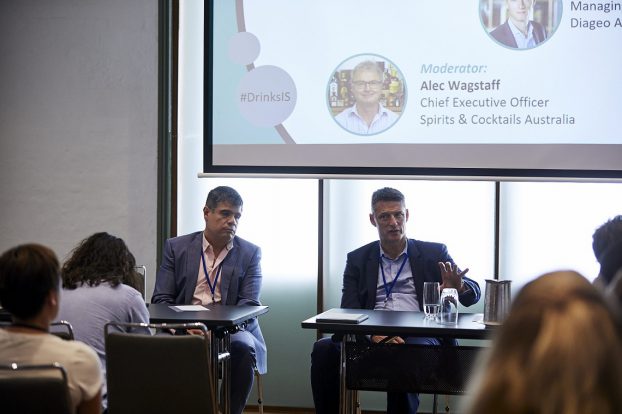 Enter the concept of the Rumolution, a prediction that rum will be the next boom category whose growth overtakes the gin powerhouse.
Vergara said that he sees rum as a huge potential category, should there be more development in its premium and super premium sphere.
"Maybe not as fast as gin, but if I'd say another big category that will continue to grow, especially with premiumisation, I'd say rum," Vergara said.
"If you look at rum and you think about the category, it really has all the elements for a brand or category to premiumise; it has heritage, it has craftsmanship, you can talk about provenance, aging; so it has all the components. So you see different brands are trying to develop that category."
Diageo's Bundaberg is one of those brands developing the premium side of the rum category. Smith said their premium range has been performing well, but is still being outshone growth-wise by other categories in their portfolio.
"The [Bundaberg] brand is in a little bit of growth, which is good. One of the areas that is growing faster is the premium range and they've certainly done very well awards wise," Smith said. "While they do sell and warrant the space on the shelf, it's not the thing that's driving most of the growth in our business."
So what's holding back the full potential of the Rumolution? Vergara said there is a complex challenge surrounding the governance of what rum is, impacting consumers and their engagement with the category.
"I think, different to scotch for example, rum hasn't really set clear codes, in terms of internationally, and that has actually confused the consumer," Vergara said.
"The industry in general has to do a better job of setting the codes of what rum actually is and be clear on that to the consumer. That's one of the biggest barriers for rum… because of that, there hasn't been a clear way for consumers to navigate rum and that's why it's going to take longer because there's a lot of education that has to happen."
While rum brands like Bacardi and Bundaberg continue to work on consumer education in both the on- and off-premise, and while international governments agree on global standards, there may be room for another category to take the lead in spirits growth for Australia.
Get ready to tackle a tequila takeover. As Vergara explains: "I see it starting to gain momentum in Australia… tequila could be one of the next big things that really explodes."