By Vanessa Cavasinni, editor Australian Hotelier
The 2017 Australian Liquor Industry Awards (ALIA) were held in Sydney last night with around 600 people in attendance.
The theme of night was Heroes and Villains, and the ballroom at Royal Randwick racecourse and the attendees got very much into the theme. Highlights in attire included a Black Widow, Buzz Aldrin and a group of Ghostbusters.
The night was a celebratory one, with both the off- and on-premise components of the industry recognised for its achievements. The eastern seaboard dominated the winners of the hotel awards, with the likes of Sydney's The Lansdowne winning Best Renovation, and Melbourne's The Local Taphouse taking out Best Beer List. Solotel's The Sheaf was a double winner on the night, being named Best Sports Venue and Best Gaming Venue.
The night was just beginning for Merivale when it took out Best New Bar for Charlie Parker's. The Sydney group also took out two of the major awards, with Hotel of the Year for The Newport and Hotel Group Operator of the Year. Ten Merivale representatives got up on stage to accept this awards, with one representative of the group stating: "There are some amazing hotel operator groups in this country and it's a real honour to win this. Thank you ALIA, and thank you to the industry."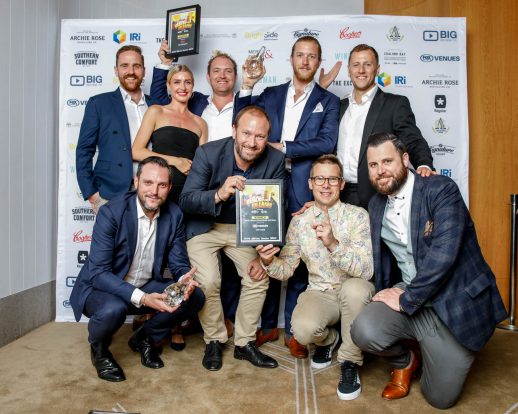 In a first for ALIA, the panel of more than 70 judges awarded Publican of the Year to two worthy recipients in a tightly contested field. Alex Farquhar, of The Caxton in Brisbane, and Alistair Flower of the Settlers Tavern in Port Macquarie, shared the honour.
"It was a wonderful surprise and acknowledgement from peers and industry, especially with the calibre of the finalists in the category representing some great pubs and teams," said Flower.
Speaking this morning, Farquhar was still surprised by the win.
"The award last night was totally unexpected and very humbling. I'm still pinching myself this morning, it feels so surreal. It's such a massive honour and one that will help me continue improving myself as a publican in this fantastic industry of ours."
The last major award of the night, On-Premise Supplier of the Year, was awarded to Lion. Doug May, trade relations manager, was ecstatic with the win, stating he was very proud of the team.
"It's a great award to win. We're passionate about our people, our culture and our brands."
Winners list
The full list of winners of the hotel awards are as follows:
Best Venue Renovation – The Lansdowne
Best Sports Venue – The Sheaf
Best Gaming Venue – The Sheaf
Best Food Menu – The Dolphin
Best Hotel Accommodation – Watsons Bay Boutique Hotel
Best Draught Product – Stone & Wood Pacific Ale
Best On-Premise Spirit/Liqueur – Four Pillars Gin
Best Mixer – Fever-Tree
Best Beer List – The Local Taphouse, St Kilda
Publican of the Year – Alex Farquhar, The Caxton and Alistair Flower, Settlers Inn
Hotel of the Year – The Newport
Hotel Group Operator of the Year – Merivale
New Product of the Year – Bundaberg Lazy Bear
Liquor Brand of the Year – Aperol
On-Premise Supplier of the Year – Lion