The 2022 AHA-Aon Hospitality Awards for Excellence were held in Perth this week, celebrating Western Australia's hospitality industry.
Hosted at Crown Perth, 1200 guests vied for multiple awards that honoured the best that pub, hotels, bars and restaurants have to offer in the state.
AHA(WA) CEO Bradley Woods said the awards provided an important opportunity to celebrate the extraordinary hospitality offering found across Perth and regional WA.
"This is the first time in three years we can celebrate WA's hospitality venues and their dedicated staff, with the pandemic firmly in the rear-view mirror.
"We are now in an envious position where WA's hospitality industry has not just survived the pandemic, it is a strong position and with a number of new, high-quality venues," stated Woods.
One of those new venues to win big was The Beaufort, operated by Nokturnl. The six-month old venue received the top gong of Perth's Best Hospitality Venue, as well as the Lion Bar Presentation and Service Award, New Venue, and shared the Restaurant award for its Lotus offering. Nokturnl's other venue, The Old Synagogue, also picked up a personnel award, with Ginger & Tonic restaurant manager Jenny Purdy being honoured with the Excellence in Service Award.
"We were humbled to be alongside so many great venues and operators at this year's AHA awards. It's a great honour to have The Beaufort recognised as WA's Best Venue, Lotus awarded Best Restaurant as well as taking out the New Venue Award and Lion Bar Presentation and Service Award. We have a team of 200 passionate, hard-working people who are the heartbeat of The Beaufort and these awards mean so much to them," Nokturnl director Ross Drennan told Australian Hotelier.
"A special mention must also go to our Head Chef Sundoo Kim for his amazing abilities and also being a finalist in the Head Chef category on the night. Sundoo joined us from the Lucas Group in Melbourne who are behind the famous Chin Chin restaurant in Flinders Lane. Sundoo and his family escaped Melbourne's lockdown last year and spent two weeks in quarantine before getting stuck in to planning the opening of Lotus. He's built an incredibly strong team that continues to deliver day in and day out."
"Our sister venue, The Old Synagogue was also a finalist in several categories, going head to head with The Beaufort and Lotus. We were over the moon for our Restaurant Manager at Tonic & Ginger, Jenny Purdy, being awarded the Excellence in Service Award for her outstanding contribution in making our restaurant what it is. Having taken out Australia's Best Restaurant at the 2021 National AHA Awards for Excellence, Tonic & Ginger has achieved so much with Jenny at the helm," added Drennan.
"Congratulations to all the other award winners on the evening. The hospitality industry in WA is going from strength to strength with so much talent pushing boundaries and delivering great venues for us all to enjoy."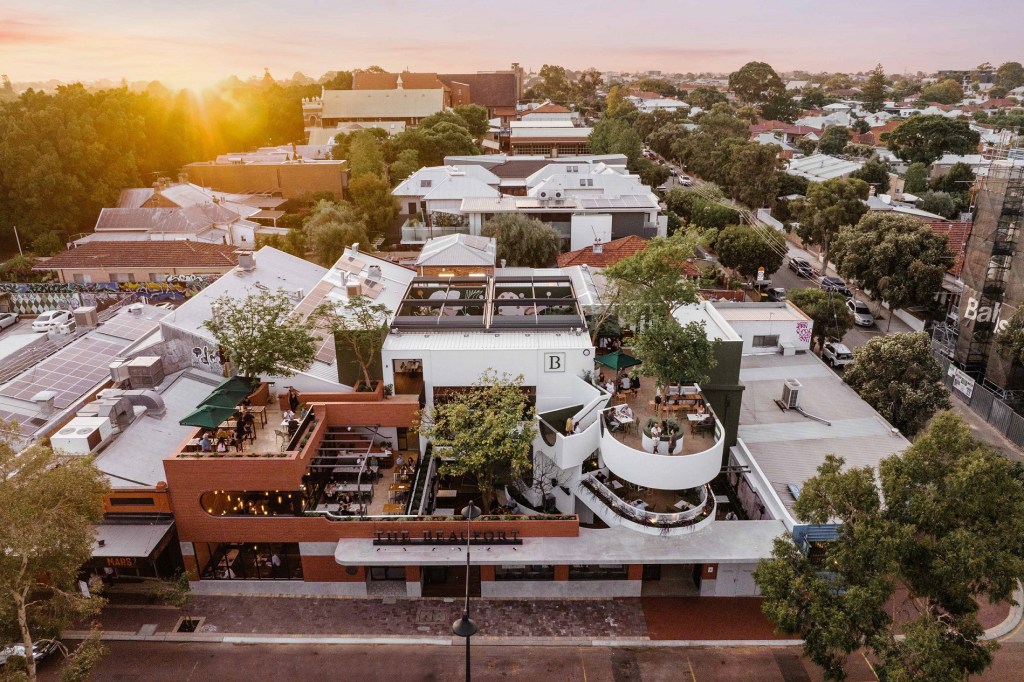 Back-to-back wins
Another big winner on the night was Treendale Farm Hotel in Australind by LocalsCo. The pub took out WA's Best Regional Hospitality Venue for the second year in a row – a very rare feat indeed. It also won Best Retail Bottleshop and the Family Dining Award (an award it also won last year, and at the AHA National level).
"We won very similar awards last year, so we've gone back-to-back in best of Best Regional Venue, which I don't believe happens very often. We're pretty thrilled and honoured about that aspect of it in particular," stated Locals Co director Dave Allan.
"It's great recognition. We've built the venue from the ground up, so a lot of thought has gone into the offering and what would appeal to the local community. The fact that it's been recognised so highly two years in a row is a testament to the great team of people that have worked on and in Treendale Farm Hotel, to execute our vision of making it a real destination venue."
On the night AHA WA CEO Woods commended the industry's workers, noting that 105,000 people worked in the state's hospitality sector, up almost 10 per cent on pre-pandemic levels.
"As a service sector, WA's hospitality industry is heavily reliant on the dedication of the extraordinary staff that drive the success of venues across the state. [The] awards provided an opportunity to commend those who constantly pursue hospitality excellence."