The shutdown of the on-premise industry has had a huge impact on pubs, both the business, but also on the social outlet and connectivity they help provide to communities. 
Pubs are at the heart of most small towns. We're now in the third week of them being closed, and closed with them is a central part of the community for many regulars and staff alike. 
This is currently the case at Canungra Hotel in Queensland, where staff Jess Bartlett and Angela Graham came up with a unique way to show their regular customers they were missed. 
The hotel is still operating a bottle shop with a takeaway food service, so Bartlett and Graham still get to see many regulars for brief moments. Through these interactions, the pair took photos of the suspicious customers, not revealing their plan until they posted the finished product – a video on the Canungra Hotel Facebook page. 
In the video, the headshots of the regulars are sat at the bar with beers, as a headshot of Graham goes around and interacts with them. Posted with the video was a caption that said: "It's just not the same without you guys and can't wait to have you all back. Hopefully sooner rather than later."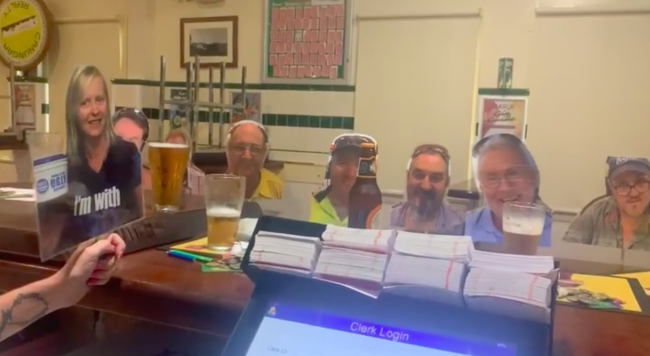 Bartlett told Australian Hotelier how they came up with the idea and said: "We were thinking of ways we could pay tribute to our locals, because it's such a small town and everyone knows everyone."
"The same group of guys is at the end of that bar every day, always punting, always having a laugh with us."
The video has now blown up with thousands of views, especially after it was picked up by the local news. The pub's general manager, Simon Walsh, who Bartlett said wasn't sure about the idea at first, also came to love it once he saw the finished product. 
"He loved it, he was actually supposed to help us one Saturday, but then thought oh I don't know… but once he'd seen it he thought it was great," Bartlett said.
Bartlett and Graham weren't prepared for the widespread reaction they got, they were just happy that the regulars featured in the video enjoyed it, especially as they don't get to see each other that often right now.
"We see most of them, but a few we haven't seen as much which is quite sad. Especially me and Ange, we've grown up in this town and a lot of the older guys, they've known us since we were kids," Bartlett said.
The town of Canungra has a population of less than 2,000, according to data from the last census, making community connectivity a key factor for people in the area. At the Canungra Hotel, they recognised how important this is and wanted to help maintain it in a time when we're not physically allowed to connect. 
Bartlett said: "We're absolutely connected, we're all about community here in Canungra. Just looking after our locals, having a chat with them – they're always welcome to ring up and have a chat… we just want to look after them any way possible."
The Canungra Hotel is a great example of pubs lifting the spirits of their local community, and recognising that throughout the pandemic, we really are #StrongerTogether.