In one of the most long-awaited projects from Merivale, the middle floor of Coogee Pavilion was opened to the public on Friday. Its offering comprises a restaurant, cocktail bar and wine and tapas bar.
Six years in the making, Merivale unveiled the middle floor of the Coogee Pavilion over the weekend, which hosts three separate but complementary concepts, all overseen by executive chef Jordan Toft. The restaurant, mimi's; cocktail bar, will's; and wine and tapas bar, Una Más, will all have a relaxed Mediterranean-Australian influence.
"I was inspired by the generosity of regional dining around the Med – those moments when your heart rate slows down, you're completely at ease and filled with gratitude for life's simple pleasures", stated Toft.
"What you order from the menu is exactly what you see on the plate".
The restaurant, mimi's, will focus on simple yet elegant fare and is designed to be shared. Dishes include 'roasted spanner crab, preserved lemon mayo, chives, soft tin loaf' and 'grilled pork collar, wild honey, rosemary, roasting juices and peach mustard'. Guests can also opt for the 'mimi's Selects' menu, curated by Toft.
Drinks with a European leaning dominate the menu at will's, which has been overseen by Ben Wainwright (Bert's, Charlie Parker's) and Luke Ashton (This Must Be The Place). The drinks list includes the likes of 'The High Tide', which features yellow peach, limoncello, rinomato, Beefeater, and prosecco, while the 'L'Americano' has plum shrub, Select aperitivo, Campari, mandarino and soda.
Una Más is the level's most casual concept, offering bites and drinks that are designed for a quick snack or a more leisurely experience. The tapas include 'anchovies, butter, radish and salata' and 'scarlet prawns, garlic and chilli'. The drinks list is centred on sherry, vermouth and Madeira, and is complemented by a short wine list.
The concepts once more pay homage to the parents of CEO Justin Hemmes, as Mimi is the nickname of his mother Merivale Hemmes, while will's makes reference to his father, John Hemmes, whose given name was William.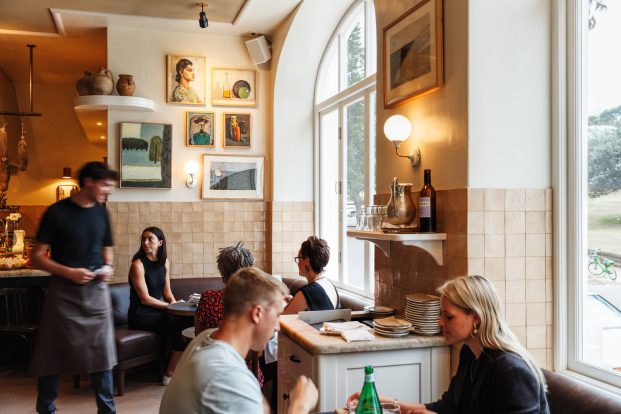 Images: Steven Woodburn