Hotel Delany in Newcastle has become the first venue in the world to introduce temperature checking sign-in technology that uses artificial intelligence (AI). 
The device is called CoolGard and it uses facial recognition to scan incoming patrons to the venue, checking their temperature and recording their details for the contact register. It learns the face of regular customers, making it even quicker and easier for them to be checked and sign in each time they enter. 
Licensee Joshua Redman, explained to Australian Hotelier that it was essentially like other temperature checking and contact tracing techniques, but with the added technology of remembering people to make the whole process simpler. It joins the venue's raft of other risk-minimising techniques that form their COVID-Safe plan.
"The main reason behind it is to get that added layer of safety for our patrons, to know that everyone coming inside was relatively healthy with their temperature not going over 37.5 degrees," Redman said. 
"AI is the extra level of technology they've put in there. So when you enter the venue, instead of taking a photo and filling out your details every single time, for our regulars it starts to learn your face like any sort of iPhone. You just come up to it, and it will suggest someone that it thinks you are. If it is you, just say yes and it's already got your details so you walk straight through after it takes your temperature. If it's not you, you just press no and then it learns from there."
"It's speeding up the process of signing in and trying to get back to normal of being able to go straight to the bar as you walk through the door."
The device looks like a tablet with a camera bar at the top, sitting on a stand at the entrance to the venue. For patrons that are unfamiliar with the device, it's also easy for staff to step in and assist and removes the need for extra staff facilitated equipment like handheld temperature guns. Staff simply direct patrons to stand in front of the screen to take a photo and then fill out their details.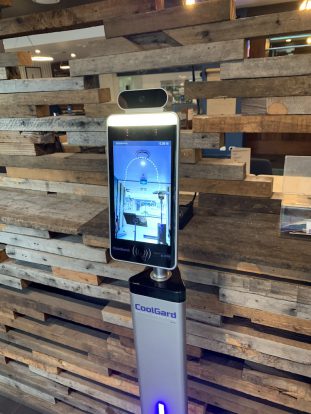 So far it's been going well for Hotel Delany, part of the Marvan Hotels group, with patrons in-venue reacting and adapting well to the new technology. That's also led to Marvan Hotels implementing it at other venues in the group. 
Redman said while there were some concerned people on social media, the points they raised were only related to the fact they had to sign in at venues at all. He said: "We've had little kickback from the conspiracy theory on social media that it collects too much data and stuff like that, but no one's come into the pub and said 'no I don't want to be a part of that.' So it's been going very well.
"There were those initial people not willing to hand over their information, but that happened in the first week when everyone had to sign in to any licensed venue. I think those people are just not going out anymore."
In terms of privacy concerns about what happens to recorded data, Redman said that the information is only held for the required 29 days and is always secure. That means the technology won't remember a patron if they return to the pub after a period of 30 days or longer, and they'd need to sign in from scratch again. 
"In terms of the difference between other venues still letting people sign in, those venues have security footage so you are registered with a facial picture at those venues – it's just that the two data sources aren't on the same computer [at other venues]," Redman said.
As well as positive reception from patrons, the hotel has fielded enquiries from other pubs about using the technology, especially in the local area and regional locations. Pulse, the Australian company behind CoolGard, has been receiving the same kind of interest from the industry.
Ash Bosworth, Managing Director of Pulse which is based in the Hunter region, said: "We had been planning to launch CoolGard in Sydney, but then we heard news about a person with COVID-19 doing the rounds of some Newcastle venues which put our community at risk. This local scare brought our attention closer to home."
With AI adding great results to the Hotel Delany's COVID-Safe plan, Redman said they've also been looking into how it can help improve security at the venue. 
"We're currently working on a way that we can ban people, which will really help on a Friday and Saturday night trade with our security team. It's just a matter of programming it, because it has the ability to have ID scanners attached too," Redman said.