Three years in the making, this new six-in-one venue from Parras Hospitality aims to offer the complete entertainment package for all.
Following hot on the heels of Arthur Laundy's Marsden Brewhouse opening, the Ambarvale Hotel in Campbelltown, NSW shines a light on one vision of the future for the great Australian pub.
Sydney's southwest represents a sprawling suburbia where entertainment options are limited, suggests Paul Kelly, designer of (Colin) Parras Hospitality's Ambarvale Hotel.
Three years of planning negotiations and construction have resulted in the renovated Ambarvale Hotel being unveiled this week.
Parras said the multi-faceted venue was something that they could really be proud of delivering to the Ambarvale community.
"With multiple bar personalities within one space, this is the first venue of its kind in Southwest Sydney. It's one-stop, whether it be for the freshest beer brewed right in front of you, a steak prepared on the charcoal grill or a cocktail in The Greenhouse, this venue is brimming with theatre, local produce and entertainment for people from all walks of life," he said.
Visit the Australian Hotelier Facebook page to see more photos of the newly re-opened Ambarvale Hotel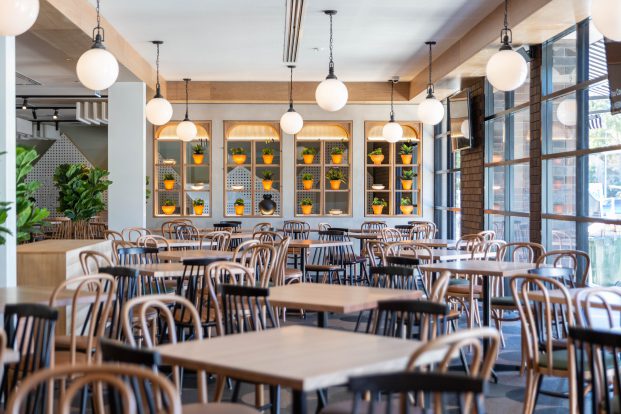 The 'super-pub' is arguably an entire entertainment precinct to itself, featuring a micro-brewery (Ambarvale Brewing Co.), a lush garden-style atrium (The Greenhouse), a kids' play area, modern bistro and grill, sports bar and VIP lounge. Each has its own design aesthetic and identity.
All of which aim to combine to attract all demographics, all times of the day and part of the night. There are smoking and smoke-free areas, a daytime-focused cafe and the expectation is that patrons will move between the spaces within the same visit, but also return to experience different elements on different days.
The craft brewery Ambarvale Brewing Company aims to produce 68,000 litres of beer each year and to become a community hub for tasting, learning and experimentation. The operator is promising a full spectrum of flavour profiles from pale ales to limited release sours brimming with intense fruit flavours and indulgent chocolate stouts.
The brewery's large stainless steel fermentation tanks are in full view at the rear of the main bar where patrons can watch the brewing process in action.
The Greenhouse seeks to offer a garden oasis featuring potted plants and a custom tile mosaic floor.
Industrial bar meets modern farmhouse with the Brewery Bar and the dining space. The open kitchen is on display to patrons while featuring a central wood-fired oven and imported Josper charcoal grill and rotisserie. Fire and smoke has been a big focus for the menu, as has sharing plates, though the menu also features the pub classics, burgers and pizzas.
Look out for complete Design & Build feature on the Ambarvale Hotel in June's Australian Hotelier magazine, featuring interviews with owner Colin Parras and designer Paul Kelly.