Brisbane-based development firm KTQ group has announced its plans for the first stage of the Kirra Point Precinct, which will see the launch of two hospitality venues ahead of summer at the Southern Gold Coast destination.
Designed in partnership with architect Mark Damant from Little Boat Projects, the Kirra Point Precinct aims to preserve the integrity of Kirra's coastal lifestyle and rich character, while transforming the environment into a destination for the local community and visitors.
Set to launch in November is the Kirra Beach Hotel and Kirra Beach House, both located directly opposite the beach, alongside the already sold-out Miles residential tower.
On Monday 27 November, the Kirra Beach Hotel will open its doors as a redevelopment of the demolished pub, which has been a community landmark since 1956. The fresh reinvention of the pub holds the ground floor, corner position on Marine Parade and Mile Street, featuring a classic bistro, public bar, sports bar with large screens, large beer garden and a boutique bottle shop.
Greg Hodge, who was the publican and licensee at the Kirra Beach Hotel for eight years prior to its demolition, spoke of his excitement to be involved in the venue's reopening.
"The pub has been here for seventy-odd years, the local community already knows and loves it, and the core values haven't changed.
"We want the Kirra Beach Hotel to be more than just a pub for our guests and a place where anyone is welcome. It's a second home, a place where you can relax and be on a first name basis with our staff, a place where you can pop in after a surf and grab a bite to eat, and perch up with a beer in hand and watch the waves roll in.
"Kirra and the Kirra Beach Hotel have always been very community driven and we will keep that going, supporting local groups like the Surf Lifesaving Club and various charity fundraisers. The pub should and will always remain a hub."
Available at the family-friendly bistro will be a revamped menu featuring Australian pub classics, such as schnitzels and fish and chips, alongside lighter bites and share plates. Focusing on local brewers and distillers such as Balter, Burleigh Brewing and Brookies Gin, the venue will offer a diverse drink menu from beers to spirits.
Also opening mid-November at the Kirra Point Precinct is the Kirra Beach House, sitting directly above the Kirra Beach Hotel and offering a 1200sqm beachfront dining, drinking and event destination.
The development of the new venue was conceptualised by hospitality entrepreneur Dave Galvin of SITE Hospitality, with a coastal design style that is complemented by unobstructed views of the ocean. Kirra Beach House comprises a wraparound terrace, three bars, and high-end event spaces, with a variety of seating options including three 20-person beach-style cabanas available for groups.
"The Southern Gold Coast has been crying out for a venue like this but it was important for us to ensure it embodied the Kirra lifestyle," said Galvin. "We wanted to create something that was elevated yet approachable and effortless, evoking the idyllic feeling of a relaxed beachside oasis. An environment where you can feel like you are worlds away yet it's still convenient.
"It will have a beach club atmosphere about it, with great music, mesmerising panoramic views of Kirra, Mediterranean-style food using the incredible local produce we have on our doorstep, a world-class drinks list and, of course, great service."
With a Mediterranean-style food offering inspired by the coastal location, executive chef Sebbie Kenyon has designed a grazing menu that includes raw and cooked seafood platters, flatbreads and pizzas cooked in the wood fire clay oven, as well as steaks and burgers, all paired with a strong wine and cocktail list.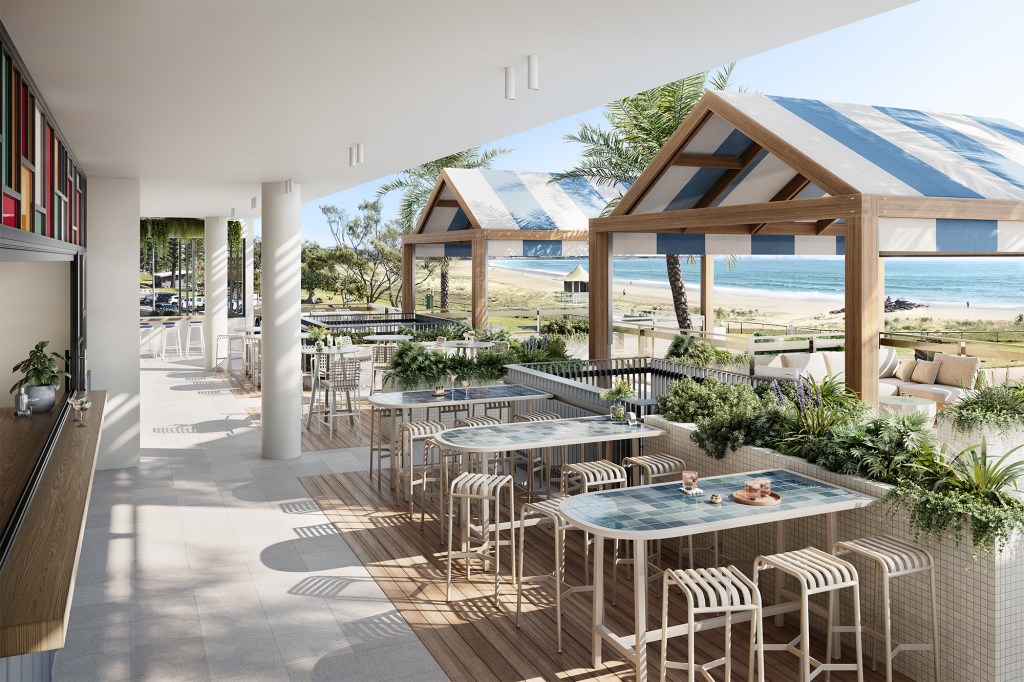 KTQ owner Peggy Flannery, who was worked on the visionary project for 11 years, spoke about the lifestyle precinct, which has been designed to serve the local community and attract new visitors to the area.
"We have taken great pride and care in designing a precinct that will have a warm and welcoming seaside village atmosphere that will enrich the community long term and help it to thrive, creating a way of life that welcomes everyone to be a part of it and a space that creates lasting moments that stay with you forever."
The second stage of development will see a second residential tower, a boutique hotel and a carefully curated laneway retail precinct.