This is your last chance to get tickets for the Restaurant Leaders Summit, to be held on Monday 30 July at the Park Hyatt Hotel in Melbourne.
It's the first time the Summit has been hosted in Melbourne and is a must-attend event for all those operating or managing hospitality venues within Australia.
Organised and hosted by TheShout's sister title Hospitality magazine, the one-day conference and mini-expo features a packed program of presentations from speakers such as Frank Camorra of Movida, Michael Madrusan of The Everleigh, Chris Lucas of The Lucas Group and Luke Whearty of Singapore's Operation Dagger.
Sessions, which include discussions on supercharging your alcohol sales, diversification and using pricing to boost profitability, are designed to offer practical advice and takeaways so delegates can take their venues to the next level.
You can see the full program below: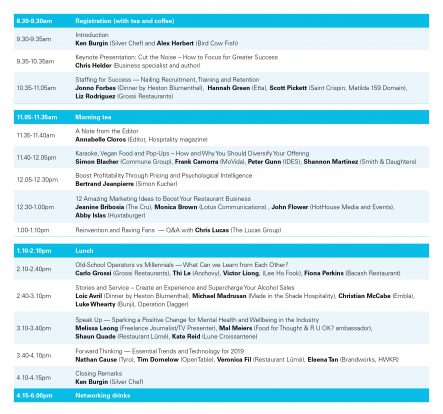 Tickets are priced at $349 ex-GST for venue operators and staff. The full-day conference includes lunch and post-event drinks, allowing plenty of time for networking with peers.
Last year's conference drew around 300 delegates from across the hospitality sector and was a great success.
Attendee Trudi Yip of Numeric Eight labelled it "a fabulous forum for people in the industry" while Jason Jelicich of Momento Hospitality described the "awesome networking and heaps of actionable takeaways" at the event.
He added: "if you attend only one hospitality conference a year, make it Restaurant Leaders Summit!"