One week out from the AFL season opener and a year on from opening, we talk to Tim McLernon of the Three Pound Group, which launched Australia's biggest pub, The Camfield, slap-bang next to Perth's Optus Stadium. 
Tim McLernon, General Manager of the Three Pound Group says: "From a group point of view, which is The Stables, The Reveley at Elizabeth Quay, The Camfield and Kartel, a month-long pop-up bar, what's gone well for us was opening The Camfield in February 2018, right next to the new Optus Stadium.
"That's been a massive positive. Opening a new venue of that sort of size can be a real challenge, from a staffing point of view to just dealing with that amount of people."
The Camfield
"Everything has gone pretty much how we thought it would. Obviously in the weeks building up to it you wonder 'what the hell have I done here?' but that's been a massive positive. We've successfully opened a very large venue with a big capacity that has 45 days a year where we're at capacity from 12pm to 12am.
"We've got everything right – the staffing levels and being able to deal with game days. Even our back of house, which is probably the most important part in these big venues, you've got to have the right capacity to hold the stock and have managers able to marshal the troops.
"The Camfield was a four-year project. We identified and trained up a number of individuals from our other venues we'd earmarked to come to The Camfield as managers or to replace managers leaving our other venues. We really needed to bring our A-team here. We had to draw all of our best guys who I know aren't going to throw the towel in at 6pm on a Sunday when there are 3,000 people here 'because it's a bit too much'."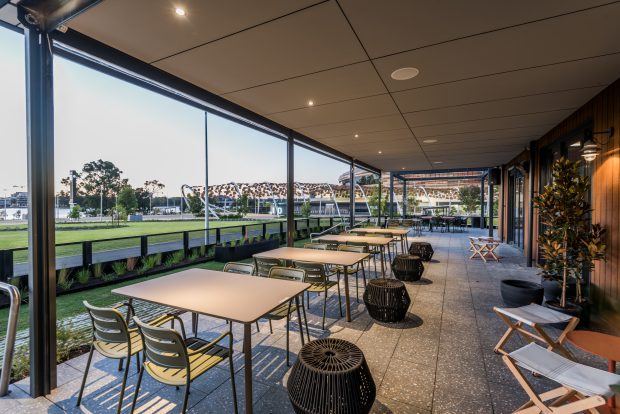 Hand on the tiller
"I've always liked being in my venues and knowing everyone and everything that's going on but once you get over three venues you're just not able to do that as much. That's why you need people you know and trust in those venues who've got your back. All of my managers have been with us for at least five years. You feel guilty that you're not there as much as before, but it's physically impossible."
The state of WA
The market has been flat here for probably two or three years. Everyone knows WA has come off a big boom. In the CBD it feels like there's still a 15-20% vacancy rate, so 10% fewer people in the CBD, with 20% less money to spend. Instead of there being 200 venues, there's now 400, so the money just doesn't go that far. One of the big challenges has been a proliferation of venues across Perth, because there's certainly been an explosion. Yes the economy is still flat, most houses in Perth are worth less than they were five years ago and that's one of the biggest issues. It's a mental thing that means [customers] aren't going to spend that money. Until house prices start moving here, people are keeping their money in their wallets.
Colossal competition
There's been alot of discounting in the market, you see it with $3.50 pints, 2-for-1 meal offers and more happy hours. People are definitely competing for that dollar. We haven't done too much of that because I think once you start doing 2-for-1 meal offers, it's hard to come back from that. I don't think the $3.50 'pint wars' in the CBD have worked either, it's not sustainable. What competition does is make you get your house in order, make sure you're offering a great product, really good service and your venues are in top notch condition.
Like anything, the market will turn eventually and better times will come. We're not just sitting around waiting for it, we're running events, degustation events, generating ideas to try to push that revenue back where we want it to be. It's about being creative and coming up with your own activities that are of interest to people to get them in and keep the revenue up.
Tim McLernon, GM of The Camfield's owner, Three Pound Group, will be speaking at Australian Hotelier's Pub Leaders Summit in Melbourne in May. To find out more, visit: www.publeaders.com.au.