Large scale Redcliffe venue, the Belvedere Hotel, has closed some of its dining areas ahead of a major renovation and expansion, to be unveiled in August 2023.
Lewis Land Group's Queensland regional manager Chris Allison spoke to Australian Hotelier about what motivated this decision, and how it will support local recruitment.
There can be little doubt that the Belvedere Hotel is a flagship venue for Lewis Land Group (LLG), as Allison explains: "The Belv is one of Queensland's busiest, strongest core F&B operations – it's a very well-rounded business."
With this popularity in mind, it might come as a surprise that LLG have made the decision to close parts of the venue until the new year, but Allison says the chance is there to enhance the hotel's offer.
"We're very fortunate that we are in a position where core trade has been so strong for a number of years now, that the opportunity to renovate and improve the property and basically find extra seating and new revenue streams."
Two new bars will be added to the venue, including a lounge and bar area on the first floor, that will feature 180-degree views of the ocean.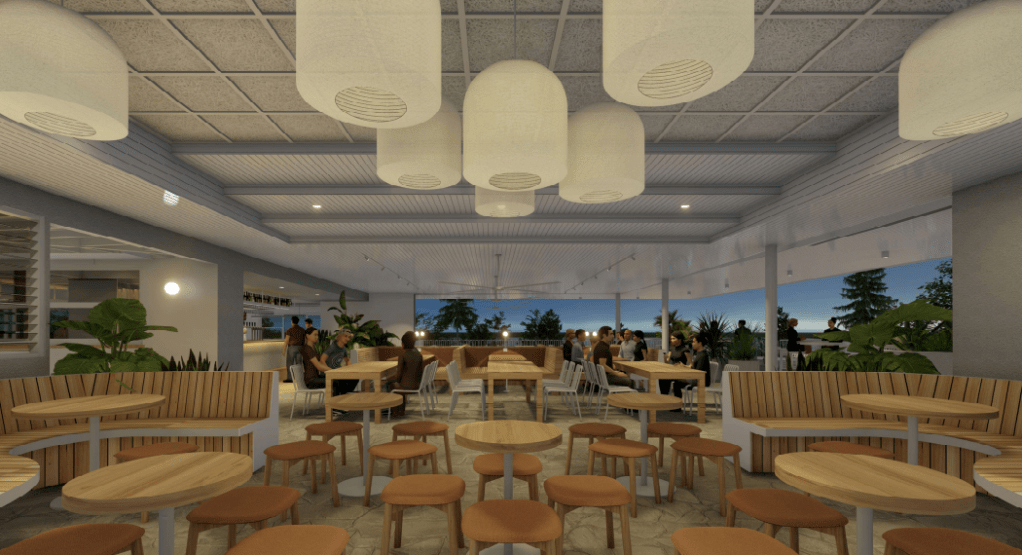 In particular, Allison wants to showcase a feature of the Belvedere that he believes is almost unique on the Eastern Seaboard: the sunset.
"The big jewel in the crown will be the new upstairs bar," Allison says.
"If you're familiar with the Belvedere, it's got one of the best pub views in Australia, out to the west, as Bramble Bay wraps around, it's one of only a couple of places on the Eastern Seaboard where the sun actually sets into the water."
"So, getting up to level one will allow us to get above some power lines and some car parks and things that obstruct the view, and you'll pretty much 180 degree views around Moreton Bay, the Great Dividing Range and the [Brisbane] CBD."
The rejuvenated hotel will also contain a new café, sports bar and gaming area, and the addition of between 300 to 350 seats. The Belvedere's Pavilion Bar and Bistro will remain open for consumers while works take place.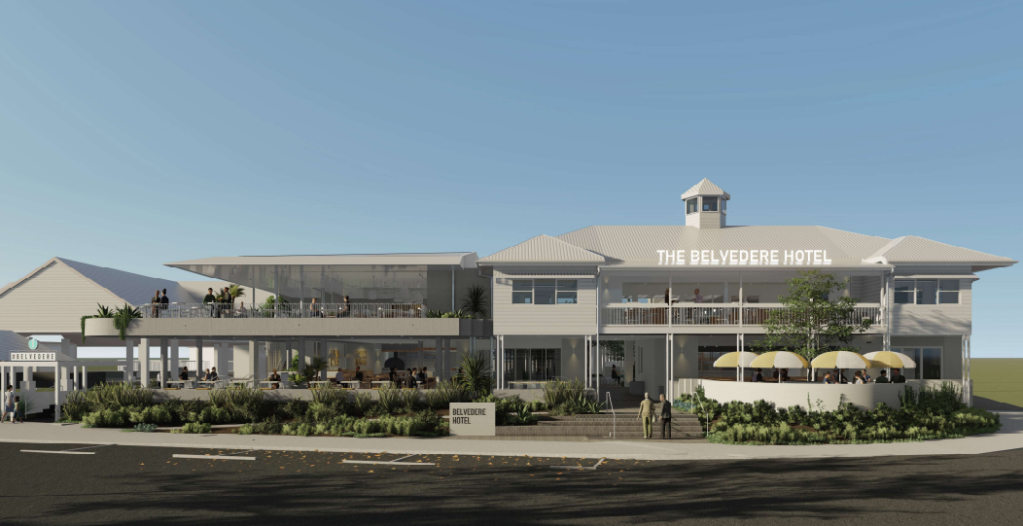 Design of the venue's new spaces has been developed in partnership with Brisbane-based firm, KP Architects.
"We've done a number of projects with them – the Belvedere's 2016 refurbishment of the Pavilion area was KP, and we did the Fiddler, the Camden Valley in and more recently, we acquired the Komo at Redcliffe in late 2020, and we did the project there with Kon [Panagopoulos, director of KP Architects] and the team."
The nearby Komo opened its doors in April, following LLG's $3m refurbishment, in partnership with KP Architects.
Recruitment to support Redcliffe renovations
Alongside adding additional revenue streams and new spaces to the hotel itself, Allison is hopeful that the new-look Belvedere can provide a sizeable number of jobs to the region, with a released statement saying 150 roles will be added.
"At the moment the Belvedere is down to about 100 staff, or thereabouts," Allison says.
"Our normal level there is around 200, so really, part of [the hiring drive] is replacing those jobs from the public bar gaming room, the middle bar, and the cafe, but also the upstairs area as well."
Ultimately, the jobs will supported by "the addition of the new zones and replacing of old roles, and just general strengthening of the core offer again," Allison explains.
"Plus we've added a new bottle shop as well, so we've got three retail sites – it's been a number of factors that lead us to confidence that we'll need another 150 staff next year."
LLG are hiring now for these roles, with the Belvedere not slated to fully reopen until 2023. Australian Hotelier asked Allison to shed some light on this approach.
"Look, my saying for it is: 'We're always hiring,'" Allison says.
"One of the great benefits of purchasing the Komo, which is three and half kilometres from the Belvedere is that we have some overlap of the market there.
"And the intent there is to retain some staff through the renovation process at the Komo, or in alternative roles at the Belvedere. So we're planning now for 12 months ahead to ensure that we retain those we want to retain and keep a good level of staff ready to go.
"We're going on a gradual recruitment drive, and then obviously a much larger one in early 2023."
Staffing is always an issue that is front-of-mind for on-premise operators, and the importance of recruitment and retainment has only intensified alongside well-publicised staffing issues in hospitality. Allison told Australian Hotelier how LLG is meeting these challenges.
"Obviously the bird-in-hand is the first battle, and when we've got staff, we want to keep them challenged and motivated and looked after," Allison says.
"We certainly have incentive programs, we ran one across all our venues last year in New South Wales and Queensland. We had a summer incentive program across the Christmas period."
This program, Allison outlines, involved car giveaways in NSW and additional payments in Queensland for successful staffing during the festive season.
"Certainly we recognise that we're not unique in this space. There's a lot of competition in industry, and there are people that are obviously offering some pretty aggressive financial rewards. And while we're not averse to doing that, certainly our philosophy on it is that if we can get a person and they genuinely want to work for us, it's our job to do everything we can to retain them," Allison adds.
"In my opinion, it's really just about being honest with people, having straight up discussions with them, letting them know where they stand and having certain expectations of what they need to deliver, but also taking a bit of an interest in them as human beings, and showing them that we want them to work for us as well.
"I think at times we've perhaps tried to reinvent the wheel in a bit of a panic about recruiting and retaining when really some of those good old fashioned values of consistency and integrity and honesty are just as valuable to staff these days," Allison concludes.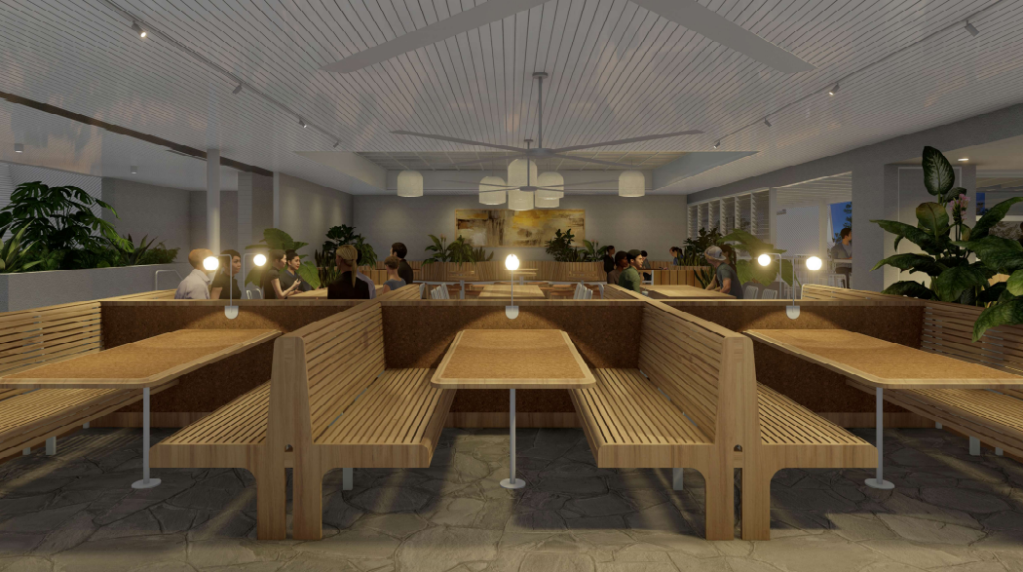 The Belvedere and LLG plan to open the new cafe, sports bar and gaming area and two new bar and lounge areas to the public in August 2023.