With drought severely affecting the livelihoods of farmers up and down Australia's eastern seaboard,  the pub industry has got right behind initiatives to raise funds to help farming communities continue operations in the last week.
While the Turnbull government announced on the weekend a new relief package that will give farmers an extra $12,000 lump-sum payment through the Farm Household Allowance (FHA) Scheme, publicans and other industry stakeholders across the country have been putting their support behind fundraising efforts for the last week.
One such initiative that has taken hold across the country is the #ParmaForAFarmer activation, with pubs donating a dollar from every schnitzel or parma sold within a certain time frame to charities such as Buy a Bale, which will go towards providing feed for cattle. Pubs taking part include all of Redcape's food outlet venues nationally, as well as single venue operations far and wide, such as Settlers Inn in Port Macquarie, News South Wales, to the Drakesbrook Hotel in country Western Australia.
In Sydney, the City North Liquor Accord has put together the Beers For Bales initiative, where licensed venues across the CBD will be donating money from the proceeds of beer sales. For example, the Mercantile Hotel and Fortune of War will both be donating 50c from every beer sold on Wednesdays in August and September to Buy A Bale. The Accord's total goal is to raise $30,000. It is additionally sponsoring two semi-trailer loads of hay to be transported to a rural area.
Steven Speed, the Accord's president, is himself from the regional town of Bathurst and knows how important this sort of support will be to farming communities.
"The pub is the heart of the community, and in the country when you have a problem you go to the pub to find help. This is our way of taking the city venues to the country to help out our mates and farmers in the country."
More lending hands
Getting right behind support for farmers, Lion Beer and Iron Jack have pledged to raise $1 million in their 'Beers for the Bush' campaign.
The campaign was kicked off today with a $100,000 donation to Buy A Bale. From Monday 13 August, $1 from each carton of Iron Jack sold in New South Wales and Queensland will also be donated to the initative, as well as 50c from each schooner of Iron Jack sold at selected regional venues.
"We are pleased to support 'Buy a Bale', as well as various local projects led by Rural Aid, which will ensure the contribution from Iron Jack goes where it's needed most," stated Lion Beer managing director, James Brindlay.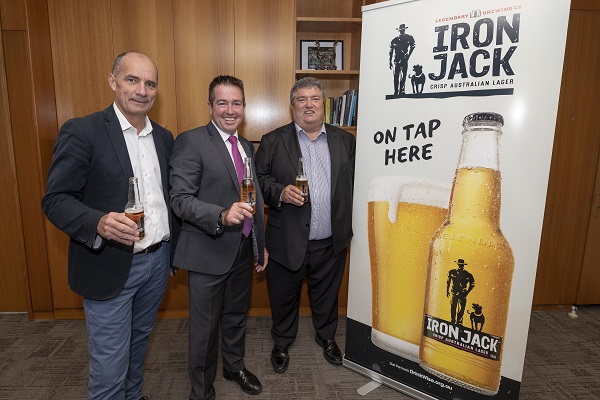 "The Beers For The Bush campaign is about more than just raising funds. Local pubs and clubs are places where communities unite for a chat, a laugh, or to offer a quiet word of support when the chips are down.
"While a couple of beers with mates at your local isn't going to break the drought, we want to let the hardest-hit communities know that they are not alone right now."
Brindlay stated that regional pubs have been eager to get behind their communities in any way they can for weeks now.
"The feedback from our regional sales teams has been overwhelming in recent weeks, and we know our customers, our consumers, and their families are really hurting as a result of the drought.
"We are committed to doing our bit to lessen the load, and give the bush a reason to smile in what is a very trying time."
Also getting involved in fundraising efforts is the AHA NSW. The association has pledged to raise $250,000 through its members to Rural Aid.
"In just a few days we have already raised $75,000 in donations from members, industry partners and suppliers," said acting CEO Sean Morrissey.
"The willingness of our members to lend a hand is inspiring and if things continue we will far exceed our goal."
Intermedia and Food and Beverage Media, publishers of Australian Hotelier and TheShout, are also supporting Buy a Bale, with staff donating $3925 to the charity. Intermedia management has tripled that donation, taking the total donation to $15,700.