Brian Murray, group executive chef, and Ben Turner, general manager of food, oversee the dining offering at Redcape Hotel Group's sizeable portfolio of 26 kitchens found in venues across the country.
Both Murray and Turner have impressive culinary resumés. Irishman Murray first got his start in his aunt and uncle's restaurant in Dublin's city centre and worked in Michelin star restaurants in the UK prior to moving to Australia 11 years ago. Since then, he has worked in a string of high-profile venues, including Bennelong, Chiswick, Quay and Stix, serving as head chef for the latter two.
A major part of Murray's recent career development came in 2020, when he spent nine months volunteering at the Tathra Place Free Range regenerative agriculture farm – gaining a greater understanding of producers and the importance of sustainability in hospitality that continues to influence him.
Turner came out of the upmarket London hotel scene, having worked as a chef at Claridge's and at Terence Conran's restaurants. In Australia, Turner spent over 10 years at Aria, where he worked his way up to head chef, before taking a group overseeing role at Solotel.
In this position he looked after several pubs in Sydney's Inner West, including the Bank, the Courthouse Hotel, the Erko and the Marlborough Hotel. Turner Joined Redcape around 18 months ago, with the general manager of food position a newly created role. He explained what first attracted him to joining the group.
"I was looking for a new challenge, and the opportunity that was presented to me in this company really got me excited about doing something a little bit different, there were huge opportunities around lifting the quality of the product that we're doing here."
The devil is in the detail
Both Murray and Turner outlined how their experiences in the fine dining world influenced their work at Redcape.
"I think there's an opportunity to really coach our chefs within our business about understanding and making sure that the foundations of what we're doing are really set, that you have a good base to work from," Turner says.
"I think, from a classical way of cooking, it's all about from start to finish. If you're making a sauce, for example, you'd go back to how you're roasting the bones for a stock.
"And if there's a problem with the sauce, you can go through the steps backwards. We've taken that approach in this business here as well, we want to lay the foundations to have a great platform to scale up."
This attention to detail is reflected in the way that Murray and Turner have handled certain supply chain issues in the industry.
"Chips are so important. We've had massive shortages of chips through last year," Turner says.
"We aligned ourselves to one type of chip, for which we did numerous amounts of testing, and we partnered with a particular supplier and grower."
One important factor that Turner really focused on was the crispiness of the chip, and retaining that quality even once the food has cooled.
"Imagine you've got chips, you have a couple of beers, you know everyone's dipping into it, that bowl of chips might be there for ten minutes, but it's gone cold. You still want it to be crispy.
"Small details are the things that we really want to focus on. Sometimes it's the little one percenters: the gravy, the pepper sauce, the salad that goes with your chicken schnitzel.
"They feel like they can be very simple dishes, but if we can execute those really well – I think a good pub is judged on its schnitty and its parmi."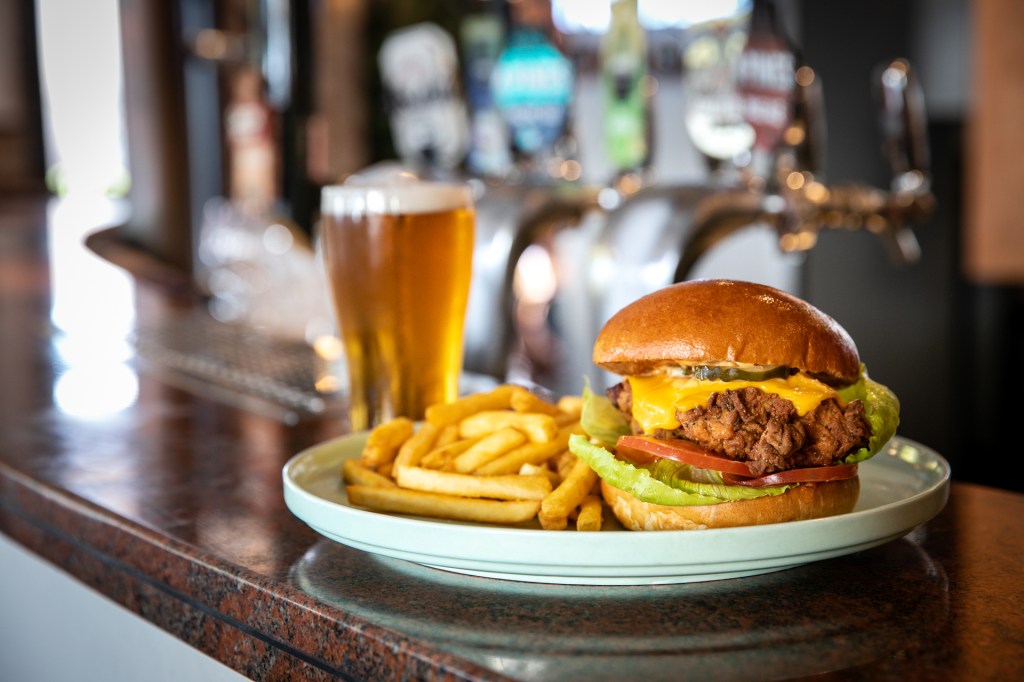 Managing teams and customer expectations around Australia
There are nuances that need to be understood when managing the food offering for a company with as many venues in different locations as Redcape.
"One of the key learnings that we can take is actually understanding our customer needs, in our venues, because that's so diverse," states Turner.
"We cover so much of the East Coast, and each one of our venues has a different customer, we cannot put everybody in one bucket."
Murray concurs with his colleague's assessment.
"For the first six months, a lot of what I did wasn't just in the kitchen, I spent a lot of time in the venue, with the customer, because the customers in Townsville are very different to the customers in Sydney or Bendigo.
And for Turner, there was one dish in particular that served as an example.
"We've learnt so much as well, like I didn't really know that crumbed steak was such a big thing in Far North Queensland, but it's massive."
Alongside the need to adapt an offering to individual markets, working across so many different venues also presents challenges when managing chefs and kitchen staff themselves.
"I schedule my week so that I'm out in venues three or four days a week as a minimum. Last week I was in Townsville, this week I'm on the South Coast, next week I'll be Brisbane. I'm based in Sydney, but just making sure that we are having touch points with everyone," explains Murray.
"On Mondays we do head chef video calls, so that everybody's together and they feel like a team, and they're connected as well, they're in their own chat and they can speak to each other and they can speak about whatever is happening with suppliers."
Turner also emphasised the importance of these chats.
"It's an opportunity for these guys to talk through particular challenges that have happened in their venues, because whether you're in Townsville or you're in Bendigo, the challenges are the same.
"One head chef may have an approach to a situation with a supplier, or how he's dealing with a staff member, and it's just a way that they can connect all through, and it brings that community of everybody together. They might be a thousand kilometres apart, but there's some commonality behind it as well."
Green future for Redcape
Both Turner and Murray are certain of the need for a sustainable future for the group.
"The sustainable strategy is something that we're very committed to, and we're at the start of that journey," Turner says.
This is a particular interest of Murray's, as his volunteering experience attests.
"Sustainability was a big passion of mine, before going in. Working on this regenerative agriculture farm for a period of time – it's a major focus for me.
"In a company like Redcape… we can make small changes that have a big impact along that line. So it's a very exciting time for what we can do with sustainability moving forward."
Finally, Turner outlines the overarching sustainability ambitions at the hotel group.
"I think our long-term strategy will definitely be around, not just what we're doing in our venues, but also the people that we partner with: what's their sustainability strategy as well?
"Things we're looking at: What's our food waste? How can we minimise what goes into landfill?
"Do we partner with companies such as OzHarvest to utilise that waste?" Turner muses.
"So there's lots of things from a long-term strategy that we want to put into place."  
This article was first published in the July issue of Australian Hotelier, which you can view below.