New owners of The Travellers Rest Hotel, Thorpdale, plan to include a distillery in its basement to entice more visitors to the Gippsland region town.
Enthusiastic owners Jill Jepson and Sean McCarthy, along with general manager Adrian Thompson have an inherent passion for spirits and as Jepson told Australian Hotelier, they cannot wait to start producing, and have a growing wish list on what to make.
"My trouble is that I can't stop producing stuff in my head. Adrian keeps it all under control. We have a fabulous basement that opens many opportunities. The basement just lends itself to a distillery, a farmer's market, and outdoor entertainment. We are excited toss work towards our plans – step by step. Distilling, food and experience is what makes a great weekend away," Jepson said.
Further to increasing tourism in the region, Jepson is hoping to harness local ingredients for their distillery, particularly potatoes, as the region is particularly well-known for their potato farms.
She said adding a distillery, which is planned for 2022/23 depending on cash flow, will make Travellers Rest become a "destination pub" and help celebrate and contribute to the local community.
"We need to become a destination pub and this kind of offering is what will lure people off the freeway and do the beautiful drive into the hills. We want to present the local community and what they produce. This is a farming community. People work hard.
"We also respect the history. If only we could write all the stories down – but what a colourful history this pub has. Given that Thorpdale is well known as a potato region, we have our focus on becoming potato sommeliers.
"Of course our dream is to open a distillery downstairs, using waste potatoes (the ones that get left on the land or used as feed stock – or can't be sold) as our ethanol base. A distillery is a pretty hefty investment for us so we realistically expect it is a couple of years away."
A new lease on life
The regional Victorian hotel has been relatively quiet in recent years after a fire in the hotel took the life of a beloved local in 2017. However, when co-owners Jillian Jepson and Adrian Thompson took over in April 2020, they quickly set out to restore the iconic watering hole back to its former glory.
"We got right into bringing the beautiful building to life. Despite COVID, Amelia Downie, one of our locals, designed the now refurbished beer garden and back deck. We moved onto that while working remotely from Melbourne getting it finished before lockdown was over," Jepson said.
"Firstly, we have to restore it as a place of community – where residents can see each other, have a chat and eat some food. When we opened there were a few people who had not seen each other for a few years. We realised then the importance of the pub in regional Victoria."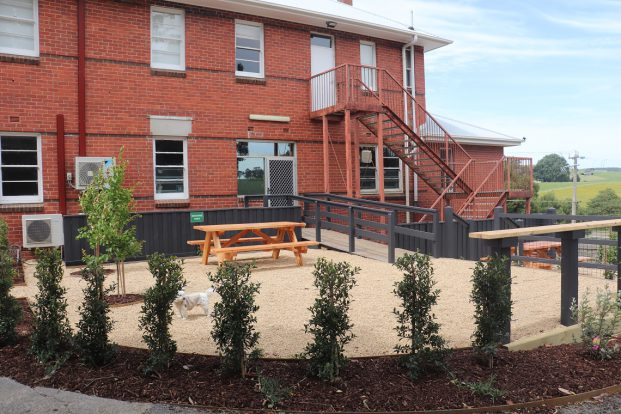 Since opening its doors the pub has earned a lot of interest from locals and domestic tourism groups with many sharing the same excitement as ownership, to see it once all upgrades have finished.
"There are a lot of interested people who come and visit us and we find ourselves doing a number of tours everyday to show off our ideas and vision. A walk around the building makes everyone very excited. As a whole, it is a complete package, stay, eat, drink and enjoy," Jepson stated.
On top of supporting local farmers in the Thorpdale area, the Travellers Rest's owners see the pub's revitalisation as a key opportunity to contribute to the economic future of the township.
According to Jepson, Thorpdale was a thriving town until the railway closed in 1958 and the advancement of farming mechanics reduced the number of people needed for cropping. This ultimately forced the town's population to dwindle as well.
Coupled with the support of the local Thorpdale Bakery, one of the town's thriving businesses, Jepson, McCarthy and Thompson are doing all they can to put the town back on the map.
"We want to support the local community and already do in a very small way, by opening the bar. Adrian is fast becoming part of the furniture and has embedded himself in various committees to add his enormous experience to some of the major local events," Jepson explained.
"We want to establish a venue that attracts visitors to Thorpdale, encourage them to explore the region, and even perhaps assisting the local to start micro businesses that can be enjoyed in the future."
The pubs ownership have also introduced Darren Thompson (no relation to Adrian) as the new head chef. He brings a wealth of experience to the table including time spent in the kitchen with Gary Mehigan and Ray Capaldi at Fenix, Circa the prince, Langton's Wine Bar and small stints with Jacques Reymond, Shannon Bennett and Robin Wickens.