Oscars Hotels has revealed their new-look venue one month on from buying it.
Banksmeadow in Sydney welcomed the reopened Botany Bay Hotel Wednesday 1 May 2019 after new owners Oscars Hotels purchased the pub property in April 2019 from Paddy Coughlan. The venue had hit the market some time ago, back in June 2018.
The recent purchase now brings Oscars Hotels portfolio of venues to total 29, which includes The Annandale Hotel, Hotel Sweeneys and The Como Hotel.
The Botany Bay Hotel – dating from 1865 – was previously managed by Paddy Coughlan's Bourke St, who completed the venue's spruce-up back in October 2016 and had relaunched a new food menu from then-Lord Gladstone Hotel's chef Ernie Priestly who took over the kitchen.
Coughlan also sold The Lord Gladstone in April 2019.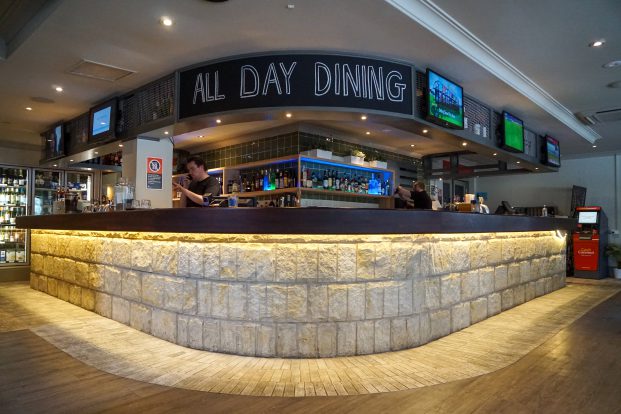 The Botany Bay Hotel bar area, Banksmeadow
Oscars Hotels revealed the reopening would give primary focus to families and the local residential community. A spokesperson for the venue said:
"The venue's previous refurbishment lends itself to be a local family-focused pub with a refreshed beer garden, kids' area and ample function spaces. With the introduction of giant Jenga and Connect-Four in the beer garden, the pub has a strong local community vibe."
"We are a local community pub and it is vital that the food was a key foundation," said Michael Cook, the Group's Executive Chef, "Offering all day dining is a defining principle of the Oscars' group. We believe this flexibility is important and has established our wide range of kitchens across New South Wales".
All-day dining is intended to appeal to diverse shift work that is apparent in the local area. The introduction of elongated food trading hours seeks to fulfill community needs.
"With residential growth within the south-east area, we wanted to give the community a local they are proud of and enjoy spending time in," said Group Pub General Manager, Carlie Carroll.
Banksmeadow is a 20 minute drive from Sydney's CBD, and is one of the city's most rapid growing precincts.
The two-storey historic pub features exposed sandstone walls and timber finishes. Botany's public bar has been fitted with a large TAB facility and multiple screens.
Click here to view all available images of the renovations on our Facebook page