By Vanessa Cavasinni, editor Australian Hotelier
The inner-west Sydney hotel has transformed itself from a gaming pub into a local community hub with a complete overhaul.
After completing a redesign of the front bar in late 2016, the owners of Salisbury Hotel decided to transform the rest of the venue, creating a much more significant beer garden, a larger kitchen and a refreshed back-of-house area.
Publican Trish Larkin said that the old iteration of the Salisbury Hotel was very much a gaming and wagering venue, and wanted to broaden the pub's appeal.
"We wanted to create a pub which had a village feel and make it welcoming to all. It was previously known as a gaming and TAB pub so not very inviting to a number of locals. The new spaces, menu and weekly offerings have all be designed with our local community in mind so everyone feels they have a place at The Salisbury."
The redesign was a collaboration between co-owner Gerard Dore and Arcon, and the new light-filled aesthetic includes exposed brickwork, recycled timber and tin and cobblestones. The highlight of the new beer garden is the inclusion of a 1926 Dennis red brewery truck, with a Chinese Elm in its tray.
The recently completed renovation is the first transformation the pub has had in a decade. As part of the strategy to entice more members of the local community, the Stanmore local has now introduced Drag Bingo on Wednesdays, activities for kids on Monday and Friday evenings,  and Salisbury Sundays, which will host a line-up of local live music acts.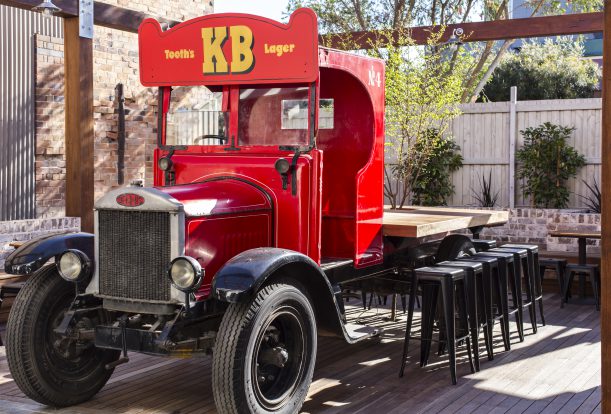 Food for thought
Food is also a big part of the new appeal of Salisbury Hotel, with the kitchen being led by Ridz Ma'rop (ex- The Henson, Trinity Bar) who says he will be sticking to pub classics cooked well, such as steak sandwiches, beef and Guiness pies and maple miso salmon.
"It's just about delivering consistently good, classic pub food. Our locals love us because there's a sense of comfort and familiarity to the venue so it was important that feeling extended to the menu," stated Ma'rop.
Food activations will include Thursday Curry House, where patrons can get a curry, selection of sides and Young Henrys longneck for $20. Groups can enjoy The Feast on Sundays, which is a shared selection of meat, fish and sides for four people, priced at $100.
While it is very early days since the relaunch of the venue, Larkin says that the venue is being well received by locals.
"The response from people has been overwhelmingly positive. Most say they have been waiting for something like this in the area for a very long time. The new food menu is also getting great feedback. We managed to iron out most of our creases in the first week so we're really happy with how the pub is operating and the response we're receiving."