By Vanessa Cavasinni, editor Australian Hotelier
Arthur Laundy and Fraser Short have launched the first stage of Park House Food and Liquor this week. It is a completely transformed venue in the site of the old Mona Vale Hotel.
The pair purchased the sprawling Mona Vale Hotel along with Northies in Cronulla from Peter Beaumont's Fernwood Group in 2014 for $50 million. Having previously operated as a nightclub, Laundy and Short have spent the last two years planning a complete overhaul of the venue. The venue will be operated under The Sydney Collective portfolio.
"I would say it's a complete reimagining, not a repositioning. I think a repositioning doesn't quite describe what's happened," stated Short. "[Mona Vale Hotel] was properly dilapidated. There was nothing to salvage."
The first stage, Park House Food Merchants is an industrial warehouse set-up seating 180 patrons. It also includes an outdoor cocktail bar, two open fireplaces and couch seating. The share-plate menu focuses on Southern Californian and Mexican cuisine, and caters for vegetarian and vegan diets also.
While the venue has only been open for a few days, Short told Australian Hotelier that engaging the community has paid off, by allowing them to have a voice in what they wanted the venue to offer.
"I'm really happy with stage one. The clientele we were going for was a little bit older and probably a little bit more affluent, and they're really enjoying it. They've given us hugely positive feedback. And we're yet to have a Friday or Saturday night, so let's see who else comes in on the nights when we trade a little bit later."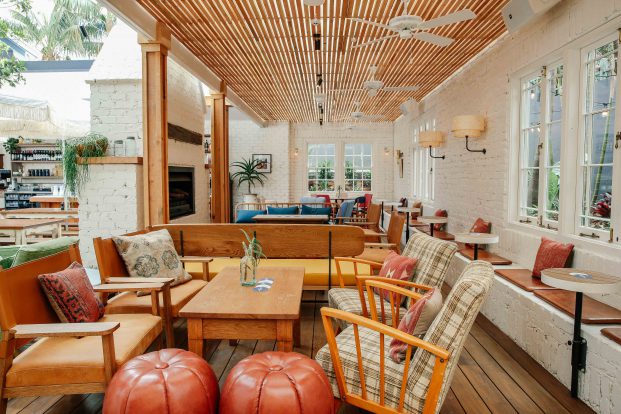 Future stages
With Food Merchants now open to the public, Short is now concentrating on stages two and three: a redo of the hotel's façade and burger bar offering; and a parking lot truck stop, where food trucks will bump in and out of on a rotating basis.
"For the next stage we're opening up the front of the hotel and we're re-establishing a new entry. As part of the next stage we'll also be opening Front Yard Brews and Burgers.
"The concept itself is not ground-breaking in terms of a burger bar with lots of sport facilities and really good live music facilities, but I think it's really unique in that it's going to be an old warehouse with a massive bar in the middle – it's going to look really interesting."
At 6500 sqm, not only was the size of the venue attractive to Short and Laundy, but the location was also enticing due to its potential patronage catchment.
"Mona Vale is the real geographic centre of the Northern Beaches and I think it's a really important place because it engages all the way to St Ives and the upper North Shore. We want the site to become a real social hub."
Stages four and five will see Park House add an events space and children's play facilities to the offering. Front Yard Brews and Burgers is expected to open in December, with the Truckstop to be ready by Easter. Short hopes that most of the venue, if not all, will be complete by the end of 2018.