Dusk Club has launched the second in its series of pop-up bars, transforming the cocktail bar into a late-night Cuban style hideaway. Tucked away inside the Edinburgh Castle Hotel in Sydney CBD, the transformation brings a change in tempo to the intimate cocktail bar.
Owned by Solotel, the Dusk Club first found its fame as a 1920s-inspired late night gin and jazz cocktail bar. The pop-up series makes use of an underutilised space and attracts a different demographic to the pub.
Luke Rule, general manager at Dusk Club, spoke about the Havana-inspired concept behind the recent transformation.
"We were always intending to do seasonal refreshers, but we had a lot of success with the initial 1920s jazz concept and ended up extending that for pretty much 12 months. When we were looking at this refresh, Cuba seemed like a natural extension. The jazz becomes afro-Cuban and Latin jazz, and the gin cocktails give way to classic rum staples."
"The reason we [change the offering] at Dusk Club is to give it a different identity. We're very much a classic 1930s public house downstairs and we're really trying to create that elevated space upstairs. That's been going really well for us."
"We worked with Reece Griffiths, Group Bars Manager at Solotel, to look at different offerings and concepts. The Cuban theme and rum classics gives us a very strong identity, [embodying] that 1930s era that gives way to Hemingway daiquiris… We wanted to find something that sat well with different audiences, and this seemed like it had something for everyone."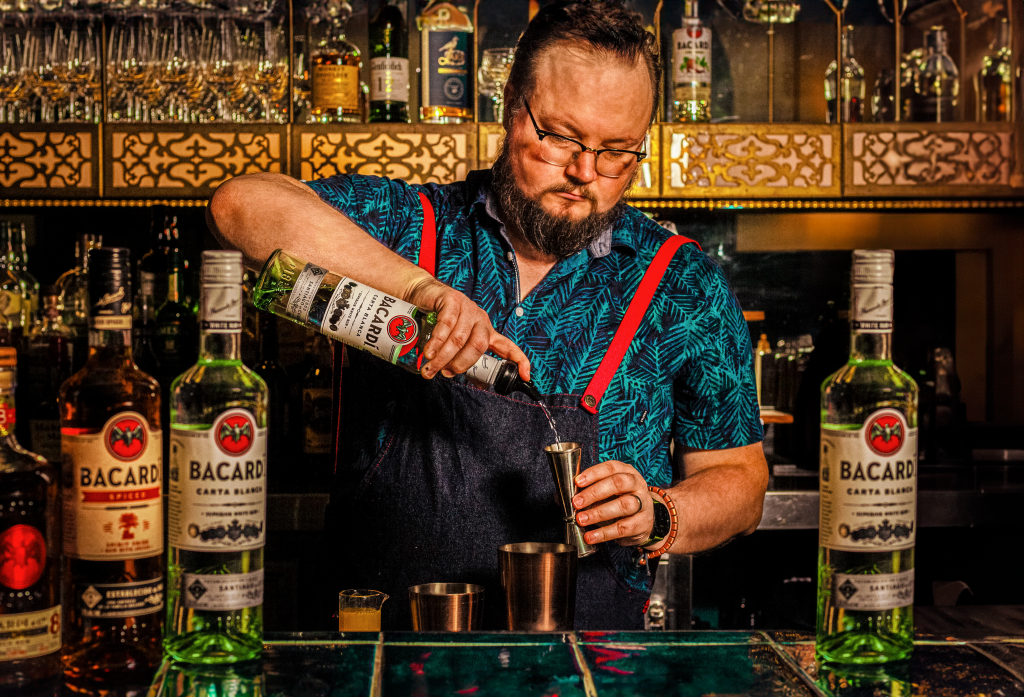 Bringing a touch of Havana to Sydney's late-night revellers, the bar is adorned in vintage-style Cuban artworks, rattan lamp shades, moody lighting, blue velvet drapes and lush tropical plants.
"It's about continuing our identity, with slight changes in branding and a lot of changes in the design of the space," commented Rule. "We did a lot in terms of making it feel layered, introducing a lot more greenery and trying to build on what we had already done."
Giving a glow up to classic Havana-inspired drinks, Rule shares an insight into the new cocktail menu and its exotic rum focus.
"We work with Bacardi and have a very tight focus on rum drinks, honoring those Cuban classics. Creating a cocktail list, a lot of the hard work was done 100 years ago fortunately. While a papa doble and el presidente might be new to some people, everybody speaks to a mojito. We've also done some seasonal touches like a winter-themed ginger mojito served out of a glass teapot, using those Cuban classics but making them fun and approachable."
As well as a vibrant new cocktail menu, guests can enjoy a carefully crafted menu of small and share plates such as corn ribs, crispy calamari and buffalo chicken wings.
Open from 5pm until 2am Tuesdays to Fridays, Dusk Club can be found inside the Edinburgh Castle public bar by walking up the stairs and entering through the double doors.