Now you can top up your Ladbrokes wallet at the ATM
Australia's leading independent ATM deployer, Banktech, has begun converting many of its 2,500 CashConnect ATMs with world- first technology, designed in Australia that will allow customers who have cash to still operate in the digital world.
Banktech's CashConnect ATM Plus machines now include a note acceptor, which will allow customers to "top-up" digital wallets directly from ATMs with physical cash – a world first.  Ladbrokes was the first company to partner with the innovative Banktech ATMs, and was pleased with the take up of the service.
"The ATM Plus terminal is an innovative and convenient way for our customers to top up their accounts," Ladbrokes Australia Executive Director – Corporate Development, Karl deKroo said.
"There is still a section of our customer base who prefer to bet in cash and we have seen this through the growth of our newsagent-based CashIn network.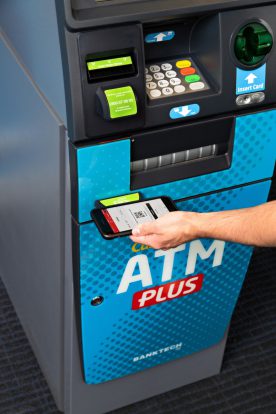 "We are excited to add ATM Plus as another means of servicing our clients and providing digital services to those who prefer to use cash."
In these difficult times, venue owners are set to benefit from the partnership through increased foot traffic and a commission on each cash deposit transaction.
ATM Plus is a cash deposit service. Apart from Ladbrokes, Banktech is looking to introduce other services that allow customers to deposit cash into digital wallets.
Banktech aims to have 200 ATM Plus terminals available by Christmas across hotels, clubs and convenience locations. The first site was at the Colmslie Hotel in Brisbane, run by prominent Publican Damian McGuire. "We see the ATM Plus as an opportunity for us to increase foot traffic in our venues", said McGuire.  The roll out of ATM Plus conversions has also commenced in NSW.
For more information click here.
Banktech Australia Pty Ltd
Level 5, 140  William Street  East Sydney  NSW  2011
P 1800 08 09 10