JDA Hotels opened the Union Place Hotel in Jannali just over a month ago, and the Chicago-style pub has been booming ever since.
The Sutherland Shire hotel is situated at the bottom of a new development that houses 89 apartments over two towers, meaning that every detail of the design of the pub had to be well thought-out, not only for local patrons, but for how it would be viewed and experienced by residents of the building.
"Making it a little more resolved and a bit more detailed, so that it doesn't downgrade the quality of the building was important," stated Paul Kelly of Paul Kelly Design, who developed the concept of the venue.
"You can't have a basic pub, as residents wouldn't respond to that. There's a lot of responsibility to ensure that it's a good-looking pub and a great quality venue – that was the major consideration for it."
The aesthetic of the pub is a contemporary take on the traditional American diner. The bar takes pride of place with blue-stained timber panelling, and brass halo lighting above. The masculinity of the space comes from the coffered timber ceiling with its exposed metal fittings and dark walnut stain. Paul Kelly Design also wanted to incorporate the building's brick into the fit-out, to create an aesthetic link.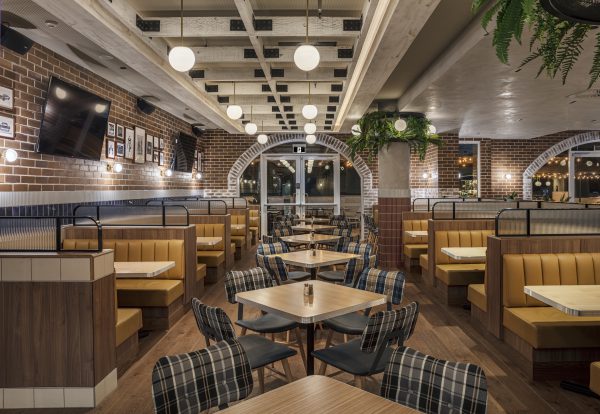 Noise reduction was also a major consideration to ensure that residents of the new apartments were not disturbed.
"We were lucky as the hotel is adjacent to a railway line so the background noise is reasonably high, but in regards to acoustics we have used all the tricks in the book here: absorptive walls to the gaming room external space, masses of acoustic ceilings and glass blades externally to deflect the sound," explained Kelly.
There have been no complaints from residents and neighbours since the pub opened. Instead, Union Place Hotel has been so popular since opening, that Monday nights often book out for dinner, with the pub serving up deep-dish pizza and Italian-American fare.
The Union Place Hotel development has replaced the Jannali Inn, which opened in 1958.
Photos supplied by Paul Kelly Design