The Sneaky Bucha of Byron is a world-first drinking innovation, creating not only a new drink but a whole new category that combines the goodness of kombucha with the greatness of beer.
Developed by the Kombucha Brewing Co. of Byron Bay, The Sneaky Bucha blends a range of beer styles with the Original Bucha of Byron kombucha to create a full-strength, lower carb beer (at least 25% lower carb than regular full-strength beers). It's easy drinking and very sessionable with everything you like about kombucha mixed with everything you love about beer– reminiscent of a shandy taste but with a kombucha kick. At 4% ABV there's one standard drink per can.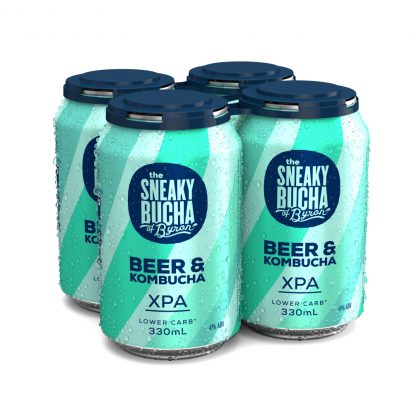 The Sneaky Bucha satisfies the growing consumer demand for low-calorie, high-quality products which can be enjoyed without the guilt. The Sneaky Bucha of Byron will complement The Bucha of Byron's existing portfolio of brands, including the Dirty Bucha of Byron that blends premium spirits with kombucha.
Kombucha is the fastest-growing beverage category in the country. The Sneaky Bucha combines this growth trend with the popularity of craft beer in cans to reach consumers looking to discover and try new things, in doing so it's created a whole new beverage category opportunity within the functional beverage space.
The Sneaky Bucha comes in 330ml cans in three beer styles: XPA, Lager and Summer. The XPA for the craftier in-the-know beer drinkers, a more mainstream easy-drinking Lager and a refreshing Summer wheat beer.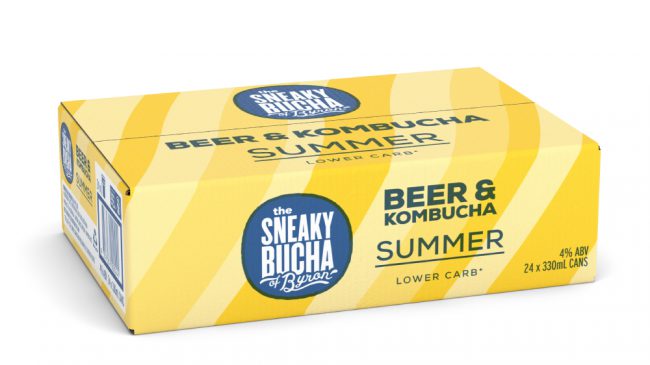 Quick Facts
The Sneaky Bucha blends a range of beer styles with the Original Bucha of Byron kombucha to create a full-strength, lower carb beer
The Sneaky Bucha range includes XPA, Lager and Summer
1 standard drink per 330ml can (4% ABV)
Available at leading independents venues, BWS and Dan Murphy's