Independent Sydney liquor retailer Liquor Emporium has expanded, opening its fifth store in the new extension of the Marrickville Metro Shopping Centre in the city's inner west.
This is the first time that Liquor Emporium has opened an outlet within a shopping centre, with other stores located around the inner west and surrounds, in the suburbs of Alexandria, Belmore, Hurlstone Park and St Peters.
Today is the first day of operation for the both Liquor Emporium and several other new retailers in the shopping centre's multi-million dollar expansion.
Paul Ververis, Liquor Emporium Director, said: "We are very excited to be opened at this particular location. Marrickville has recently been named as one of the top 10 suburbs in the world and the coolest suburb in Sydney, so of course we couldn't be happier.
"We saw the diversity of the Marrickville community as a perfect fit for the Liquor Emporium brand. The sense of community spirit is already apparent with the other retailers so we cannot wait to welcome the Marrickville and wider community into our store.
"This is a very exciting time for Liquor Emporium as we approach our 20 year anniversary. We are always looking to expand our brand at the right location, so exciting times ahead!"
Ververis said the new location will be in line with everything the Liquor Emporium brand has stood for, plus more.
"We are a totally independent brand focusing on service, knowledge of products and the stockists of an extensive range of all beverages. This is the point of difference that the customer will find at Liquor Emporium," he told National Liquor News.
The focus for the new store will again be on craft beers, with over 500 beer styles on offer from local and international brewers. There's also an extensive range of wine, including ample organic, natural and non-alcoholic options, and a selection of spirits.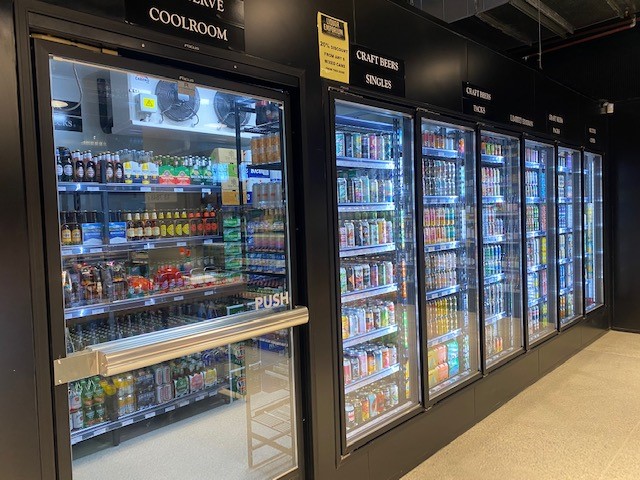 Aside from the product selection, the store has been designed with customer experience in mind, and has a seamlessly flowing aesthetic and floor plan throughout. Ververis said it was a unique experience for Liquor Emporium to be so involved with the construction layout, but ultimately a very satisfying one.
"This is the first time Liquor Emporium has been located in a shopping centre and being part of the construction process from conception to completion has been challenging at times," Ververis said.
"However it has allowed us to be part of the design process from beginning to end and we couldn't be happier with the final result."
Liquor Emporium joins a range of independent retail and hospitality venues that have moved into the expanded Marrickville Metro centre. Dean Young, Centre Manager, said that such new offerings of the centre will combine to provide a vibrant experience for the growing Marrickville community, expected to reach 437,000 by the end of this year.
"Our vision for this development has been to create an inclusive space that adds convenience and lifestyle opportunities for those who live within our local community," Young said.
"We're not only upgrading the size of the centre to meet demand; we're also working to integrate features that really complement and enhance the unique Inner West culture and the Marrickville way of living.
"Our new retailers have completely embraced this culture and as a result we have some exciting new-to-market concepts delivered by some of Sydney's much-loved operators."
Did you know?
There are four ways you can keep up to date with everything from National Liquor News: