Twenty Third Street Distillery have launched their award-winning Signature Gin in a convenient premix format.
After achieving continued success with Signature Gin since launch, Twenty Third Street Distillery have entered the premix market with a premium, no sugar Gin & Tonic. The new addition is a welcomed format by consumers, with clear demand for authentic, health-conscious expressions in the convenience space.
Perceptions of the premix category have shifted away from being all about sugar and price which has been largely driven by innovation and evolving consumer needs. Twenty Third Street Distillery have crafted the Gin & Tonic towards the more conscious consumer, looking for an authentic tasting premix. Health is no longer a trend but a lifestyle choice that is here to stay and providing appropriate options is imperative.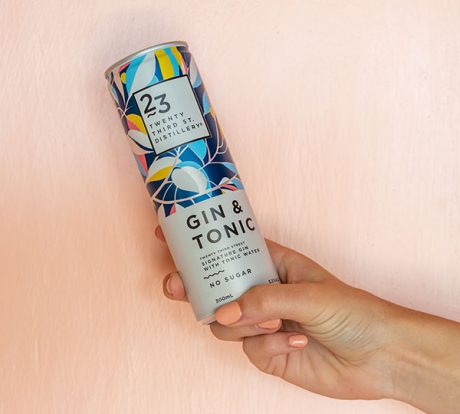 The stylish Gin & Tonic cans follow a similar design to their Signature Gin, using the artwork created by local South Australian artist Claire Ishino. The newly launched cans are set to fit into the 'Instagrammable' mindset of the modern consumer, with a format that allows them to be conveniently enjoyed while fitting into consumer lifestyles.
Perfectly crafted with Signature Gin & Tonic, the no sugar & 87 calorie cans are perfect for drinkers who don't want to compromise for convenience and enjoy the premium quality of Twenty Third Street Signature Gin. Added benefits of the Gin & Tonic include being gluten free, vegan friendly and no artificial flavours or colours.
"We have already seen the introduction of our premix cans influencing full-strength purchases" says Gabrielle Millane, Assistant Brand Manager. Not only is the premix category catering for the need for convenience but encouraging trial of the parent spirit.
You can sip guilt free with Twenty Third Street Distillery's new Gin & Tonic premix, available to purchase direct from their Distillery in Renmark (SA), bar on Melbourne Street, North Adelaide (SA), Independent Retailers Nationally & online via Sippify
Contact Details:
Twenty Third Street Distillery is proudly distributed by Vok Beverages , for trade enquiries:
Email: vok@vok.com.au
Phone: 1800 896 080
Keep up to date with everything Twenty Third Street Distillery:
Facebook: /23rdstreetdistillery
Instagram: @23rdstreetdistillery
Web: https://www.23rdstreetdistillery.com.au/