By Deborah Jackson, Editor, Beer & Brewer
Speaking after announcing that AB InBev has bought South Australian brewery, Pirate Life, the craft brewer's Co-founder Mick Cameron, told Beer & Brewer that he is looking forward to the growth, development and global opportunities that the deal presents to the brewery.
The joint growth plans are commencing immediately with a $10m investment into Pirate Life's second brewery, set to open in Port Adelaide in early 2018.
"There is a real push from the government to develop Port Adelaide and really create a hub of diversity and culture down there and we are super excited to get the new brewery up and running, including a bar and restaurant," Cameron told Beer & Brewer.
"The key for us was that we had spent a fair amount of time thinking about how we could develop and grow the new brewery down in Port Adelaide and after having a conversation with AB InBev and having a look at how they developed and handled other brewery purchases globally, it gave us a lot of faith to see what they've done with Camden Town Brewery in the UK and Goose Island in the US and 10 Barrel, and people like that.
"So the two key factors for us were being able to accelerate the development of the new brewery in Port Adelaide and improve our facilities in Hindmarsh, but more importantly to be able to say to the people who work for us that this is a massive opportunity for personal development."
The current brewery in Hindmarsh will become a site dedicated to creating new beers, including sours, seasonal and barrel-aged products – which is a point that Cameron is particularly excited about.
"I think that's probably one of the really exciting things, being able to turn Hindmarsh into a brewery where we can allow our staff and all of the brewers to start creating really interesting beers. But also to allow them to be a small influence in beer development, and to be able to do that out of Hindmarsh while we continue to make the quality beers down in Port Adelaide is really exciting."
Already there are a couple of barrel-aged beers set to be released in the next three to four months and Pirate Life will be putting its Pilsner into cans in early 2018.
Pirate Life will now become a part of Ab InBev's Agora community, a program set up by AB InBev which facilitates information sharing and ease of access to ingredients for its breweries.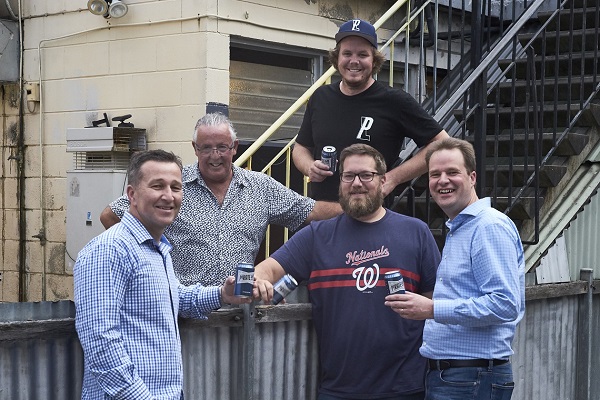 CUB Business President Peter Filipovic told Beer & Brewer that he hopes being a part of the global Agora community will help both Pirate Life and 4 Pines to continue to improve their beer quality.
"We have our global community called Agora where our brewers actually collaborate with each other, so both 4 Pines and Pirate Life will be a part of that community and we expect them to work together to improve their beer quality. But we're not going to sit there and tell them how to run their businesses because they've done a good job of doing that already. Our job is to take Pirate Life to more consumers and customers around the country through our scale and distribution, which is what we will focus on doing," said Filipovic.
Cameron told Beer & Brewer that the entire Pirate Life team was understandably excited to hear of the acquisition this morning.
"The whole team was really excited this morning when hearing the news and understanding what the opportunities are. Everybody in our team, most of them are under 30 and to know that they've got a great future is just fantastic.
"Jack, Red and I started the business three years ago and on the front page of our first ever business plan was to make flavour driven, high quality, and internationally recognised beers and we've always had a dream and a vision about playing a small part in global beer."
Statement from the Independent Brewers Association on the sale of Pirate Life:
The Independent Brewers Association (IBA) acknowledges today's announcement of Pirate Life Brewing's sale to AB InBev.
While every sale of an independent brewery to big beer is disappointing we believe that each of them further underscores the impact the independent brewing industry is having on the traditional beer market in Australia and overseas.
This was backed up by the recent Beer Cartel survey that showed beer drinkers overwhelmingly preferred to support independent breweries over those owned by multi-nationals.
Brewery acquisitions such as this grab headlines and generate significant commentary, but it needs to be remembered that there are more than 430 other Australian independent brewing businesses who will continue to put their heart and soul into their beers, and it is for them that the IBA exists. We will be doing all we can to help them take advantage of the opportunities created by ownership changes, such as launching an independence seal in the near future.
We will continue to work towards our vision of quality independent beer everywhere through Awareness, Quality, Regulatory and Value initiatives for IBA members.
We extend our congratulations to the current owners of Pirate Life on the sale.