In the October issue of National Liquor News, we explored the opportunity of innovative beverages, from world-first flavours and techniques to groundbreaking multi-category hybrids and everything in between.
Australia's drinks industry is huge, vibrant and with many layers, and it's become that way with innovation. One of the most surefire ways to excite consumers is to give them something they've never seen before, and this is often the beginning of new trends. Some recent innovations that are getting attention right now include wine in a can, bottled cocktails and hybrid drinks. But just because the first stone has been unturned in these innovative areas, doesn't mean that's where the fresh takes and unique creations stop – the first ideas from this space have opened the space for creators to come and innovate even further.
One example is the fresh new beverage brand, CQ Spritz, a wine and cocktail hybrid drinks range in a can. Creator of the brand Christina Quarisa said the launch builds from a new idea in the Australian market with a unique take on hybrid drinks.
"I really wanted to bring something to the market that was innovative and something that gave people an exciting experience," Quarisa told National Liquor News.
"Wine in a can is relatively new to the Australian market so I thought it would be a really great opportunity to create something trendy, convenient and delicious all in one."
For CQ Spritz and other brands that are paving the way into new beverage spaces, innovation is key to their approach and it's something the entire industry benefits from.
Treasury Wine Estates (TWE), for example, sees innovation as driving the progression of the industry alongside the ever-changing desires of consumers.
Melissa Louey, TWE Marketing Director, Insights and Innovation, said: "Our role as industry leaders is to help ensure the category is progressing, to meet consumers' needs and help drive recruitment – innovation is fundamental to this."
The innovators of this great industry are not just focused on the liquid inside either. Great ideas don't just experience success in a vacuum, as they know at Archie Rose.
"Innovation is one of Archie Rose's brand values. We strive to marry traditional methods with a progressive new world approach that honours the craftsmanship of distilling," said Archie Rose's Head of Hospitality, Harriet Leigh.
"We apply the same discipline to our virtual content and convey a simple timeless character through our packaging and architecture."
On any level, innovation in the drinks industry is an opportunity for both producers and retailers, as it uncovers areas for growth.
"Overall, innovative drinks will be adding more value to the industry, by tapping into consumer demands that currently aren't being met," said Sunly Seltzer Brand Manager, Patrick Coulson.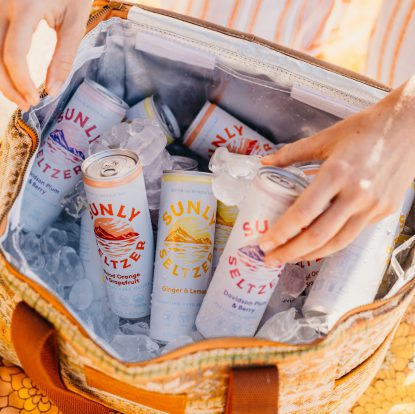 Creating the beverage
Often touted as 'the next big thing' in the industry, hybrid drinks are those that combine more than one category into a single product.
CQ Spritz, for example, is a wine and cocktail hybrid with unique flavours and a format that makes it a really different and fresh entry into the market.
"The CQ Spritz range is definitely a hybrid product, which I think is really cool because hybrid products are within the niche market. I do believe CQ Spritz offers a point of difference to its competitors as it is new and exciting," Quarisa explained
TWE's hybrid products meanwhile include the Squealing Pig wine and gin range as well as a coffee and Shiraz hybrid from Lindeman's. Louey said these products not only help the brands stand out, but also help people explore new areas in the industry.
"Hybrid drinks are the perfect complement to single category offerings – allowing consumers to explore new or neighbouring categories, with a certain level of confidence. For us, the opportunity innovation provides is to showcase the world of wine
more broadly and show how multi-faceted it can be," Louey explained.
As more hybrid style drinks join the market, whether their hybrid nature is the combination of liquids from two categories, or whether the influence is infused more in the production techniques, consumers become more comfortable with trying new things too.
"The line between what a beer and a wine is, or beer and a spirit is, they can be very blurred – they're finding those little niches and intricacies," said James Renwick of Boatrocker Brewers and Distillers.
"The landscape has changed so much in the past 10 to 15 years, for example everyone's on their own beer journey. Some people are happy to drink VB all their life, others are starting a journey and creeping into pale ales and IPAs, and then there are a growing number of people that are always looking for the newest or most challenging thing."
Boatrocker caters to this crowd through both unique flavour profiles, and also its technique of barrel aging beers in ex-whisky barrels. While it's not a full hybrid beverage, it's an infusion style that brings together two different categories.
Other innovations in the industry sees brands pivot to create something that's different to their usual offering, and that's something cropping up more often these days with brewed hard seltzer.
For many breweries, like Stone & Wood with its creation of Sunly, it's about staying fresh and interesting by giving existing customers something new and desirable, but in a style that stays true to the brand.
"We pride ourselves on being a progressive business and leaders in the independent craft drinks game in Australia. Having a good understanding of the alcoholic drinks market and the trends (especially beer), here and overseas, we felt that the time was right to throw our hat in the ring," said Coulson.
Other types of innovation that don't cross categories are those that create unusual and interesting experiences in their stories, their presentation and their flavours. This is what Archie Rose often does, most notably recently by turning smoke tainted grapes into an experimental eau de vie, and teaming up with Gelato Messina to create a Neapolitan ice cream inspired range of spirits.
Read the full feature on Innovative Beverages, including tips for retailers, in the October issue of National Liquor News.