With the ever-growing choice for ARTG listed products to disinfect against SARS-CoV-2 (Covid-19), Bracton has released its anticipated Medi1 Hospital Grade Disinfectant.
Bracton has long been one of the most trusted family owned and operated suppliers to the Australian hospitality industry and is relied upon every day by thousands of venues nationwide.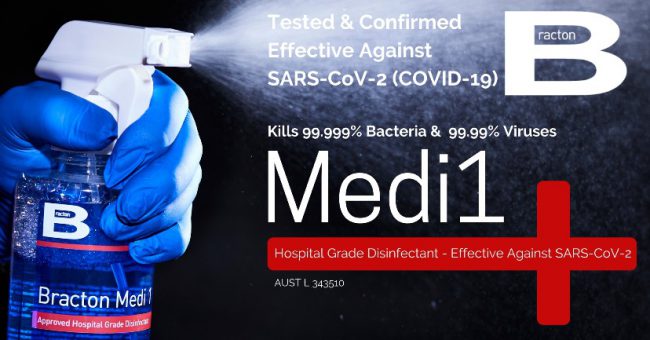 Michael Hunter, Managing Director of the Bracton Group said "We have known and used this technology in our chemical formulations for many years and are excited to adapt it for disinfection against COVID-19. I wanted to develop a product that was safe to spray or fog without putting people's health at further risk. It's a great outcome for us and the industry as a whole".
Medi1 is different to nearly all other listed hospital grade disinfectants through the use of new technology in the formulation, rather than the traditional quaternary ammonium compound, bleach or peroxide based cleaning products. This allows Bracton to provide a safer product to its customers with a wider scope for use on all surfaces.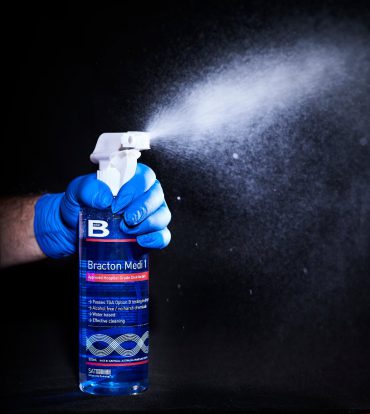 Meeting the standards for both Airbus and Boeing for use in aircraft cabins, Medi1 is safe for use on both soft and hard surfaces to effectively disinfect against Covid-19.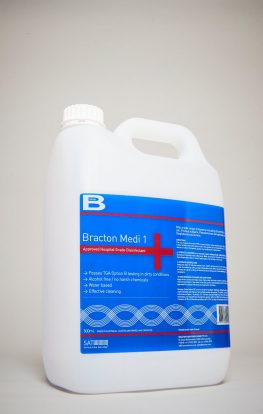 Kills 99.99% Viruses and 99.999% Bacteria (full list available on request)
Safe & Effective
Water Based
Safe On Food Surfaces
No Alcohol
Neutral pH
Non Hazardous
Non Dangerous Good
No Chemical Warning
Non Toxic
Safe to be fogged ultra Low Volume (ULV) or electrostatic fogging machine
Australian Made
Safe On Poker Machines
Pack Sizes:
12 x 500ml Spray Pack
3 x 5lt Carton
25lt Drum w/tap
To Purchase:
Call Bracton on (02) 9938 1800/0433 114 423 or email ben@bracton.com for your closest Bracton Distributor or go directly to https://bhygienics.com/