Brookie's first premium Gin & Tonic with Native Finger Lime, in a ready-to-enjoy bottle is here! Lower on sugar, delicate in flavour, and 100% natural, this premo-premix is made with our award-winning Brookie's Dry Gin, and is a true showcase of native ingredients and botanicals hailing from the local surrounds.
Australia is the largest RTD market per capita in the world. Consumers now more than ever are searching for premium, quality, convenience, natural and lower sugar premium drinks.
Brookie's Gin focused on developing the perfect serve – a premium and well-balanced Gin & Tonic with Native Finger Lime for the conscious consumer.
·         All Natural, Lower Sugar* 50% less sugar than leading Gin premix brands with 2.4gm per 100ml
·         Balanced with a custom-formulated, premium low-sugar tonic and native Finger Lime
·         Blended with Mount Warning Spring Water and bottled at 5.6% ABV (1.2 Standard Drinks)
·         Light & Dry in flavour
·         Best served as cold as possible
·         Easy to open crown seal, twist-off cap
·         RRP $27.99 – 4 pack
Cape Byron Distillery is set amongst the lush rainforests of the Byron Bay hinterland. Home of the highly awarded Brookie's Gin, the Distillery is bringing an unforeseen level of quality to the pre-bottled category.
Brookie's Gin & Tonic with Native Finger Lime, in a ready-to-enjoy bottle is available now through ALM code: 239117.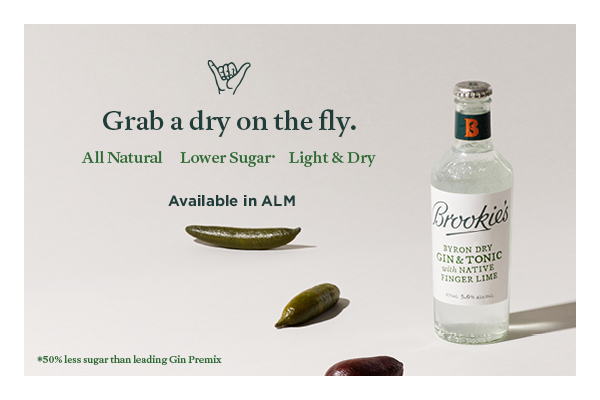 For more information or to view stockists, head over to capebyrondistillery.com/shop/brookies-byron-dry-gin-and-tonic-with-finger-lime-pack/Be on the lookout for their next pre bottled delight, with Brookie's Slow Gin Spritz, made with their signature Davidson Plum gin hitting bottle shelfs soon.
Follow us @brookiesgin
Contact: info@capebyrondistillery.com