Alcohol brands and sports, unsurprisingly, have a strong link in Australia given their association with social occasions. According to Nielsen's 2017-2018 Sport Report: Alcohol there were more than 50 alcohol-related brands present in Australian sports sponsorship during the last financial year.
With focus on minimising the link of traditional advertising and excessive drinking, alcohol brands are increasingly considering indirect and responsible ways of engaging sporting fans. Sports partnerships with governing bodies, teams, events and stadia serve as an opportunity to establish and extend alcohol brand reach and meaningful consumer connection opportunities.
Leading the charge are mainstream Australian beer brands. For example, the sports-related partnership footprints held by CUB brands, Carlton Draught and Victoria Bitter, have the ability to reach more than 12 million unique Australian sporting fans – accounting for over 60 per cent of the total population aged 18+.
Beer and cider brands are the most prominent alcohol-related companies involved in sport sponsorship. As these brands tend to be involved in major partnership agreements, they account for more than half of the total QI media value (dollar value of brand exposure through sponsorship) generated by the alcohol category across the sports landscape.
The AFL records the highest number of alcohol-related brands present (24). However, rugby league and tennis generate the highest dollar value of brand exposure for alcohol brands within their sports. For rugby league, this is largely due to the status of alcohol partners VB and Bundaberg Rum, with tennis generating substantial value throughout the Australian Open, primarily accounted for by Jacobs Creek.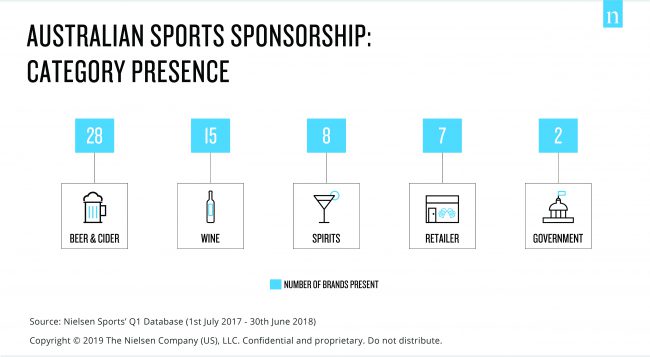 Staying ahead of the game
Nielsen's 2017-2018 Sport Report: Alcohol, details some key future growth opportunities for alcohol and sports sponsorship that warrant further consideration and exploration.
Tier Two Sports: Sports such as horse racing, golf or basketball have the potential to provide valuable consumer connections for alcohol brands – at a price point that may prove more cost-effective than the larger major codes – with an over-indexing of category consumption noted across these fan bases.
Spirits: Spirit brands are less present in sport, yet their target consumers over-index in sports interest outside of the major codes including boxing, MMA/UFC, Moto GP and eSports.
eSports: With a significant proportion of eSports fans believing alcohol is relevant to the sport, there is an opportunity for alcohol brands, particularly beer, to engage with this market.
Millennials: This group of consumers drink less than their older counterparts, however they are more open to trying new products, sampling international alcohol varieties, selecting brands with interesting packaging and they are also more likely to trade up to premium product offers.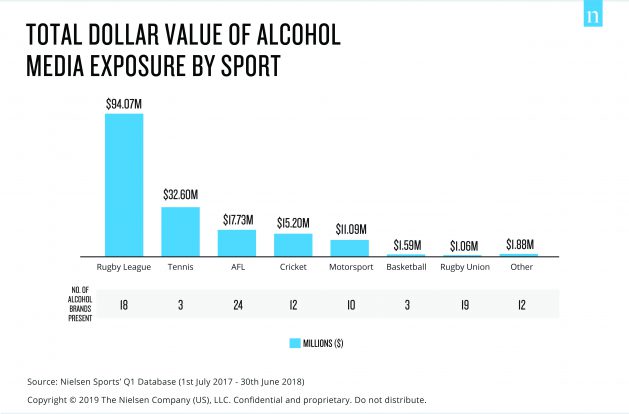 About Nielsen's 2017-2018 Sport Report: Alcohol
This report highlights the key trends among alcohol-related brands within the sports industry. It allows brands, rightsholders and agencies to compare across brands and codes with consistent metrics. Drawing upon Nielsen's syndicated Sports and Entertainment data sources, the major components of the sports sponsorship industry are addressed including brand presence, share of voice, reach, value and consumption.
This article was written for the 2019 National Liquor News Annual Industry Leaders Forum published in February.