In the November issue of National Liquor News, Brian Chase Olson investigates how top performers are broadening the audience of Scotch and Irish Whisk(e)y.  
Neat, straight, or shaken in a sour, no matter how you serve it, Scotch whisky, and its whiskey counterpart across the Irish Sea, has had a booming year in 2020. Scotch whisky, both blended and single malts, continues to hold the largest share of sales in the total Glass Spirit category, with $1.80 of every $10 being spent on Glass Spirits going towards Blended Scotch alone. This is up from $1.70 in the same time period last year (IRI National Weighted Liquor MAT 06/09/2020 – does not include Dan Murphy's or BWS).
Single malts also experienced tremendous growth in the last year, doubling from 14.4 per cent sales growth in September 2019 to 28.3 per cent in the current MAT.
"When looking at growth by quarter you can see that Q2 2020 has seen extremely strong growth (at 39.2 per cent). This will largely be driven by a significant increase in home consumption due to COVID restrictions," Geoff Baun, Senior Consultant – Liquor & Tobacco, IRI said.
Irish whiskey has also experienced strong double-digit growth in the same IRI figures and has been growing steadily for the last couple of years. Of note, the price per litre in 'Total Glass Irish Whiskey' has increased from $64.98 in the 9 September 2018 MAT to $70.49 in the current MAT.
"COVID has led to strong growth of in-home consumption. This has seen a number of liquor segments reverse long term trends or further strengthen growth," Baun said.
While consumers drink from home, distillers go digital
The most obvious of trends sweeping the total spirits category, including the whisky space, has been the proliferation of digital-only events. As social distancing restrictions were implemented in Australia in response to the COVID-19 pandemic, distillers and retailers, too, had to distance their promotions from physical events and in-store tastings and find a way to continue the conversation about whisky to eager drinkers.
The Glen Grant, which is celebrating its 180th anniversary this year, was quick to respond with virtual experiences to introduce their new expression, Arboralis.
"Early on we realised that people would be housebound so The Glen Grant was one of the first brands to respond by creating an online digital masterclass," said Simon Durrant, Managing Director, Campari Group – Australia & New Zealand.
The masterclass allowed a limited number of consumers to purchase tasting kits that allowed them to access an intimate virtual tasting with The Glen Grant's Master Distiller Dennis Malcolm, who celebrates his 60th anniversary at the distillery next year.
"The program has been so successful that one of our tasting sessions has been viewed over 30,000 times by Australian Single Malt enthusiasts," Durrant said.
Glenfiddich, Australia's top-selling single malt, also took to the digital space to engage whisky aficionados and newcomers alike.
"Generally our approach has been to transfer our real-world events into online experiences, and also to create content that directly talks to the at-home occasion," said Kristie Asciak, Marketing Manager, William Grant & Sons Australia.
"We took World Whisky Day indoors this year and inspired whisky lovers with Glenfiddich cocktails, home delivery mixers for experimental highballs, and even created a guide on how to pair home delivery meals with Glenfiddich."
Asciak feels the digital response from distillers has had a significant impact on how consumers engage with the category, particularly when it comes to the appreciation of whisky-based cocktails.
"I expect the increased exploration in whisky and cocktails to continue into the future. These are both existing trends that have been accelerated during COVID restrictions. I wouldn't be surprised if it also leads to accelerated growth in cocktails in the on-premise as people take their enthusiasm back into the bar to share with friends," Asciak said.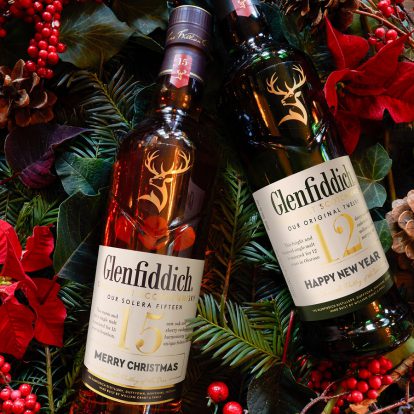 Scotch shopper insights
David Shukri, Senior Insights Director at Shopper Intelligence, provided some insights about how shoppers are interacting with the Scotch whisky category.
In terms of the type of shoppers in the category, Shukri said that: "56 per cent of Scotch Whisky shoppers are male and 40 per cent are over 55 years old, with only 22 per cent under 34 years old. By life state, the most common grouping for Scotch shoppers is Middle/Mature couple with no children/no children at home. One in three shoppers buys in the category every two to three weeks and nearly half (48 per cent) buy solely or mainly for themselves.
"The three most important factors for Scotch shoppers are: price (being able to find great prices in the category), offers (having good special offers on the products they want to buy) and fixed low prices (being able to rely on consistently good, low pricing on their retailer of choice)."
Meanwhile, the top three factors that shoppers consider when choosing their product are the premium status, the authenticity and the layout, i.e. how easily they are able to find the product they want within the category in-store.
The top three occasions that consumers are buying Scotch for include relaxing at home, generally stocking up and socialising at home.
"After relaxing and socialising at home, having Scotch to drink before or after a meal at home or at someone else's home is the fastest growing occasion since 2018," Shukri said.
In terms of what is driving purchasing behaviour in Scotch whisky, Shukri noted that the most common trigger is a shopper running out or already planning to buy as part of a routine shop and that 83 per cent of purchases are planned.
Other notable factors after that include specific occasion purchases (driving 17 per cent of purchases), retailer catalogues (driving seven per cent of purchases) and internet research (driving five per cent of purchases).
You can find the full feature on Scotch and Irish Whisk(e)y, including some extra info on the Indian Whisky category, in our November issue here.