Dan Murphy's is focusing on drink education, discovery, technology and sustainability as it looks to "create the stores of the future" at its first new-look store in South Melbourne.
Managing Director Alex Freudmann told National Liquor News the complete renovation of the store will set a new precedent for consumer retail experience.
"We are making a significant investment to create the stores of the future to cater to customers who are drinking less, but better. The investment is underpinned by our amazing team, relevant range and in-store discovery for our customers," he said.
The improvements made to the South Melbourne store were not only done for the consumer's convenience, but were derived directly from customer feedback and industry trends.
Freudmann added: "Customers are telling us that they want so much more from us than products on shelves. They are interested in exploring, discovering and being educated about the world of drinks, which is what our new store experience is all about.
"We've done the renewal to a single store to test and take learnings, and now we plan to roll out the format into the store network. Our goal is to have a renewal store in every state within the next 12 months."
Part of the leap in customer experience at Dan Murphy's South Melbourne is the use of Near Field Communication (NFC) technology, allowing customers to tap shelf labels with their smartphones to get more product information or read customer reviews about a specific product. Another major aspect of the customer centric remodel is the addition of the 'magic moment' section (pictured below) in store.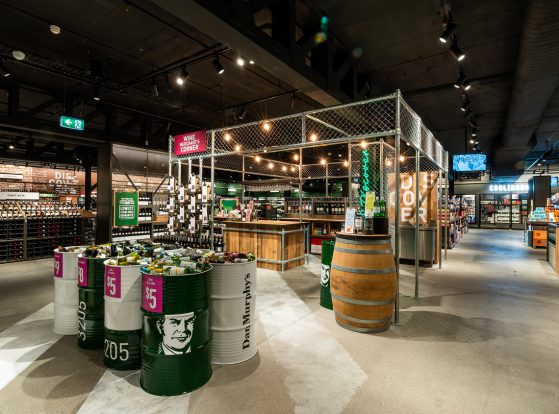 "At the heart of the store is a central area where customers can experience 'magic moments', which include wine and spirit tastings, a merchant's corner with recommendations from the store's resident Wine Merchant and on-demand 'micro-classes' hosted by in-store product experts," Freudmann said.
"Although customers will recognise that they are in a Dan Murphy's, we know they expect so much more from us than just products on shelves – and that's what they will get in our new stores.
"We know that our customers want to discover and educate themselves about the world of drinks, but many are pressed for time. The micro-classes are perfect for customers who have 10 to 15 minutes spare while browsing the store. They don't have to go through the hassle of booking in advance, instead, these classes are on-demand so customers decide when it suits them."
The store plans to educate its customers with micro-class topics changing regularly and covering all categories of drinks from organic and biodynamic wines, domestic and international wine, beer, spirits, cocktails and more. The remodel also includes areas in the store which feature information about a specific product or segment for those who prefer self-education.
"The most important thing for us is that the customer is in charge of how and what they want to experience or educate themselves about," Freudmann explained.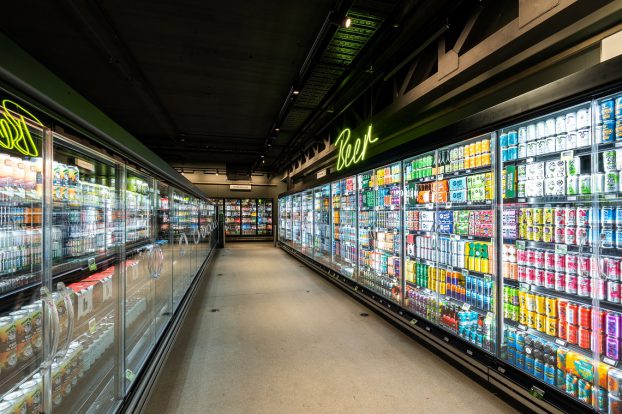 Dan Murphy's South Melbourne has a focus on supporting local businesses, which has led to 30 per cent of its craft beers being acquired from Victoria, with many breweries delivering directly to store. It also offers a range of local spirit brands such as Patient Wolf and Starward for customers.
The store has also curated a range of more than 450 craft beer products, including freshly brewed craft beer from local brewers like Brick Lane Brewing and a range of other styles from brewers across the country and world.
The partnership with Brick Lane Brewing is a big milestone for the local brewer, marking the first time the it has partnered with a national retailer on this scale. It will be supplying limited edition beers every week which will have a 10-day shelf life to replicate the tap room experience as close as possible.
Brick Lane Head Brewer Jon Seltin said: "This is as fresh of a beer you can get your hands on. Our team will fill up the growlers and squealers at our brewery and then deliver them straight to Dan Murphy's South Melbourne, so customers will be able to enjoy a draft quality, fresh beer in the convenience of their home."
Freudmann added: "When choosing what to range in our stores, we use customers' insights to handpick products that we know locals will love. South Melbourne Dan Murphy's has the widest selection of craft beer simply because we know locals are huge fans of craft beer.
"We are committed to continuing to support local brands. It's an exciting time for Australian brewers, winemakers and distillers – there is a lot of innovation in the space, and we are seeing an increasing customers choosing to support local products more than ever."
Prioritised sustainability
In recent years sustainability is a big focus for Dan Murphy's, with approximately 15 per cent of 246 Dan Murphy's stores now having solar power.
"We are making our stores more sustainable, and energy use is a big part of our efforts. We have more stores being switched on to solar every month," Freudmann said.
One example of the sustainability focus is in the innovation of the Dan Murphy's Mornington East store which has saved more than $10,000.
The store's Wine Merchant Michael Zitzlaff saw how many wine box dividers were going into paper recycling every month and searched for a better way to reuse them.
He enlisted the help of about 10 Dan Murphy's stores in Victoria, including Malvern East, Doncaster and Cheltenham. By putting the box dividers aside for the next time a local winemaker would visit the store, the stores have collected more than 12,800 carton dividers that are going to be reused by local wineries to bottle the 2021 vintage.
"Our local winemakers like Kathleen Quealy from Quealy Wines were delighted about the initiative and were more than happy to reuse the box dividers. Not only does this help them save money, but it's great for the environment," Zitzlaff said.