Across the Australian wine industry, producers both big and small are considering inventive new ways to engage with consumers through their packaging.
The progress of 'smart' technologies shows little signs of slowing, and the drinks industry is no exception. Over recent years, producers and brands have looked to augmented reality (AR), apps and QR codes to provide their products with an edge when connecting with drinkers in the increasingly contested retail market.
Living labels
Mount View Media is a Hunter Valley based digital and multimedia company working with producers to add technological enhancements to their products, as Owner, Andy McLennan, explains.
"We've got about 10 different winery clients here in the valley, and we work closely with Hunter Valley Wine and Tourism, producing digital content and media for them," McLennan says.
"Labelling is a new thing we're delving into. We've always done branding and packaging, and we've designed lots of traditional labels, but now we're looking at doing some things where the label does more than just telling you what's in the bottle."
One project Mount View Media is currently working on is the placement of QR codes on certain bottles of De Iuliis wines. Customers will be able to scan the codes, which will take them to a landing page where they can view videos and tasting notes from the winemaker.
"So whether you're at home, buying online, wherever you may be, you can hear from the person who's making this product – what they've done to create this wine, what the intention is with it, what it is like, and the things that get the winemaker excited about it," McLennan explains.
"Mix it up with some nice graphics and it can be quite an engaging experience to learn about the wine."
McLennan said AR is another area that his company are exploring, developing graphics that would appear around bottles when consumers point their camera or an app at the label – providing almost 'visual tasting notes'.
"You could have a vine growing outside of the bottle, but you could also have food matching, or flavour profiles," McLennan says.
This is almost exactly what South Australian wine brand, Press + Bloom have developed in partnership with LabelMotionAR, an app that allows brands to add AR technology to their packaging. Sam Evans, Assistant Brand Manager for Vok Beverages (the owner of Press + Bloom), provides some context as to how this feature functions.
"The technology we use with LabelMotion is similar to a QR code, where the camera recognises certain shapes in our label artwork and allows a video to play on the application," Evans says.
"The video is a highlight reel showcasing some of the stages of production and our winemaking team hard at work, giving a glimpse of the brand's story."
Evans says that the labels have been a hit with consumers, adding: "We've had fantastic response, which created a lot of buzz at our launch and provided great a talking point at a store level for our customers to share with shoppers, with many Press + Bloom advocates in stores nationally showing shoppers how to use the app.
"The highlight has been the social media engagement from consumers and getting to see people drinking our wine with friends and watching our labels on Instagram."
Evans said there is great value in this technology for retailers, and this was a significant motivating factor for the brand to create the AR feature in the first place.
"For us the added level of value to consumers is what drew us. Giving them a more interactive experience with our bottles, as opposed to being a vessel that's opened, consuming and discarding," Evans says.
"It gives us a platform to story tell and allow them to visual that our hardworking team do to turn grapes into liquid in a bottle. From a business-to-business perspective, it gives our customers something fun and engaging to talk to their customers about, which is always one of goals for our wines."
Building community
Another brand that is innovating in this area is Yarra Valley based winery, Innocent Bystander, which has developed a social game that consumers can access by scanning a QR code on its wines. The game, named 'Who Of Us?' is designed to provoke conversation and connections between drinkers. The game requires no additional downloads and can simply be accessed through the internet.
Innocent Bystander's Brand Manager, Andrew Dix, said: "In its simplest form, Who Of Us is a game to enjoy with your friends while you kick back with a glass of Innocent Bystander wine. You can access by scanning a QR code featured on our most popular bottles including Innocent Bystander Pinot Noir, Pinot Gris, Moscato, Prosecco and Rose.
"Think 'Kahoot' meets 'Cards Against Humanity' – it's a multiple-choice trivia game, where you nominate friends who you are playing with, who are likely to display a provocative series of wicked or innocent behaviours.
"We wanted to create something unique to the alcohol industry that adds value to the consumer and that genuinely adds to the drinkers enjoyment of the occasion."
While Dix said there is no immediate conventional financial benefit, the game does serve to find new audiences and deepen consumer relationships.
"You get a deeper level of engagement when someone proactively scans a QR code with the line 'a social game for the wicked' as the driver," Dix says.
"It does a pretty amazing job in finding your like-minded humans, and the feedback we have been getting has really been exceptional by way of building a community."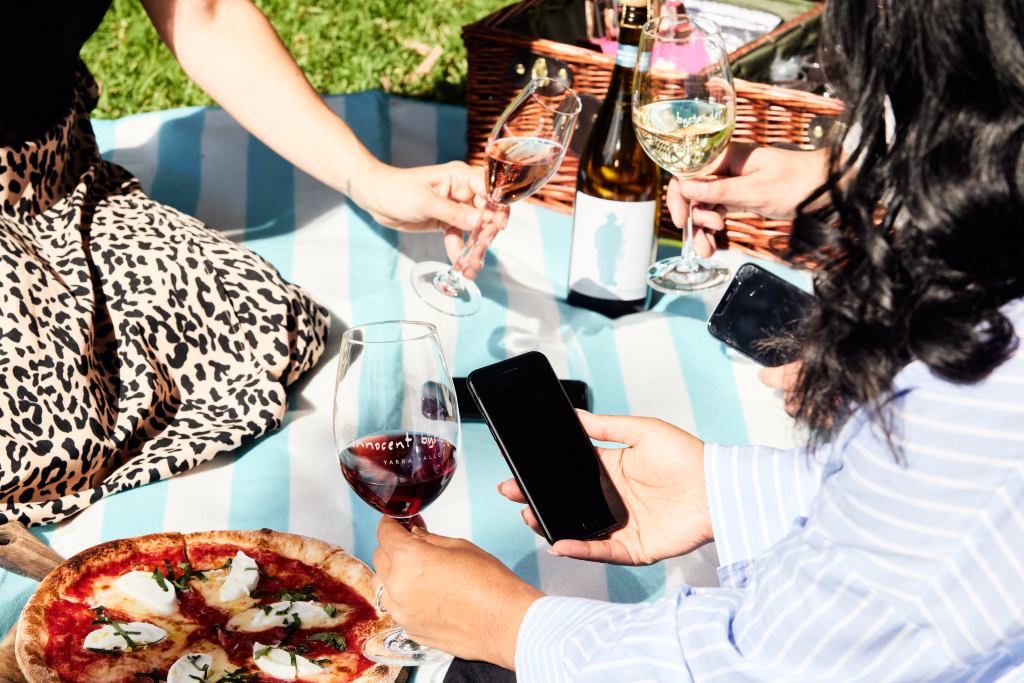 Data and dollars
Eventually, Dix believes technology like this will increase purchases, and impact the bottom line for both brands and retailers.
"As people rely more and more on their device as the main source of truth for their shopping visit – reviews, tasting notes, rankings and competitor pricing is at their fingertips, Innocent Bystander is using this packaging innovation to offer an unconventional experience to consumers and create a little intrigue and enjoyment as a way to encourage people to pick up a bottle of Innocent Bystander over the next competitor," Dix said.
In the same vein, McLennan believes there is the opportunity to take these features even further, saying: "I'd have the winemaker all of a sudden appear next to the bottle talking about it, as a hologram almost."
McLennan also says there are hardnosed business opportunities contained within the creativity of AR-enhanced labels.
"With permission from the consumer, we can capture where it was scanned, how many times it was scanned, which product it was, how many times that product has been activated," he said.
"And the data captured there is very useful. You might find that 'Hey, down on the coast, we seem to be getting more rosé and Semillon, while up in the Hunter it's generally Shiraz.' That's kind of a phase two of the development."
In the end, McLennan says that the industry should accept this technology and the progress it provides, sooner rather than later, and challenged the concept of a divide between the 'real world' and the digital space.
"There can be a lot of resistance against change or something with technology. But I feel like these technologies are worth exploring, to bring older brands into the current digital market we have. The digital world is the future, you've got to constantly evolve," he said.
"It's as 'real' as what people emote from it. A movie on your screen is just ones and zeros, but it makes you feel a certain way, so it's just as real as anything else."