Lion has confirmed that in response to huge demand from across the country its Victorian beer, which is made with 100 per cent Victorian hops and malt beer – Furphy Refreshing Ale – is being rolled out nationally.
As Lion gears up to meet the growing demand it has doubled the capacity of its Furphy brewery in Geelong and has started brewing the beer at its Lidcombe brewery outside of Sydney.
Gordon Treanor, Lion's GM of Craft, told TheShout: "The beer was originally imagined for Victoria; it's been a runaway success across the state and people outside of Victoria are asking us for it and we want to give those people what they are looking for.
"Furphy is growing at about 300 per cent year on year, and demand is growing outside of Victoria.
"We've continued to expand the Furphy brewery as much and as quickly as we can, doubling the brew volume, investing $20m over the last two years and employing 21 new people in the brewery.
"Despite this, we are still unable to brew enough to keep Victorian pubs stocked and to sell Furphy up north.
"We are now shipping Victorian hops and malt to our Lidcombe brewery, with head brewer Warren Pawsey overseeing the brew up there.
"The Geelong Brewery will always brew many millions of litres of Furphy for Victorians."
Treanor also said that keeping Furphy as 100 per cent Victorian hops and malt is important to the brewer and that it will always be the case. He said that Lion has been planning a long way out with its suppliers and farmers to secure the Victorian produce, as it is core to the beer.
Speaking about where Furphy will be available, Treanor added: "We are finding that the beer is being asked for everywhere. On-premise is very successful it's a great beer in the glass and in terms of the rate of sale in the on-premise it is incredibly strong.
"In the off-premise cans have been a runaway success and that brings in a new set of consumers who enjoy drinking great beer out of a can.
"We are getting requests for Furphy from all over the country from on-premise, off-premise, independents and the majors and we are going to make it available to all those that would like it. But Victorians will continue to be the first ones to get the beer and then everyone that we can supply outside of that it will be available to."
The Head Brewer of Furphy and Little Creatures in Geelong, Warren Pawsey told TheShout that as part of the capacity expansion there were 21 new brewing people brought in in 2017, bringing the total brewing team to 48 people. He also said that beer being brewed in Lidcombe is subject to a lot of scrutiny to ensure it tastes, smells and looks the same as the beer that is brewed in Geelong. The first brew took place in December and every brew is still subject to stringent testing.
"We have a form that we go through to taste the beer from Lidcombe and compare it to the beer that we brew in Geelong. Multiple people are comparing the beers and rating them against parameters and I flew up to Sydney a lot over that first couple of months to sign off on tanks and get brewing.
"After doing three brews that met all the specifications, we are now at the point where they send us a carton from every production. The team in Sydney tastes it against our beer and then we do the same down here."
In terms of why he thought Furphy has proved such a popular beer Pawsey added: "We always made Furphy to be easy drinking, it was always going to be a beer for people who haven't tried craft beer. So sessionability is important and it was never going to be in your face with any one flavour, it was always going to be balanced all the way through."
TheShout also spoke to Sam and Adam Furphy, of the Furphy manufacturing family about how they came involved with Lion on this beer and what it is like to be part of an increasingly successful brand.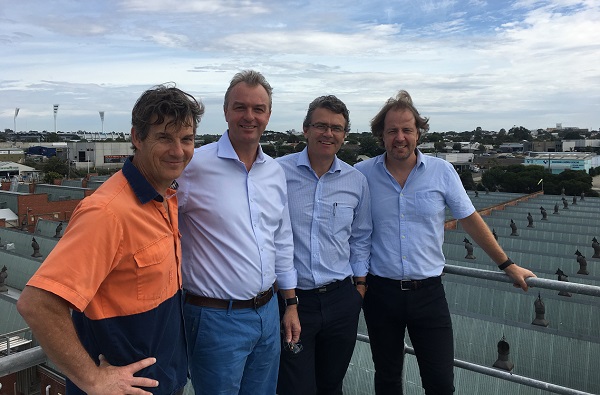 "Sam and I are both running manufacturing businesses and we are the fifth generation of the Furphy family, so there is a long history of family manufacturing," Adam said. "We made the fermentation vessels for Little Creatures over in Fremantle and in Geelong and that gave us a link to Lion and brought us together.
"Initially when we started talking about using the family name we were flattered, but a little anxious given this is our family history. We have got a historical legacy in Australia, and the word Furphy is part of the language here. From our side we were really impressed with how the whole thing was conceived and how it was executed and the respect that the organisation paid to what we had, and now to see it being so successful is fantastic."
Sam Furphy added: "What has been wonderful to see is this beer that was built on being manufactured for Victoria has blossomed here and there is now demand for it interstate. The Furphy family story isn't unique to Victoria and we are very proud to be a national business and proud to see the demand is pulling the beer into different states, rather than it being something that's manufactured and pushed across the country."
With brewing now taking place in Geelong and Lidcombe, Treanor said that the "priority one, two, three and four" was making sure that Lion continues to invest and grow Furphy in Victoria and now makes Furphy Refreshing Ale available outside of Victoria.