The Kaddy stats are in, non-alcoholic cocktails are the future. Kaddy Marketplace is Australia's largest online B2B platform for beverage discovery, ordering and payments, working with +2,500 venues, +1,200 brands and +15,000 products.
For decades, non-alcoholic cocktails have been treated like a joke. Largely it was confined to 'mocktails', which are more like blended fruit drinks with fancy names rather than a respected category crafted with consideration. But now, with an explosion of high-quality options, coupled with an audience that is eyeing off popular sober months like July that is actively looking for lower alcohol options, this overlooked segment of the spirits and cocktail market is booming.
It's not just confined to July, either. According to a recent report from Audience Precision, 25% of people surveyed globally said they are drinking less alcohol now than they did 5 years ago. And 70%+ of that group are doing it because they 'want a healthier lifestyle'.
There's a great description that appeared in the 2022 Bacardi Cocktail Trends Report for this movement, dubbing it the rise of 'sober-curious consumers' – those who are 'happy to switch between sober nights and drinking occasions'. Indeed, 43% of purchasers of No and Low alcohol (NOLO) beverages say they are substituting for full-strength options rather than abstaining from alcohol overall (according to IWSR stats).
As Simone Kealy, Marketing Manager at Kaddy explains, it's translating into wholesale sales too.
'We're seeing unprecedented growth – up to 170% YoY sales growth in some segments – for the NOLO category with an uplift in searches across our platform.'
'While NOLO beer is leading the charge, it's cocktails and spirits that are showing very interesting trends. We're looking at MoM growth of 30% on Kaddy Marketplace for NOLO cocktails and spirits, with over 15% ofsuppliers now offering NOLO products'.
One of the unquestioned drivers of this success is a step-change in quality, pushed along by pioneering spirits makers.
For a perfect example, look at the success of Lyre's Spirits Co. – now 'the most awarded non-alcoholic spirits brand in the world'.
What Lyre's have done so successfully is offer like-for-like options that will appeal to the sober-curious drinkers, including alternatives to single malt whisky, absinthe, gin, tequila & even triple sec.
Indeed, one of the drinks that Kelli Odell from Lyre's points to as the hit of Dry for July is the Pink London Cosmopolitan, made using the Lyre's Pink London Spirit & Lyre's Orange Sec. In support of Dry July, 10% of the profits from every bottle of Pink London go to the McGrath Foundation.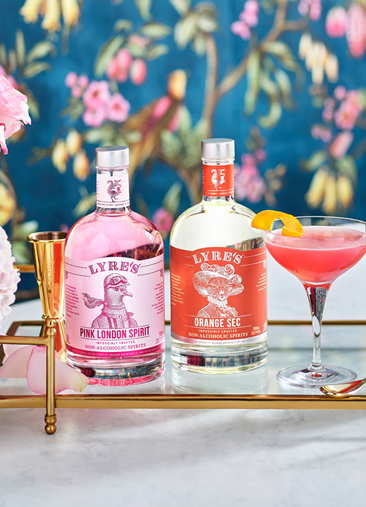 As Odell pointed out in a recent Hospitality Leadership Summit, the other advantage of non-alcoholic cocktails is the smaller calorie footprint – up to 95% less in the case of the Lyre's Dry London Spirit.
That calorie impact is becoming increasingly important in the industry too as Kealy explains.
'We've seen lower-calorie options championed by seltzer makers in recent years, and we expect to see this trend become more prominent across the beverage trade with the proposed changes to FSANZ energy labelling'.
'Between lo-cal and NOLO you're looking at two of the biggest emergent trends across the Kaddy Marketplace'.
Sign up to a free Kaddy Marketplace account to discover 15,000 products, 1,200 brands and hundreds of NOLO options today.