A new alcoholic kombucha, created through secondary fermentation, has been launched across Australia.
Founded by Nick Cogger, K.Booch Alcoholic Kombucha Co is based in Torquay (Vic). The product, K.Booch undergoes a secondary fermentation to give it an alcoholic edge. It features a range of four flavours of alcoholic kombuchas – Pineapple & Watermelon, Rosé & Berry, Blood Orange and Ginger & Lime.
"The Pineapple & Watermelon, that's an entry level kombucha for us – super easy drinking flavour," explains Cogger. "Rosé & Berry is that 'frosé' vibe, so rosé, raspberry and strawberry. Blood Orange is sour and tart. And then a Ginger & Lime, with heavy ginger and fresh lime."
While most kombuchas have a very small amount of alcohol in them, each K.Booch has a 4% ABV, achieved through the secondary fermentation. They are currently available in 330ml bottles, although the product is also expected to be in cans in the next two months.
"We're going to use that for festivals and events, then later in the year we will make them available to the off-premise market," says Cogger. "The research we've done is the 18-40 year old women (that's the target demographic for us), they still want the bottle. They still feel that's a more premium product. There's no right or wrong but we'll be doing both. And we're going on tap in my venue (Frontbeach Taphouse) and later in the year we'll start looking at growing our on-premise presence."
There are around 2-3g of sugar per 100ml and around 100-130 calories per bottle.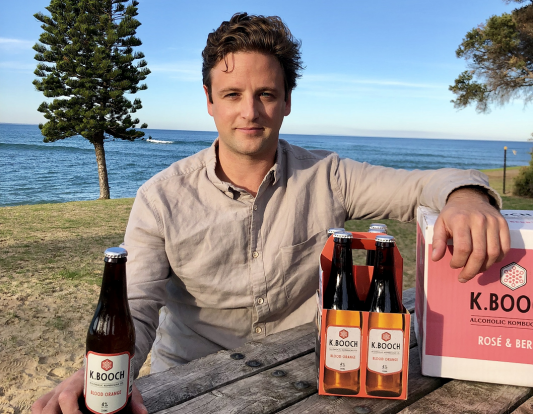 "We promote K.Booch as a 'Better for You Alcohol Choice', with transparent labelling,  lower ABV and lower sugar than your traditional RTDs or ciders" says Cogger. "Consumers at the moment are drinking less; they're drinking better products that they know and trust. We are currently being ranged in the RTD fridge, but it's our opinion that as we are a fermented product we are more like a ginger beer or cider, even a craft beer."
Development of the brand started in September 2018, while the product itself went to market in February 2019. It is now in 200 bottle shops across Australia. It launched in Victoria in February, New South Wales, South Australia and Western Australia in May, and in Queensland in April.
Cogger explains: "Last year (2018), I saw kombucha and started drinking a lot myself. I went from drinking kombucha at breakfast to drinking it in the afternoon, in the sun with gin. This spurred a thought that I might be able to secondary ferment the 'Booch', so I dusted off my old brewing books and developed a proprietary technique over the summer of 2018/2019 to secondary ferment kombucha"
Due to alcoholic kombucha being a completely new category in Australia and only three years old in the world, the Excise Department at the ATO does not have a classification for it.
"We get lumped in with the RTD or spirit tax, even though we are a secondary fermented product, which means we have a high price point – bottle shops are selling at $22-25 for a four-pack," says Cogger.
Alcoholic kombucha started as a category in the USA around three years ago and is currently undergoing massive sales increases, particularly in California.
"Almost every bottle shop in California will have two or three alcoholic kombuchas in their fridge. They are really trailblazing for the industry over there, led by the guys at June shine & BoochCraft."
Cogger, who ran a microbrewery for five years, worked on the recipe development and has found a brewery that isn't brewing beer to make K.Booch – a normal brewery "wouldn't want the kombucha with acetobacter spreading through their facility". The first brew cycle runs for around a month depending on how the sugar drops, but a secondary fermentation then runs from two to three weeks. "That's when we create the alcohol," says Cogger.
K.Booch has been showing its wares at beer festivals across Australia and opened a pop-up taproom in Torquay over the Easter weekend.
"We will be looking to roll out the pop-up taproom throughout Australia this summer," says Cogger.