Article written by Sandy Hathaway, Senior Analyst at Wine Australia.
Prosecco is a recent Australian wine success story.
It has been by far the fastest growing wine grape variety in Australia over the past eight years.
Its crush has increased from less than 2000 tonnes in 2015, to around 14,000 tonnes in 2021 and 2022 – an average increase of 32 per cent every year over that timeframe. Its nearest rivals in the way of growth are Malbec, with an average annual growth rate of 18 per cent, Grüner Veltliner (17 per cent – but from a very low base) and Durif (16 per cent).
Prosecco is distinctive because it is one of only two major wine grape varieties grown in Australia where more than half is produced in a single region, and that region is not one of the big inland 'river' regions (the other is Grüner Veltliner, where 54 per cent is grown in the Adelaide Hills). The top region for Prosecco is the King Valley in north east Victoria, where it makes up 42 per cent of that region's production and accounts for 55 per cent of Australia's total Prosecco crush.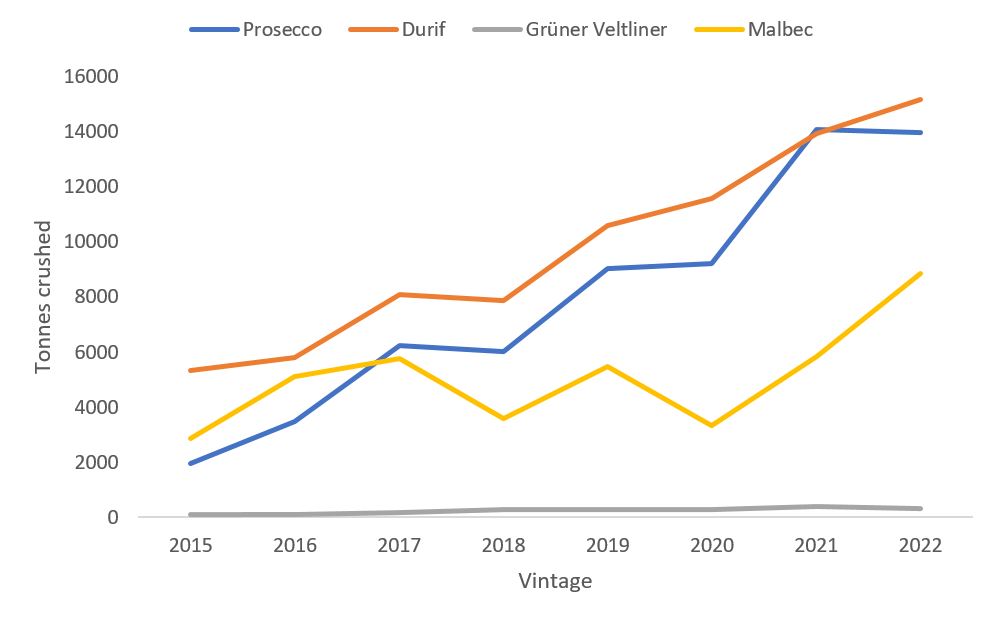 Prosecco is a sparkling wine style, and as such has benefited from the surge in popularity of sparkling wine since the start of the COVID-19 pandemic. In the off-trade, sparkling wine sales in Australia grew by 10 per cent in volume between April 2020 and April 2022, with Prosecco contributing nearly two thirds of that growth in terms of total volume (followed by Champagne accounting for the remaining third).
By contrast, still wine declined by four per cent in volume over the same timeframe. This growth includes imported Prosecco, but Australian Prosecco accounted for approximately 78 per cent of total retail Prosecco sales in the country, and 83 per cent of the growth in the year ended April 2022, indicating that it is out-performing its imported rivals.
References:
Wine Australia National Vintage Survey 2022
IRI MarketEdge YE 04/22
This article originally appeared in the September 2022 issue of National Liquor News.