It's about time.
How many times have you stayed back after work, after hours, just to replenish your wine and beverage stocks?
Not to mention, you're still having to send your inventory orders to multiple suppliers who invoice and deliver at different times.
It's time to let technology close the gap between vineyard and venue, it's time to join the (r)evolution!
We're bringing the 21st century to you.
It just made sense for us to make things simple for venues and winemakers.
So we present to you WINEDEPOT MARKET. An online marketplace for wholesale buyers of wine and beverage.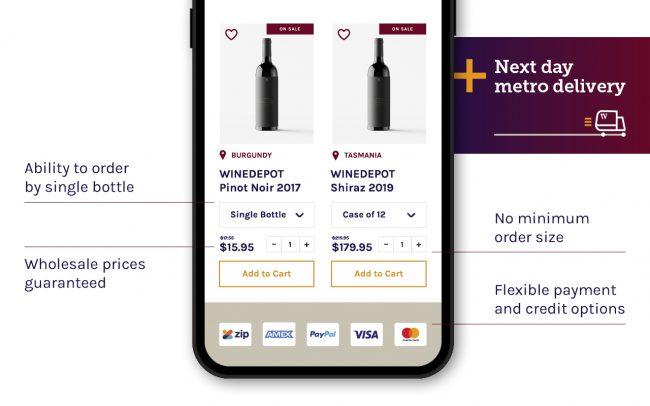 1 order, 1 delivery, 1 invoice, 1 flexible payment.
Set to launch in April 2021, WINEDEPOT MARKET will guarantee venues:
Convenience of online order 24/7
No minimum order size
Ability to order by the bottle
3 pm cut off time for next day Sydney and Melbourne Metro delivery
Adelaide and Brisbane deliveries in 1-2 days, Tasmania and Perth in 3-4 days
Flexible payment and credit options
Order from multiple brands under 1 invoice, 1 delivery and 1 payment
Reduced administration
Broad range of boutique to mega-brands
Access exclusive specials and limited releases
Exclusive news updates on upcoming releases
It's time to let drinks flow.
Join the waitlist to an exclusive invitation to our soft launch in March 2021. Your only chance to take a sneak peek before the rest of Australia.
Sign up here: www.winedepot.com
Who is WINEDEPOT?
Our purpose is to streamline wine.
To connect buyers with sellers.
To simplify technology.
To take care of logistics.
In a way that's fairer for all.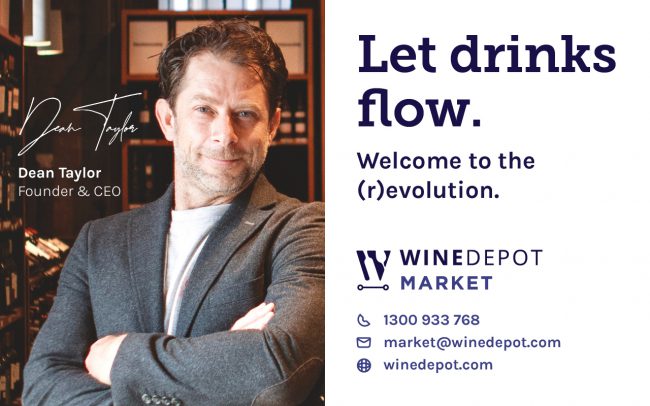 1300 933 768