Last week, shoppers to Blackhearts & Sparrows were treated to something extra special – the release of a new limited edition whisky, created in collaboration with The Gospel Distillers.
The two Melbourne businesses came together last year with a goal to create something special, intended to encapsulate the spirit of the area. It's the first time that The Gospel Distillers has created a product in collaboration with a retailer, after launching its first rye whisky in 2019.
According to the teams behind both brands, the partnership wouldn't have been possible without the close relationship and shared values that Blackhearts & Sparrows and The Gospel enjoy.
Andrew Fitzgerald, Co-founder of The Gospel Distillers, told National Liquor News: "Ever since we launched The Gospel, [Blackhearts & Sparrows] has pretty much always had us in all their stores."
It was during a different Gospel limited release project that Adam Cotterell of Blackhearts & Sparrows reached out to Fitzgerald about getting more stock, and that's when the idea formed to work on a new project together.
"We've just been such massive fans of what The Gospel has done and achieved with their rye whiskies. We're in a business of relationships, so we're always looking to see where was can take things with people and go that little bit further," Cotterell told National Liquor News.
The Gospel Projects Blackhearts & Sparrows limited release comes from a unique cask found in The Gospel's Brunswick bond store. The team from both sides of the project came together in the bond store to taste and discuss different options, before making decisions about the final product.
When the project first began, there were plenty of interesting and unusual ideas in the air, including refinishing the whisky in a different cask, or blending rye and single malt whisky together.
"There was all sorts of things going around but at the end of the day, we found one cask and the story just changed. This is now a story about quality, and a crazy real standout cask that we found in the corner that we all loved," Cotterell said.
Fitzgerald explained the story behind the cask and gave some background on the wonders of the bond store itself.
He said: "At our Brunswick bond store we have over 1000 barrels on site. We have a lot of different types of products in different casks there, and where this one actually comes from is from our R&D in collaboration with barrel producers on certain barrel profiles.
"There's lots of things that make up a barrel – the timber type, the forest or region its sourced from, the length of time the barrel is seasoned, how its treated when they cooper it, whether it has a heavy toast or light toast, heavy char or light char, or any variable in between. We've been running constant R&D to refine our barrel profile for The Gospel, and the cask [that was chosen for this project] was part of that trial program."
Deciding on which barrels to try with the Blackhearts & Sparrows team wasn't random either, Fitzgerald said he briefed his Master Distiller, Ian Thorn, about what characteristics the group wanted, and Thorn then went and located several options to sample.
At the first moment that everyone tasted the chosen cask, Cotterall said there was a realisation that they'd stumbled onto something amazing.
"I think all of our eyes were flicking around the room going, what the hell have we just found here?!" he said.
"We thought, this cask is amazing and has caught all of our attention and stopped all of us in our tracks. We didn't even end up knocking it back with water – we did some trials about where we wanted the ABV to finish, but then thought no, let's just celebrate the rye, celebrate the cask and celebrate Gospel. We found something pretty special, so let's keep it at cask strength."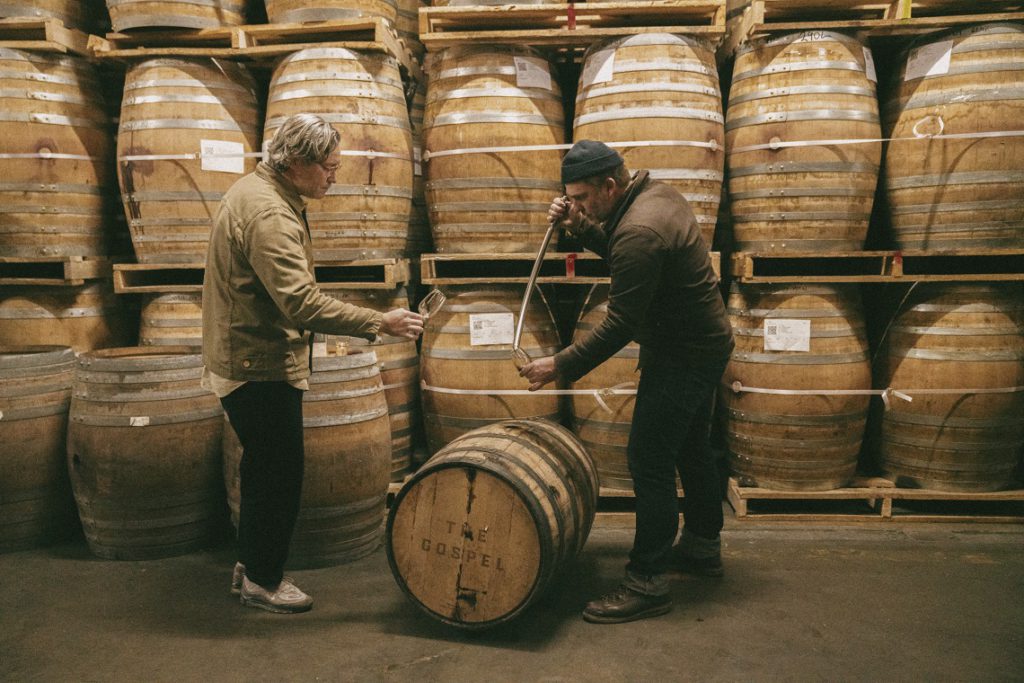 The end product comes in at 56.8 per cent ABV, with a limited release of 261 bottles that retail at just $135 each, a hugely affordable option for consumers looking to explore the world of Australian whisky. This was one of the goals of the collaboration too, speaking to the values of both businesses involved.
"A big part of what we're about is making things approachable for everyone. There's a top end to what we do, and then there's a very affordable bottom end. Obviously not everyone's got 135 bucks at the moment, but with the quality and distinctiveness of that cask, it was amazing for us to be able to deliver at that sort of price," Cotterell said.
Despite only being released last week, the whisky has already sold out online, and has been dubbed a huge success.
Reflecting on the experience, Fitzgerald said a huge part of the reason it all worked out so well was how both Blackhearts & Sparrows and The Gospel Distillers trusted in each other and trusted in what the collaboration could offer consumers.
"I really trust [the Blackhearts & Sparrows team] and I think that's the main reason why I liked the idea of doing this project with them… They have a really curated store, there's not just rows and rows of stock, and if you look at their spirits collection, its usually quite tight," he said.
"Getting their feedback about what they love about a particular spirit they're drinking was was really good and informative to me too."
Cotterell added: "When people trust you to put your name on something and involve you in the process, and then in that process you find something that you're both so proud of… it's just great. We're very fortunate, we work hard but we're fortunate."