Non-alcoholic online beverage marketplace Sans Drinks has taken the leap into bricks and mortar retail this month, officially opening its flagship store in Sydney.
Sans Drinks was first launched online last year by Founder Irene Falcone, who saw a gap in the market for a dedicated adult beverage alternative retail offering. The original online pureplay stocked a huge range of non-alcoholic beer, wine, spirits, RTDs and mixers. And now, the whole range is also available in store, staying true to the original goal to make it easy for people to find a zero alcohol option if they don't feel like drinking alcohol, for whatever reason.
Falcone said she wanted to take the website into the physical world as soon as she could after the heights of the pandemic, due to seeing such great online results and having a surprising number of people show up to the Sans Drinks warehouse in Brookvale. So she couldn't pass up the opportunity when she found a shopfront availability in the northern beaches suburb of Freshwater, right across the road from Vintage Cellars.
"I am an e-commerce girl, that's what I've always done. I felt really comfortable in that space so I thought I'll just do it online, and then people who have had too much to drink during the lockdowns can order beautiful non-alcoholic drinks from me… but the second that I could open up a real bricks and mortar store, I did," Falcone told National Liquor News.
"I was doing my pick packing out of a big warehouse in Brookvale, and once the lockdown eased, I opened the front of that and turned that into basically a bottle shop, but it wasn't on the main road. I had so many customers look me up and come in to click and collect. That gave me the confidence to think, if only half those people walked into my main road bottle shop, I can't lose."
Becoming a retailer of solely non-alcoholic beverages could be seen as a huge risk in Australia, where prior to the pandemic, Falcone said the idea was often met with 'what's the point?'. It would take serious conviction in the concept to go ahead with such a risky venture, not only in the online world but also in a physical store, especially across the road from one of the biggest liquor retailers in the country.
That's exactly what Falcone had, encouraged by the surging popularity of no alcohol beverages, and driven by her entrepreneurial history as a 'disruptor.'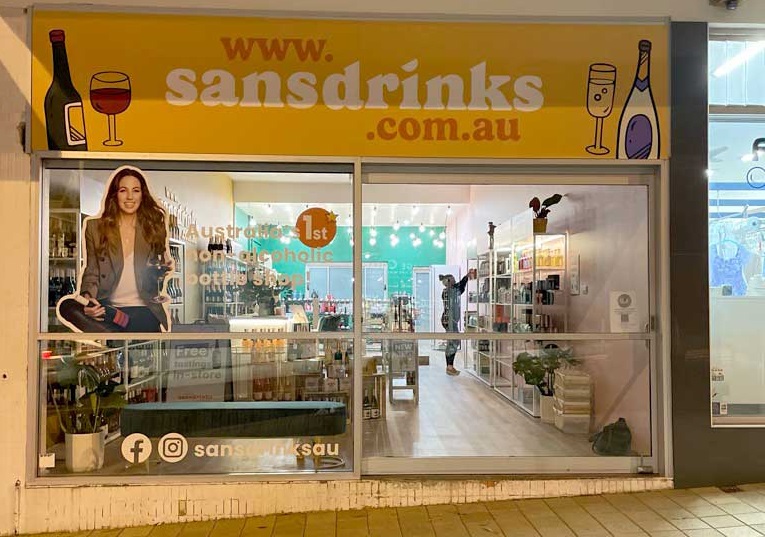 She described the philosophy that gave her such confidence and said: "My customers aren't just people who don't drink, they're people who drink but just want to drink less.
"They don't want to go into a liquor store and buy non-alcoholic [drinks]… If you want to cut down on alcohol, it's the worst place you could go to buy non-alcoholic because there's so much temptation. And people also don't want to buy it in the supermarket where they buy their cordial.
"There was a real gap in the market, so I thought positioning myself right next to a major liquor chain would send a message that I am deadly serious and not just some hack with an online store… I have planned to open another 20-30 stores nationally by the end of next year."
Because of Falcone's desire to fill said gap in the market, she doesn't see traditional liquor retail as competition for Sans Drinks.
"I really don't see anyone as a competitor at all, because I think I'm opening up a completely new category," Falcone said.
Already that seems to be resonating with Sans Drinks' customers, with an already encouraging reception to the flagship store including a mix of foot traffic and customers seeking the store out as a destination.
What draws people is how the store replicates the online site, not only in how successful it is turning out to be, but also in the experience.
"The store itself is really bright, and it is like a 3D walkthrough replica of my actual website. Everything that you see online is set out the same way when you walk through. You can really have the same experience as you would on the internet but in an actual real environment, it's really omni channel," Falcone said.
"The in-store experience is kind of special because on an afternoon I open a few bottles and people can have a little try and they can taste and compare. I'm also finding people are talking to each other, and they'll be like 'no, don't get that, I tried this one and it was just fantastic'. It's a bit social, it's got a great vibe to it, and it's got a really nice energy.
"And I'm there myself, seven days a week, so they get to talk to me and I know so much [about the products we have in-store.] I've lived and breathed non-alc for about two years now, and I've done absolutely nothing else by try, taste and research… so often people just come in for a chat."