Looking for something special to help spoil Dad this Father's Day?
Jacob's Creek Double Barrel is a unique wine, finished in aged whisky barrels, delivering a richer, deeper and smoother taste. A premium and delicious wine range that pairs perfectly with smoked salmon, a warm roast or a BBQ – making it the ideal wine to have over a meal with family and friends.
Whether Dad likes a white or red wine, make sure Double Barrel is on the table or given as the perfect gift this Father's Day.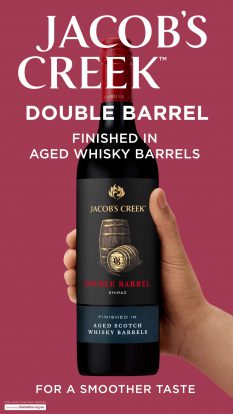 Double Barrel Chardonnay
Crisp, fresh, textural; crafting this modern Australian Chardonnay in aged Scotch Whisky barrels adds depth and intensity, delivering a Chardonnay that's unlike any other.
Double Barrel Shiraz
The full, generous flavours of blackberry and ripe plum are enhanced by careful use of aged Scotch whisky barrels for a lovely soft finish.
Double Barrel Shiraz Cabernet
The dark chocolate of the Shiraz is joined by rich cassis from the Cabernet Sauvignon and finished with silky, mouth-filling tannins thanks to the innovative use of whisky barrels as part of the finishing.
Double Barrel Cabernet Sauvignon:
Complex, ripe and layered; the careful use of aged Irish Whiskey barrels within the finishing process adds power and complexity, while showcasing the premium fruit.
Jacob's Creek Double Barrel is available to purchase at leading retailers across the country from $24.99.  For more information contact your Account Manager or new customers please email nationalcustomerservice.PRA@pernod-ricard.com.
Enjoy Jacob's Creek responsibly.