L-R: Caolan Vaughn and Brad Rogers with SWX
By Charlie Whitting, Beer & Brewer
Stone & Wood Brewing Co. is celebrating its 10th birthday with a range of new releases and events.
"We've released some memorable beers but until now, our focus has also been on getting enough of it to our thirsty drinkers," comments Head Brewer Caolan Vaughn. "We're proud of the journey so far and having an incredible, passionate team that's been along for the ride, but all of us at Stone & Wood are even more excited for what's to come."
One of the major changes is that the brewery's flagship beer, Pacific Ale, is now available in cans.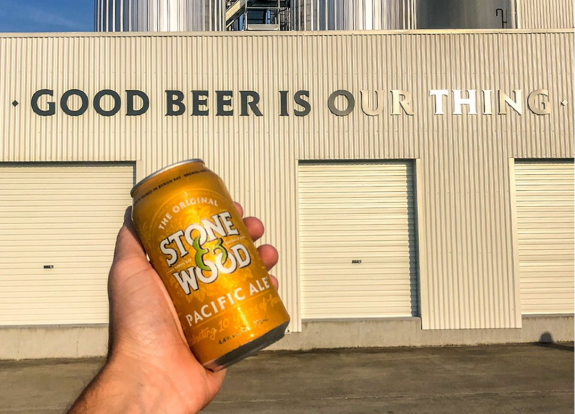 "From when we first released the original Pacific Ale, our customers and our drinkers have begged us to put it in a can," says Vaughn. "Up until now our focus has been on making enough of the stuff, so we're pumped to be able to release a commemorative '10 Years of Summer' Pacific Ale can now."
The cans are currently on limited release, but the brewery plans to release it permanently in mid-January.
Last week, the brewery unveiled SWX, a 10 per cent ABV imperial stout to celebrate its 10 years. Hand packed in 750ml bottles, SWX has spent time in barrels and is available in bottle shops and on tap. Two-hundred limited SWX packs are also available from Stone & Wood's online store from 2 November for $59.
The brewery's tasting notes for the beer say: "SWX pours jet black with a chocolate head and features incredible depth of malt flavours and aromas of espresso, cocoa and dark fruits. The time in the barrel has enhanced the smooth, rich flavours and oak aroma, while providing hints of cherries and chocolate."
Stone & Wood has also made changes to the packaging of its lager – Green Coast. Inspired by the green hills that roll down to meet the ocean, the packaging is intended to reflect the natural setting of the Northern Rivers brewery's backyard region. The recipe for Green Coast, which is Stone & Wood's second biggest selling beer, has not been changed.
The brewery is also holding its inaugural Backyard Invitational Festival on 24 November to celebrate its birthday. Stone & Wood is bringing together other indie breweries and those who have become friends and family over the years for an afternoon of good beer, talks and panels, food, music and drinks, while raising funds through their inGrained Foundation.
"Compared to breweries in other parts of the world that have been around for hundreds of years, we're 10 years young," said Co-owner Brad Rogers.