Robert Mondavi Private Selection has its roots firmly planted in the warm sunshine, cooling fog and unique soils of California's renowned winegrowing regions.
"Long before California's Central Coast became synonymous with exceptional wine, legendary winemaker Robert Mondavi pioneered the region. He inherently recognised the Central Coast's potential to produce phenomenal grapes—and, ultimately, wines of the utmost quality. They exude the fresh fruit character and bright acidity that can only come from a wine shaped by the influence of the Pacific Ocean" said Andrew Theodosi, Brand Manager at Constellation Brands.
Exploration is a powerful driver in the purchasing decisions of Australian consumers at the moment, as people seek to learn more about different wine regions. "We've seen a great response to the Robert Mondavi Private Selection portfolio as consumers are looking for different expressions of their favourite varietals. The Californian climate delivers these really delicious, bold takes on crowd favourites" said Theodosi.
In Australia, consumers can enjoy three of the brand's award-winning SKUs, the Buttery Chardonnay, Bourbon Barrel-Aged Chardonnay and Bourbon Barrel-Aged Cabernet Sauvignon.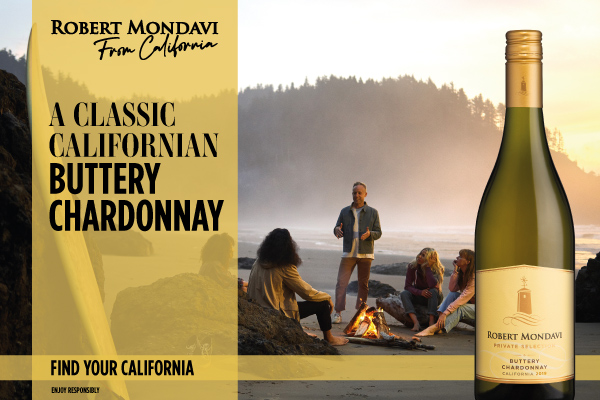 The Buttery Chardonnay is named after the rich, creamy flavours with notes of apple, peach and toasty brioche. "Big, bold, buttery Chardonnays are back! And our Californian Buttery Chardonnay absolutely delivers on that. Not only is the taste really resonating with the market, but being able to aide the shopping journey by having 'Buttery Chardonnay' on the front label certainly helps," Theodosi said. The SKU has seen phenomenal value growth of 130% MAT.
The Bourbon-Barrel Aged wines blend California winemaking with the Southern tradition of Bourbon Whiskey aging. The wine begins in the coastal vineyards of California & once it is ready to age, used bourbon barrels add intrigue and complexity to the rich and bold wines within.
Robert Mondavi Private Selection is available via ALM or ILG. For more information, contact Dean Kornman (National Account Manager at Constellation Brands) at dean.kornman@cbrands.com or on 0407 995 307