By Deborah Jackson, Editor National Liquor News
Over the next 12 months, The Balvenie will highlight the pioneering work of Malt Master David C. Stewart MBE to celebrate the 25th anniversary of its most famous expression – The Balvenie DoubleWood Aged 12 Years.
The Speyside distillery is having a year of celebrations to mark the milestone which will pay tribute to not just Stewart but also the many distillery craftsmen and women who made DoubleWood the expression it is today.
The Balvenie DoubleWood Aged 12 Years traces its origins back to 1982, when Stewart began experimenting with double-cask maturation, or 'wood finishing', by transferring 12-year-old Balvenie into Oloroso Sherry Casks. Now commonplace in whisky production, wood finishing involves taking mature liquid from one cask and finishing it for a number of months in another – a process that further develops its character, flavour and depth.
The success of Stewart's trials led to the release of The Balvenie Classic in 1983. Buoyed by the response this garnered, in 1993 The Balvenie released DoubleWood Aged 12 Years, a whisky that begins its journey in traditional whisky casks for 12 years, before being transferred into Spanish Sherry oak for a further nine months for final maturation, adding a layer of depth and fullness not to be obtained from other maturation methods.
Development of this technique, along with years of dedicated service to the Scotch whisky industry, earned Stewart his MBE from Queen Elizabeth II in 2016.
Commenting on the anniversary, Stewart says: "DoubleWood's creation and subsequent success is an achievement of major personal pride for me. It makes me very happy to know that a technique I helped pioneer all those years ago has now become a common practice in the whisky industry.
"But DoubleWood wouldn't be the whisky it is today without the hard work and dedication of all the distillery craftsmen who have contributed to its development over the years. The 25th anniversary celebrations give us all a perfect opportunity to come together and raise a dram to this wonderful liquid."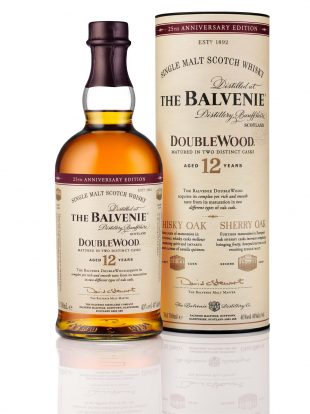 The year of celebrations includes The Balvenie releasing a limited 25th anniversary edition of DoubleWood 12, with redesigned commemorative packaging containing information about David's pioneering work.
Further 25th anniversary events and activities will continue throughout the year, including the release of three short films looking back and exploring key moments in DoubleWood's rich history as well as looking ahead to the future of the expression.
David C. Stewart MBE appeared on the cover of the May edition of National Liquor News and a further article will appear in the June magazine.