In the October issue of National Liquor News, we analysed the development of the rum category and its strong potential for future growth.
If COVID-19 and the subsequent lockdowns have done anything for the drinks industry, it's that we've seen a boom in sales of glass spirits thanks to a renewed interest of Australians in making cocktails at home.
Gin is still the king of the spirits category, in terms of growth and innovation. However, there are signs that consumers are starting to become more adventurous when it comes to trying new rums, particularly spiced rum, which is the third fastest growing segment in the glass spirits category.
Loy Catada, Bacardi Brand Ambassador, said that consumers have a growing willingness to explore new drinks, and this includes a move beyond the typical rum and cola.
"If you look at the category closer over the past three years you will find that people are going beyond just white rum and the typical rum and cola. There is a growing demand for craft and premium rums. Rum with age statements and sipping rums are becoming popular as well as spiced rum," Catada said.
The pandemic has also influenced this growing interest in different kinds or rums and serves, as Vok's Brand Manager Kristen Mckinstry and National Business Manager Patricia John noted.
"There's evidence to suggest that this year, in particular, consumers have been seeking to recreate the 'bar experience' at home, and are therefore choosing premium spirits to enjoy or experimenting with mixing their own cocktails," said Mckinstry and John.
"While the classic 'rum and cola' drinker (who consumes both RTD and bottled formats) will always be around, the category will continue to evolve in terms of new options for rum drinkers."
This refreshed interest in rum is being reflected in growth stats as well. According to Lachlan Cameron, Lead Consultant at IRI, Total Glass Spirits are enjoying 16 per cent growth (MAT 52 weeks up to the 02/08/2020).
Cameron says that dark rum is performing well with 13.4 per cent value growth, although it's growing behind the total glass spirits category. Whereas spiced rum is the real star performer with 20.6 per cent value growth, which is outperforming the glass spirits segment.
"Spiced rum is the ninth biggest glass spirits base but the third fastest growing. Glass spirits are booming off of renewed interest of Australians in making cocktails at home," Cameron said.
Growth is being driven from an existing brand base, but also from a range of new entrants to the market which are piquing interest and driving exploration across the board.
As Sailor Jerry's Brand Manager Hannah Ellerkamp said: "It is definitely a strong and emerging category. There are more entrants coming into the category and it provides consumers with a lot of choice for a lot of different palates and drinking styles.
"Rum has always been quite important within Australia and especially within the east coast. It is definitely an important category and one where we see quite a bit of development happening in the future."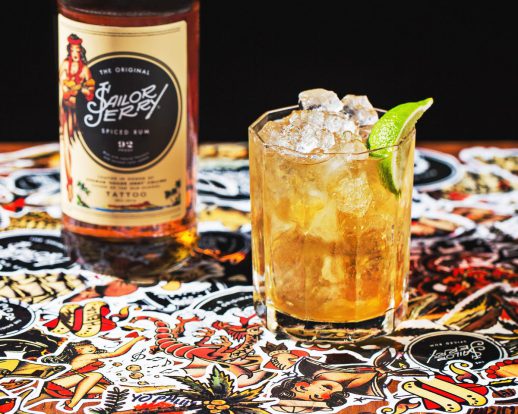 Will rum be the new gin?
Some in the industry have noted that the promising numbers coming from the rum category indicate it may become the new gin, in that it is set for an explosive burst of popularity.
Tanya Mah, Brand Manager for Kraken at Proximo Spirits said early indications are looking this way.
"Gin is a prime example of premiumisation in Australia recording YOY category growth. The same drivers are also prevalent in rum with consumers prepared to spend more on the products they see as better quality," Mah said.
Premiumisation is also something that Brix Distillers thinks will contribute to rum's further expansion of influence, like it did for gin.
"Rum is in the midst of its premiumisation journey and is growing in the US, France and the UK and as Australian generally follows a few years behind, we hope to see a big upturn in rum premiumisation over the next few years as the gin category hits its saturation point," Brix co-founder James Christopher said.
"As palates change and mature, people are starting to look outside their regular purchases and starting to explore the rum category. Knowing that there are a number of Australian rum producers in their early stages right now, there will be a boom in Australian rum over the next few years and that will translate into a more educated and discerning consumer."
The distributor of Brix, Swift + Moore Beverages, noted the similarities between the categories and Cameron Crowley said: "The explosion of craft and small batch gins demonstrates a pathway for innovative and category leading brands such as Brix."
Catada said he is hopeful that the future of rum goes down the same path as gin, but it will depend on what industry leaders choose to get behind.
"The question really is – what is next after gin, or what will early adopters choose next? I would think they will be seeking a different flavour profile … Aged rum is an obvious choice and perhaps flavoured rum which could also associate with the current trends in craft, sustainability and all-natural ingredients."
Read the rest of this story, including how the rum category is being reinvented with potential for more transparency, definition and growth partnerships, in the October issue of National Liquor News here.