"Old No15 Bourbon and Cola Supporting the Independent liquor retailer first"
Old No15 Bourbon is a true Kentucky Bourbon rested in charred Oak barrels in Kentucky before making the journey from the USA to Australia where it is blended to deliver a full bodied well-balanced and smooth Bourbon.
Old No15 Bourbon is so named because Kentucky was the 15th state admitted to the Union in 1792 and has since gained a reputation for crafting some of the world's finest Bourbons.
Bourbon and Cola has long been the leader in the RTD category in Australia and as such is used to drive foot traffic into stores. It is the weapon of choice on the battleground of many large retail banners each competing for their share of a growing market.
Now the Independent liquor retail sector has a brand they can call their own.
Edgemill Group is proud to offer our fine Old No15 Bourbon and Cola to our Independent liquor retail partners exclusively to assist them to provide their customers with a unique offer that represents exceptional value and the highest quality.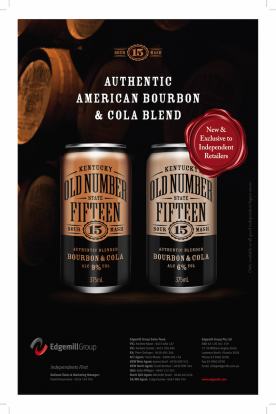 Edgemill Group has blended Old No15 Bourbon and Cola to deliver a spritzy carbonation with a cola sweetness that does not detract from the smooth and well-balanced flavour born from old Kentucky know-how, the charred oak barrels and the unique blend that Old No15 Bourbon drinkers know and love.
Edgemill Group remain committed to supporting our independent liquor retail partners for as long as they remain committed to Edgemill Group.
This symbiotic relationship is the foundation stone that Edgemill was built on and we hope it remains long into the future.
Old No15 Bourbon and Cola is available in 375ml 4packs in either 6% or 9% ABV variants.
Old No15 Bourbon and Cola is now available at all good Independent liquor retailers nationwide.