As warm weather and the summer holidays come closer, the urge to pop a cork grows ever stronger, and customers will be flocking to Australian retailers to grab a bottle of bubbly.
While the emphasis tends to be on sparkling white wines, sparkling reds have a long history in Australia, and can offer another dimension for retailers looking to capitalise on drinkers' love of all things bubbly.
National Liquor News spoke to leading producers to hear why retailers should keep sparkling reds front and centre as the festive season nears.
A historic category
The sparkling red sub-category taps into ongoing trends in the wine industry, such as the increased popularity of chilled red wines and alternative sparkling styles. Nevertheless, it is a wine variety that has had a presence in Australia for over a century.
Leanne De Bortoli, third generation Winemaker and Yarra Valley Estate Manager at De Bortoli Wines, introduces the category's story.
"Sparkling red is a very unique style to Australia, which has been made in the Grampians since the late 1800s, most famously by winemaker guru Colin Preece in the 1930s and 40s," De Bortoli says.
Clare Dry, Senior Winemaker at Seppelt, also illustrates how the winery has been closely linked to this style for many decades.
"Seppelt pioneered this iconic wine style back in the 1890s," Dry explains.
"Its creation was a happy coincidence that occurred when Charles Pierlot, a Champenoise winemaker who joined the Great Western cellars in the 1890s, found that he was limited in the grape varieties available to craft sparkling wine.
"We didn't have the traditional Champagne varieties of Pinot Noir, Chardonnay or Pinot Meunier planted, this forced Charles to begin experimenting with the established varieties already planted at Great Western, mostly Ondenc and Shiraz.
"Ondenc sparkling has (rightly!) disappeared from Australia's sparkling production but sparkling Shiraz found a niche and has become part of the lexicon of Australian wine history that we continue on today."
Shiraz is undoubtably the king of sparkling red grapes, but there remains some space for experimentation and alternative blends. Frankie Harding, Communications Manager of Casella Family Brands, explains how Morris of Rutherglen developed a Shiraz-Durif style.
"In 1988 Morris decided to produce a uniquely Australian wine style, previously known as sparkling Burgundy," Harding explains.
"Shiraz was the traditional base, but Winemaker David Morris, whose family pioneered Durif in the 1920s, found that the rich body and firmer tannin achieved by adding Durif complemented the Shiraz, making their style distinctly Morris and classically Rutherglen."
From these somewhat humble beginnings, sparkling reds have carved out a niche in the market, and has enjoyed recent sales success, as De Bortoli demonstrates.
"As for market growth, sparkling red in Australia is growing +1.3 per cent in dollars versus LY in the latest MAT [dated 21 August 2022]," De Bortoli says.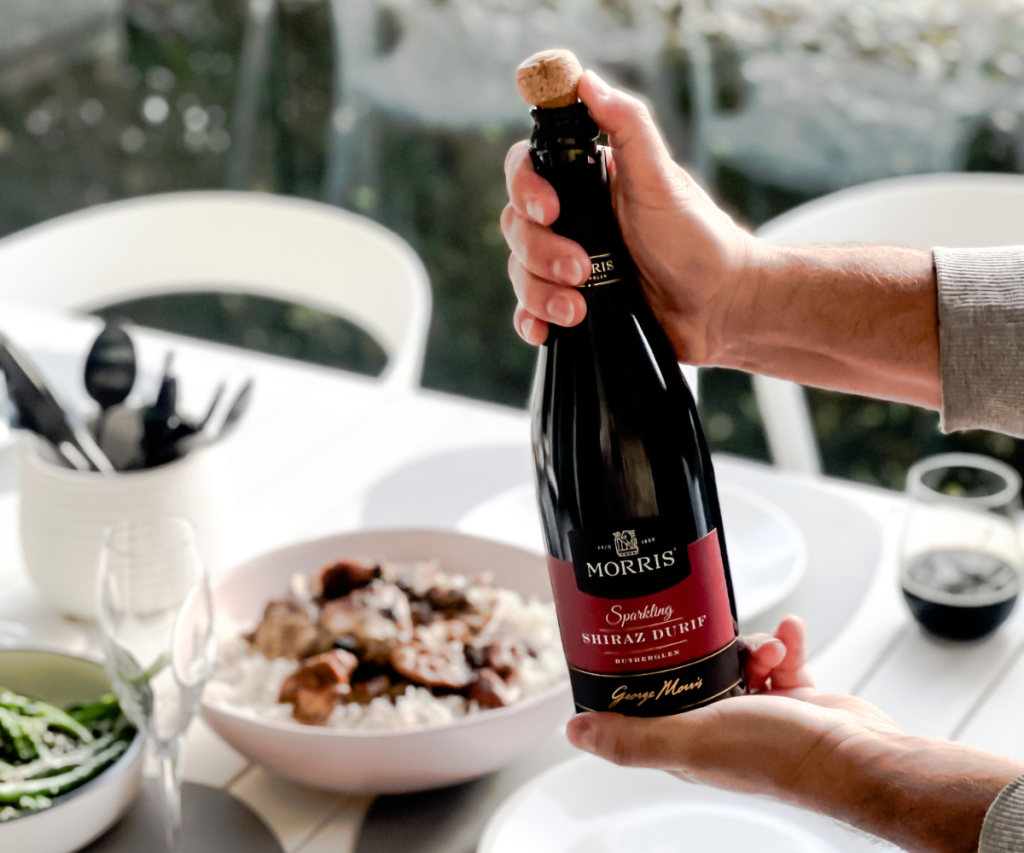 More than a gimmick
These wines are more than just the simple collision of two leading categories, red wine and sparkling, and themselves are excellent demonstrations of Australia's finest growing regions.
"Grapes for the De Bortoli Woodfired Heathcote Sparkling Shiraz are sourced from vineyards at Corop, Colbinabbin, and Chinamans Bridge in Northern Heathcote located in Central Victoria, Australia," De Bortoli says.
"Chief Winemaker, Steve Webber, believes that to make wines of 'detail, texture and minerality, charm and interest' it has to be about 'site and season.'"
In terms of production methods, these wines are just as carefully crafted as their white and still counterparts. De Bortoli uses a period of oak-ageing to "further soften and evolve" the wines.
And Morris blends its wines from multiple vintages and uses the traditional technique of lees ageing.
"A range of vintages are selected for inclusion, with the older wines imparting soft and mature flavours while the younger wines provide a vibrant fruit lift. After blending all components of the base, the wine is bottled with yeast, and allowed twelve to eighteen months contact before the yeast is removed," Harding says.
Meanwhile, the same 'méthode traditionnelle' used to make Champagne is utilised by Seppelt for its Show Sparkling Shiraz.
"The Show Sparkling is a layered and complex wine with 10 years on lees in tirage before it is disgorged for bottling," Dry explains.
"This wine is a benchmark example of an iconic Australian wine style and has a long history dating back over 125 years."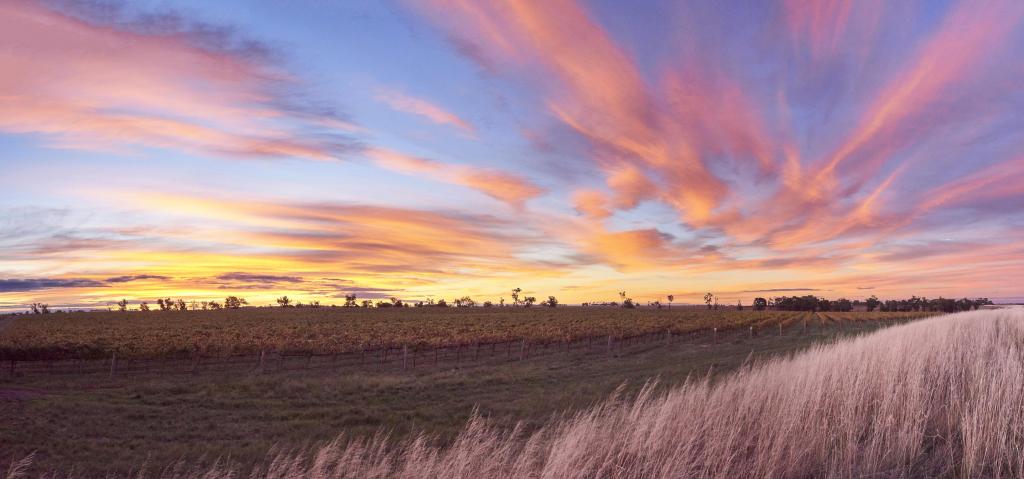 Reds ripe for the occasion
Here in Australia, our Christmas traditions are shaped by history and heritage, alongside the local climate. This unique confluence means sparkling reds are particularly resonant for Australian drinkers, capturing the traditional Northern Hemisphere festive flavours of red fruits and spice, but able to be served at summer-appropriate temperature.
"Sparkling Shiraz has become a traditional part of many Aussie Christmas celebrations, the rich plum, blackberry and chocolate notes along with the spice and fragrance conjures the feeling of Christmas for many people," Dry says.
De Bortoli also makes the connection to traditional Christmas flavours, but suggests additional pairings.
"The De Bortoli Woodfired Heathcote Sparkling Shiraz is particularly suited to the 'foaming style' with ripe, deeply scented fruit and soft vibrant tannins," De Bortoli outlines.
"Intensely purple from dark fruits, plums and spice with fine crimson bubbles, and balanced sweetness. A great summertime fizz and whilst most popular with Christmas pudding, this wine is also delicious with sweeter spicier food styles."
De Bortoli also noted that wines in this style can be an excellent gifting alternative to the more mainstream sparkling wines.
Chris Mattes, Customer Marketing Manager for Casella Family Brands, says that retailers have an advantage to gain from widening their selection during the gifting season.
"Sparkling reds is a category that always shows a strong sales spike over Christmas," Mattes comments.
"Having a selection available on the shelf and in the fridge will ensure that your customers have a uniquely Australian celebration drink that's an alternative to Champagne and sparkling white wines and is equally glamorous."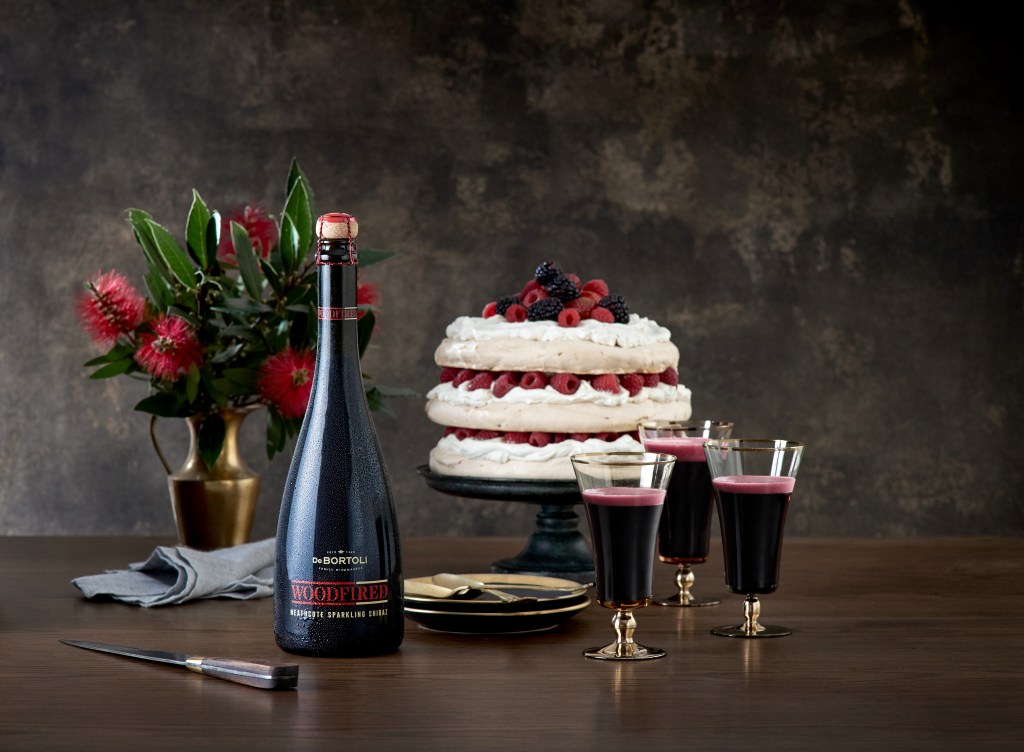 Introducing sparkling reds to drinkers
For retailers, connecting the style to traditional red wines can be an effective means of introducing it to new drinkers.
"Traditional sparkling reds talk to consumers who love their red wines and want to enjoy something a bit different, particularly during the traditional occasions of Christmas and Easter," Mattes says.
And for Mattes, the wide price range of the category also ensures that there is a wine for every drinker's budget.
"There are plenty of styles to choose from across a range of price points, from entry level to premium wines," he continued.
"Sparkling red wines are a signature Australian wine style and celebrate some of our hero varietals. It is versatile, delicious, celebratory and relaxed."
The distinct Australian nature of these wines is as point that Dry is keen to stress too, saying: "Given its claim as the only truly original Australian wine style, I'd love to see it become the go-to wine that Aussies turn to when celebrating special events."
Nevertheless, Dry also highlights the versatility of the style – suggesting this is not a wine just for Christmas.
"I always like to remind people that sparkling Shiraz can be enjoyed year-round though, it's a perfect sparkling to enjoy in the cooler months," Dry concludes.
For more insights about the wider sparkling wine category in Australia, keep your eye out for the October issue of National Liquor News, out soon.