With multiple new releases in Australia within the space of only a few months, it's been a busy end to the year for Constellation Brands. 
Some of the interesting products the company has launched in the country recently include Svedka Rosé Vodka and wine labels like State of Light, Round Theory and The Group. Each of these new products or ranges tap into global consumer trends, while providing something new and different to shoppers. 
Driving many of these recent launches is innovation and this is something that Rowan Dean, VP Commercial Development Asia Pacific at Constellation Brands, said is core to the company's philosophy in the Australian market.
"Innovation is at the heart of everything we do. Consumers and retailers are looking for brands that align to their values, lifestyles and trends, and we plan to keep innovating to deliver brands that tick those boxes. We innovate with a view of where the world will be in five to ten years time and how consumer needs will be changing to try stay ahead of the curve," Dean told National Liquor News.
"We're always looking for ways to turn consumer insights into new brands and push the boundaries of innovation in what has been a relatively traditional category for some time. We have a dedicated growth team who work tirelessly on potential innovation with some lofty ambitions – so it's fair to say that you'll be seeing a lot from us in the coming years."
According to Dean, there is something for every consumer and every occasion in the Constellation Brands portfolio, as they play across some exciting spaces and categories. 
One example of this is how Constellation Brands recently brought Californian wine label Robert Mondavi Private Selection to the Australian market along with its range of spirit barrel aged wines, including the world-first limited release 2018 Rum Barrel-Aged Merlot. 
The winemaker at Robert Mondavi Private Selection, Glen Caughell, described the wines and noted that same value of innovation of the Constellation Brands company as also being the legacy of the founding winemaker and brand namesake, Robert Mondavi himself.
"Our philosophy at Robert Mondavi Private Selection has always been centred around innovation – passed on from our founding winemaker Robert Mondavi's trailblazing legacy and ingenuity. We are thrilled to be able to launch this boundary kicking innovation – a perfect balance of premium Californian coastal fruit and barrel complexity to produce cleverly structured and expressive wines," Caughell said. 
Along with Robert Mondavi Private Selection, other new releases from Constellation Brands also employ innovation in their production methods. 
The State of Light wine label, for example, was driven by health-conscious consumer demand for lighter and lower ABV beverages, and the overall 'better for you' trend. To create these types of wines that still retain a full flavoured and premium nature, State of Light uses a special spinning cone method of de-alcoholisation, which preserves the distinct characteristics consumers know and love from each varietal. 
But Dean said it's not just the production method of brands like State of Light that fit the innovative approach of Constellation Brands – it's also the ability to cater to the complex needs of consumers under overarching trends like the 'better for you' concept.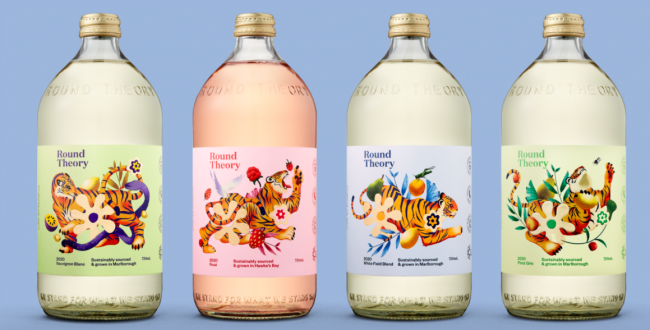 He said that consumers don't want to be limited in choices under these types of trends, and instead: "are looking for lighter options across the whole category, so we'll look to provide alternatives that suit the modern lifestyle."
Innovation in recent new releases also extends into such areas like sustainability, as illustrated in the launch of the Round Theory wine range. Driven by a global consumer desire to be more environmentally friendly, Round Theory aims to be a sustainable wine label from all angles. 
As Dean explained: "Round Theory has been consciously crafted from the ground up to have a positive impact on the planet. It's designed for wine lovers looking to make more environmentally friendly decisions in their everyday lives. The range features four delicious varietals: Rosé, Sauvignon Blanc, Pinot Gris and a White Field Blend, and this brand is all about sustainability and minimising our carbon footprint, every element carefully considered.  
"We've partnered with CarbonClick to ensure that we are climate positive, we're off setting at least double our carbon emissions for this brand, which we are proud of. Our carbon credits are then used in four global preservation and conservation projects – including Rainforest Conservation in Panama and The Yarra Yarra biodiversity corridor in WA. 
"At the beginning of this project, we challenged ourselves to figure out what was the most efficient way to hold 750ml of wine which results in our unique bottles – made from bottles which are 30 per cent lighter, 35 per cent shorter and made from clear glass to improve recyclability and have a lower carbon footprint due to shipping efficiencies."
In addition, all Round Theory wines are certified vegan and created from sustainably grown and sourced vineyards in New Zealand, while the brand is a member of Sustainable Winegrowing New Zealand.
Sustainability was also front and centre for the creation of The Group, an Australian wine label born from a partnership with a grower-owned collective, and is something Dean noted was part of the future strategy for Constellation Brands. 
"[In future we plan to] extend our sustainability platform and look to introduce Round Theory into new categories and segments. We'll also keep pushing the boundaries for sustainable packaging and partnerships across our whole portfolio to make sure we not only taste good, but do good," he said. 
Outside of the wine sector, innovation at Constellation Brands does not slow down, as evident in another new release –  Svedka Rosé Vodka. The rosé vodka blend caters to current consumer tastes, especially around the pink drinks movement. 
"Svedka, while it's not yet that well known in Australia, is known globally for breaking the mould in the vodka category and championing bold new flavours and infusions. The Rosé Vodka aims to give both vodka and rosé wine fans a fresh and simple take on their favourite drink," Dean said. 
As for what's next in innovation at Constellation, Dean hinted at the expansion of the spirits portfolio, showing that creative thinking and product development is a focus for the company across all sectors of the industry.