In the November issue of National Liquor News, Snooper CEO, Laurie Wespes, compares the past two year's worth of in-store activations for the celebration season, to predict where opportunity lies in 2021.
The spring races to New Year period, traditionally the highest liquor sales period of the year, looked somewhat different in 2020 compared to 2019 in a number of respects, given a still-muted on-premise, and limited events gathering numbers in some areas across the country. So what will this period look like for the off-premise in 2021?
To that end, here we look at off-premise store activation changes in 2020 versus 2019 using our 'How to win during key selling periods' report series, to provide a heads up on what's 'in store' for the 2021 season.
Brands battle for display share amongst the strongest categories
The number of off location displays in national chains nearly doubled between spring racing and the festive season in 2020, although display increases in independents were more modest, likely due to independents flaunting more displays and promotions throughout the year.
Wine accounts for almost a quarter of dollar sales in the festive season. Whilst wine remained the most off-located category in 2020, the top three brands winning share of display within the category shifted. Pepperjack is still on the podium, but Oyster Bay and Jacob's Creek made way for Kim Crawford and Hardys.
Sparkling wine and Champagne's share of all displays more than doubled between spring racing and the festive season and continues to increase in this period year on year. Some of the podium winners changed in this category too; whilst Brown Brothers and Yellowglen still featured heavily in the top three, Jacob's Creek replaced Chandon, and Mumm pipped Piper Heidsieck for line honours.
The spirits category's share of displays multiplied at an even faster clip than that of sparkling wine, more than doubling between spring racing and the festive season. In 2020 again Baileys won share of display within spirits, investing above fair share during Christmas versus its two per cent volume share in total spirits (Euromonitor 2018). But the news in spirits displays goes to Aperol, again on the podium but even stronger after an upswing versus 2019, and to Johnnie Walker whose share of display increased versus last year.
RTDs looked a bit different to the prior year, with more vodka based RTDs, particularly Cruiser, on the brand display podium, knocking out Wild Turkey and Canadian Club from 2019. Jack Daniel's and Jim Beam were the other podium standouts. Whilst hard seltzers increased their share of displays as we foreshadowed in our article on this topic last year, and raked in $11 million over the Christmas period, they haven't yet reached podium status in display scale. This may change in 2021 given Endeavour Group's recent announcement that they would be doubling the hard seltzer range in 80 Dan Murphy's stores.
Again, because of the increase in displays and share of space for spirits and sparkling wine, beer lost out after the footy finals. However, its display share began to recuperate shortly after the New Year.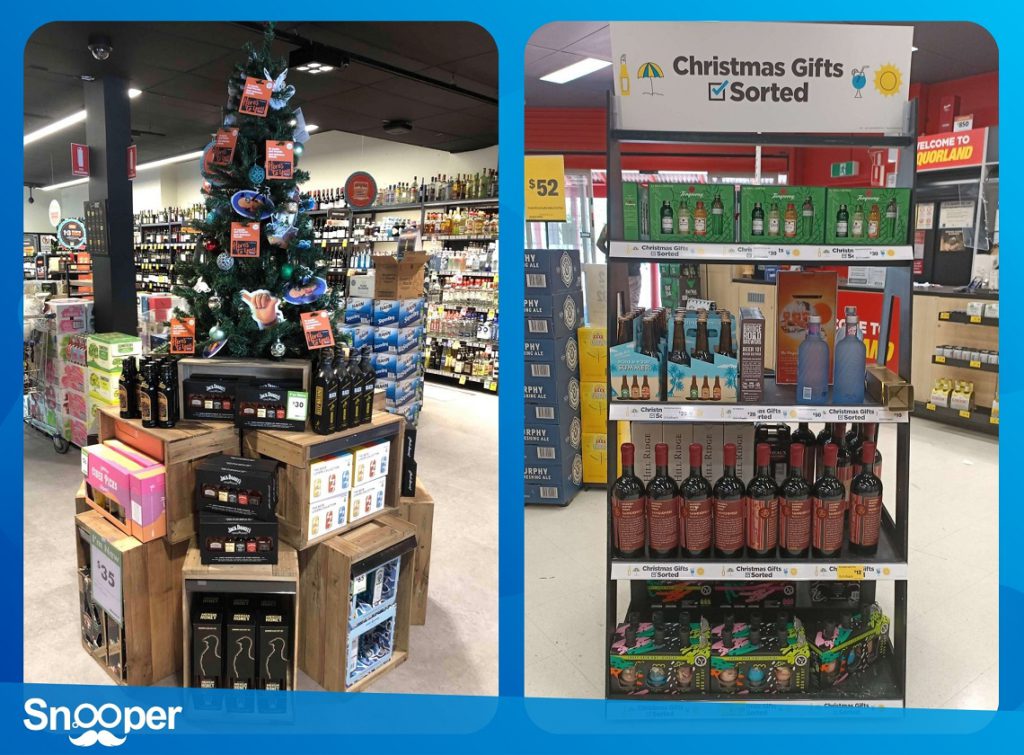 Where's the theming?
Whilst location remained the number one lever for impactful displays for our shoppers, with size of display second, theming is third. And theming is ranked as significantly more important during the festive season than at other times of year as shoppers look for inspiration, with or without a price discount.
In 2019, fewer than one in five brands themed their displays festively, and this dropped even further in 2020, perhaps reflective of off-premise COVID struggles with, and focus on, the basics of stock weight and on-shelf availability. Branded themed spring racing displays in 2020, particularly for sparkling wine and Champagne, were largely missing in action altogether.
One bright spot in amongst this was the number of retailers creating gifting corners and gifting theming to tie into the Christmas period and the consumer problem of not knowing what gift to buy, according to McKinsey/Periscope in 2019. Brands have an opportunity to tap into this, given that according to our Snoopers, the number one driver of gift choice is festive packaging, ranked of higher importance than discount.
All in all, 2020 saw a drop in theming despite a consumer desire for it, and a fairly invisible spring racing activation set. As NSW and Victoria emerge from lockdowns in time for the 2021 racing, festive and summer seasons, with their attendant gatherings and celebrations, but closed borders (at the time of writing), it remains to be seen whether brands and retailers have been able to overcome the struggle to achieve the basics in order to surprise and delight with occasion based relevant displays. Let's hope brands and retailers will embrace the 2021 festive season.
Get in touch with Snooper to find out more about its 2021/22 'How to win during key selling periods' report.
Find more great articles like this in the November issue of National Liquor News.