In a time before social media stars helped shape our consumption habits, traditional celebrities were the original influencers.
Actors and musicians have always appeared in advertising across any number of goods and services to tell us what to buy and why, being the face of campaigns spruiking anything and everything, including liquor. And today, there continues to be a growing number of these celebrities taking this a step further by becoming creators, owners and directors of brands and products in the liquor industry.
It could be easy to write this off as a marketing ploy, but the reality is much more interesting than that, with these celebrity-backed brands being strong contenders in Australia's liquor market in their own right. Here, we look into a few of these brands in the spirit world and find out why their success is driven by more than a familiar face, and why they're worth serious consideration for your store.
How celebrity spirits start
Celebrities have gotten involved with spirits brands in a number of ways, at different stages of the brand's conception.
Some have been there from the start, like actor, comedian, musician and producer, Dan Aykroyd, with Crystal Head Vodka. Aykroyd co-founded the brand with renowned artist, John Alexander, after also initially being involved with bringing Patron tequila to Canada.
Daniella Vizzari, Marketing Manager for Globefill, the manufacturer of Crystal Head Vodka, said: "Dan set out to create an additive-free vodka, something no other brand was doing at the time. He was eager to bring creativity into the vodka industry."
Aykroyd and Alexander's vision was to "clean up" the premium vodka market by avoiding ingredients like glycerol, citrus oils and sugars that many producers were using to mask the taste and smell of vodka. They were instrumental in the creation and direction of the brand and Aykroyd remains so today.
"Crystal Head Vodka is not just a celebrity brand. Dan Aykroyd is an active co-founder, majority shareholder and investor. He is passionate about the quality of the products and has proven years of experience in the alcohol industry," Vizzari said.
Celebrities also come into the spirit industry with already established brands, as was the case for actor and producer, Ryan Reynolds, and Aviation Gin. The brand was first produced in 2006, but it wasn't until some years later that Reynolds joined.
Travis Tober, Director of Education and Advocacy at Aviation Gin, said: "Ryan Reynolds joined the team a little later in 2018, after he discovered Aviation Gin, naming it 'the best damn gin on the planet'. He invested in the company, and is now a co-owner, responsible for the creativity behind the brand."
Then there's the natural evolution of brands and their celebrity partners, especially those that come on board as spokespeople, or as creative directors, like Matthew McConaughey did for Wild Turkey. The multi-year partnership between Wild Turkey and McConaughey began in 2016 and extended into the creation of a new Wild Turkey expression with Longbranch, which saw the actor team up with Master Distiller father-son duo of Jimmy and Eddie Russell.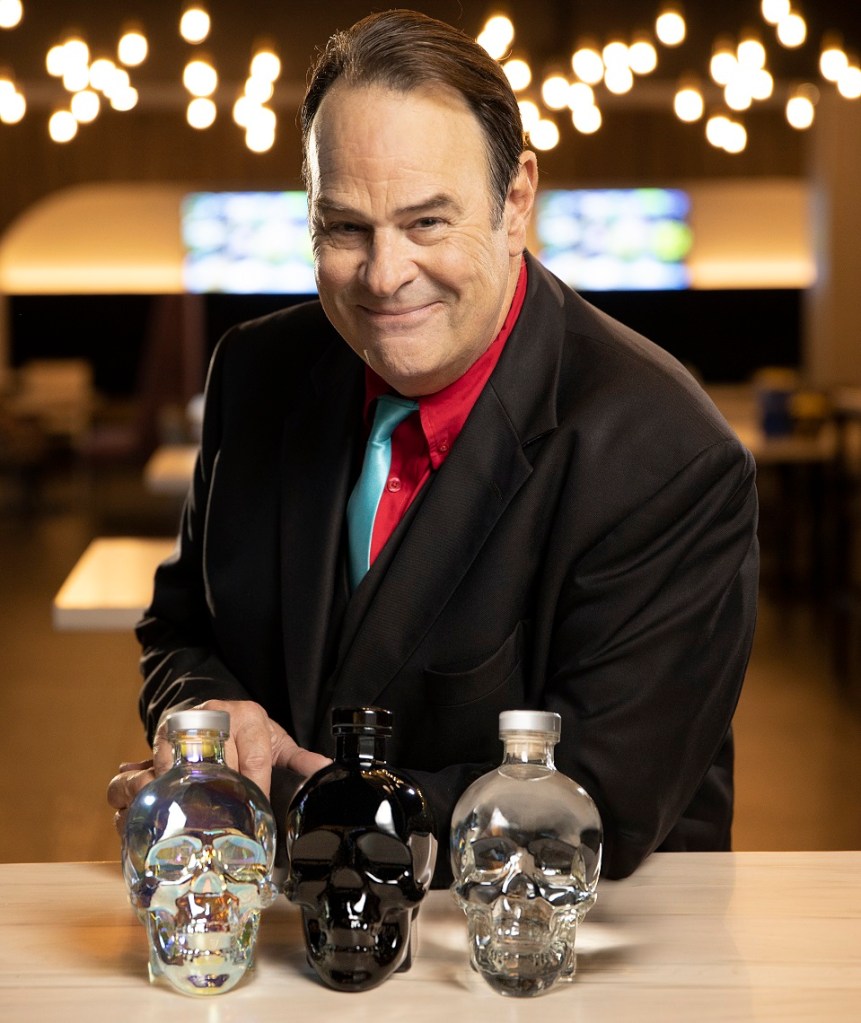 Misconceptions about celebrity spirits
Brands like Crystal Head Vodka and Aviation Gin agree there are some misconceptions amongst the industry and consumers when celebrities are connected with spirits brands.
"I think a lot of people assume that when a celebrity stamps their face on a bottle, it's to boost their own image and the taste of the alcohol hasn't been thoroughly considered," said Tober.
While that may have been the case for some, Tober said it isn't for Reynolds, who has a genuine passion for the brand which drove him to invest so much into it.
It's a similar story for Crystal Head Vodka, with Aykroyd being driven by his appreciation of the liquor industry and his desire to get involved with something different. Nerrida Amos, Brand Manager at Amber Beverage Australia, the local distributor of Crystal Head Vodka, said there is often a common misconception around the idea that celebrities are the sole reason brands see long-term success.
"Many attributes play a role in a liquor brand's success, whether celebrity-backed or not—for example, the brand's uniqueness, the consumer's needs, consistency, and the evolvement of the brand. Celebrity-backed brands which set themselves apart from the crowd and continuously innovate and evolve are the ones that set themselves up for long-term success," Amos said.
Tober had a similar point, and noted that the space has significantly evolved over the years to be one that is quite competitive with other brands on the shelf.
"The game has well and truly changed with celebrity-backed spirits. Almost everything coming out of these brands is a premium, well-made product that has a well-oiled and experienced beverage team behind it. Contrary to what some people may think, celeb-backed brands are definitely not just for show. Distiller, Brand Ambassador, Sales team; you name it, they got it!" he said.
More than just a familiar face
There is certainly more to celebrity-backed spirits than just a famous name. As Amos and Tober said above, this is just one part of a complex formula for success.
Wild Turkey, for example, is already a well-known icon in the bourbon space – the partnership with McConaughey and the creation of Longbranch is another point of difference added to this iconic status. The rare small-batch bourbon was the first expression inspired by someone other than the Master Distillers.
For Aviation Gin, the unique drawcards of the brand extend beyond Reynolds as owner, because of how it stands apart from competitors as an American gin that focuses less on the traditional juniper taste, and more on a "balance of floral, citrus and spice, resulting in a gin that was made with cocktails in mind," according to Tober.
And Crystal Head Vodka, which now has three SKUs in its range with the original flagship vodka, followed by Aurora and Onyx vodkas, finds its extra points of difference by placing creativity at the heart of the brand.
As Vizzari said: "Our original vodka is crafted from locally sourced Canadian corn, offering a silky-smooth vodka with a hint of sweetness and vanilla. Aurora uses the highest-quality English wheat with its iridescent metallised finish bottle, offering a crisp, drier, bolder vodka. Our latest expression of vodka, Onyx, is the first commercially available agave-based vodka with subtle hints of agave, citrus, green grass and white pepper. All our Crystal Head expressions are blended with the pristine water from Newfoundland, Canada and filtered through Herkimer diamonds."
The future of celebrity spirits
Despite so much development already, there are more great things set to come from celebrity-backed sprits brands as they continue to make an impact on the global liquor industry.
For example, McConaughey's multi-year partnership has also seen him be heavily involved with the Wild Turkey Gives Back and Wild Turkey With Thanks programs, which champion those who give back to their communities. In the retail world, recognising these stories from brands can help boost interest in consumers who connect to brands with values they believe in.
Tober said that with strong connections to consumers, followed up with exceptional liquids, celebrity spirit brands like Aviation Gin will remain strong contenders in the Australian retail market.
"Alcohol production has become an increasingly popular side hustle amongst Hollywood's most elite; a rather lucrative side gig between blockbuster hits. It's a testament to the demand for premium alcohol, which they can afford to invest in, as well as providing a new and interesting way for consumers to connect with their favourite celebs off-screen," he said.
Amos too believes we'll see more celebrities try their hand at spirits, but one of the important things to remember when this happens is to look for ones that are ahead of the innovation curve.
"The liquor industry is such a dynamic and fast-paced one; it's more about what sets your brand apart from the crowd and how you'll keep the brand's momentum going and ensure your consumers are interested and advocate for your brand," Amos said.
"Without getting caught up by celebrity status, consider what we do differently and the innovation in the category against other brands that already exist. Think what will drive the brand's consumer appeal – is it just the celebrity, or does the product have something special and unique to offer that will drive long-term, sustainable growth and keep consumers coming back?"