It's not often that a product manages to harness not one, but two of Australia's great drinks industries, but this is a feat achieved by Aussie grape gins.
The nascent category, a genuine Aussie innovation, combines both Australia's craft distilling and its world-class wine industries, to produce something new and exciting for consumers.
Where do grape gins come from?
When it comes to this category, there's one clear place to start – and that's Four Pillars Bloody Shiraz gin. This expression can be credited with more or less kickstarting the style, as Four Pillars Co-founder, Stu Gregor, explains.
"Bloody Shiraz Gin started as a crazy experiment back in 2015, when our distiller Cam Mackenzie steeped a parcel of locally sourced Shiraz grapes in our original Rare Dry Gin, just to see what would happen," Gregor says.
Sean Baxter, Co-founder of Never Never Distilling Co (which produces its own combination of gin and Grenache grapes, Ginache), is quick to give kudos to his peers at Four Pillars.
"Grape gins tend to be very much an Australian style, thanks in particular to Four Pillars Bloody Shiraz, which kicked off the category," he said.
Nevertheless, there is a kind of precedent for gins of this style, and it comes from the spirit's traditional homeland of the UK.
Owners of Seppeltsfield Road Distillers, Nicole and Jon Durdin told National Liquor News: "Living in the UK, we discovered sloe gin, so when we moved back to the Barossa, it was only natural for us to turn to the local commodity, grapes, to hero in a flavoured gin.
"There was also curiosity from [Australian] growers to see what can be created from their premium grapes, besides wine."
Gregor too, tips his hat to the influence of sloe gins, and said: "We'd like to own the category but you could say they are a take on English sloe gins, but a lot less sweet! Us Aussies like to innovate however we prefer to use full-bodied fruit such a Shiraz as we think grapes make a much better drink. Who wouldn't love the combo of gin and wine?"
However, Baxter believes the style taps into something essentially Australian – the general attitude towards the home-grown wine industry, which is at once irreverent and respectful.
"I think in large part it's down to the fact that Australians are really quite knowledgeable about wine varietals. We often love to take the piss when it comes to 'Savvy B' or 'Chardy' on Kath and Kim but we've been instilled with such a strong understanding of wine style through popular culture that when a gin calls out a Shiraz or Pinot grape, a consumer is immediately aware of the flavour," Baxter says.
This style of gin also showcases different varieties of grape grown around Australia. Whisky giant, Lark Distillery, is another producer that has tried its hand at a grape gin as part of its Forty Spotted range, producing a Tasmanian Pinot Noir expression with grapes from the esteemed Frogmore Creek vineyard.
"This style of gin is proving popular with consumers because it responds to so many trends within the gin category; exploration of flavour; quality ingredients; opportunity be experimental with drinks and cocktails," Forty Spotted's Head Distiller, Rick Hoedjes says.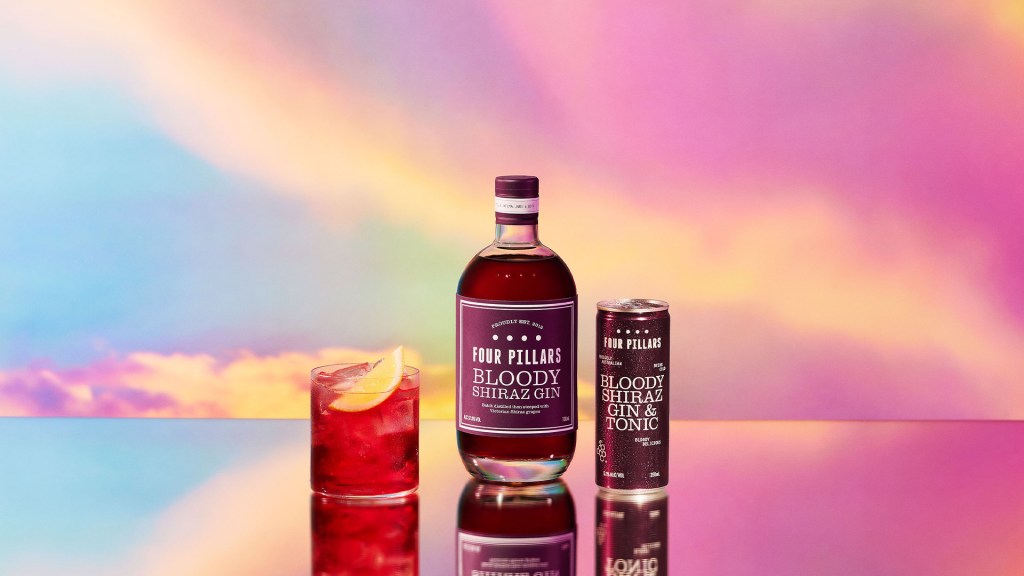 How are these gins made?
As with any innovation in the drinks industry, there are some production quirks that retailers should be aware of.
"When it comes to our Ginache, we first harvest the Grenache fruit where it is destemmed and then pressed, with the resulting juice used to dilute a high proof gin. All this happens within a very short window because we don't want the pressed juice to begin to ferment aggressively," Baxter explains.
"The resulting gin is then allowed to rest on the skins to take on more colour and flavour."
Seppeltsfield Road Distillers, which produces both Shiraz and Semillon infused gins, follows a similar system.
"We use a maceration process to craft both our Semi and Shiraz gins. Grapes are macerated in our house gin for anywhere up to three months, depending on the vintage and growing season," the Durdins comment.
"Grapes aren't fermented – they stay fresh and retain their natural sugars, which contributes to a flavour profile that is balanced with sweetness and tannins. The grapes are pressed out leaving us with a vibrant colour (golden for Semi and dark for Shiraz) as a result of skin contact during the maceration process."
There is one point that Baxter is keen to stress, that the industry should remember: in the most part, these gins do not contain wine.
"It's not a wine gin. The grapes that we use in the production process are not processed into a wine, so it's a slight misconception," he said.
As ever, there is an exception to the rule, with Forty Spotted doing things slightly differently, as Hoedjes explains.
"We harvest local Pinot grapes and partially ferment them (partial fermentation is the key to creating more complex aroma and flavours). We then stop the fermentation halfway by adding the distilled spirit into the fermentation. The added spirit then draws out more flavour from the grapes and after a short period of macerating, the grapes are pressed out," Hoedjes said.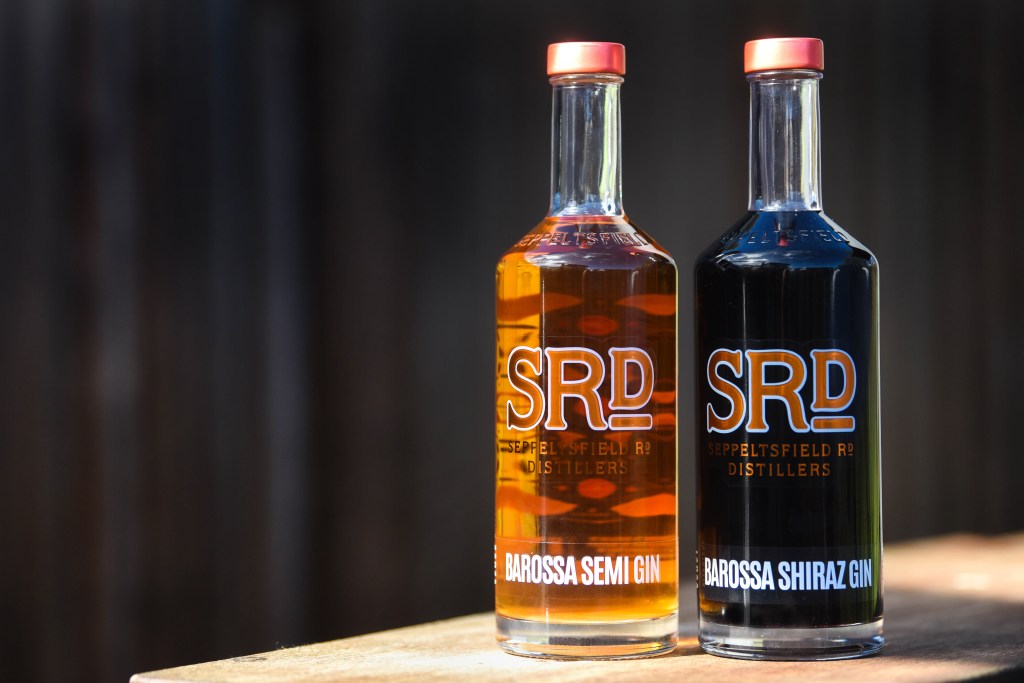 How should grape gins be used?
Although the gins might appear dark and brooding on the surface, Baxter believes they are surprisingly adaptable.
"The great thing about our Ginache gin is that it really is so versatile. Depending on the consumer, it can be enjoyed simply neat, poured over a large block of ice and garnished with a fresh orange wedge. Alternatively, given the natural sugars in fresh Grenache juice, a simple soda serve is a great way to balance the sweetness of the drink," Baxter says.
"We love substituting classic serves that traditionally use sloe gins with our Ginache. Gin Sours, a Martinez or a Charlie Chaplin are all incredible serves when you add the bright, fruit character of our Ginache."
Seppeltsfield Road Distillers recommend serving its golden, Semillon-infused 'Semi' gin topped with Prosecco and garnished with an orange rind.
Simple serves, that are easy to communicate with consumers, are also contained within the category.
Hoedjes said: "We enjoy our refreshing Forty Spotted Pinot Noir Gin signature serve with Strangelove Smoked Cola in a glass with lots of ice, garnished with fresh lime wedge."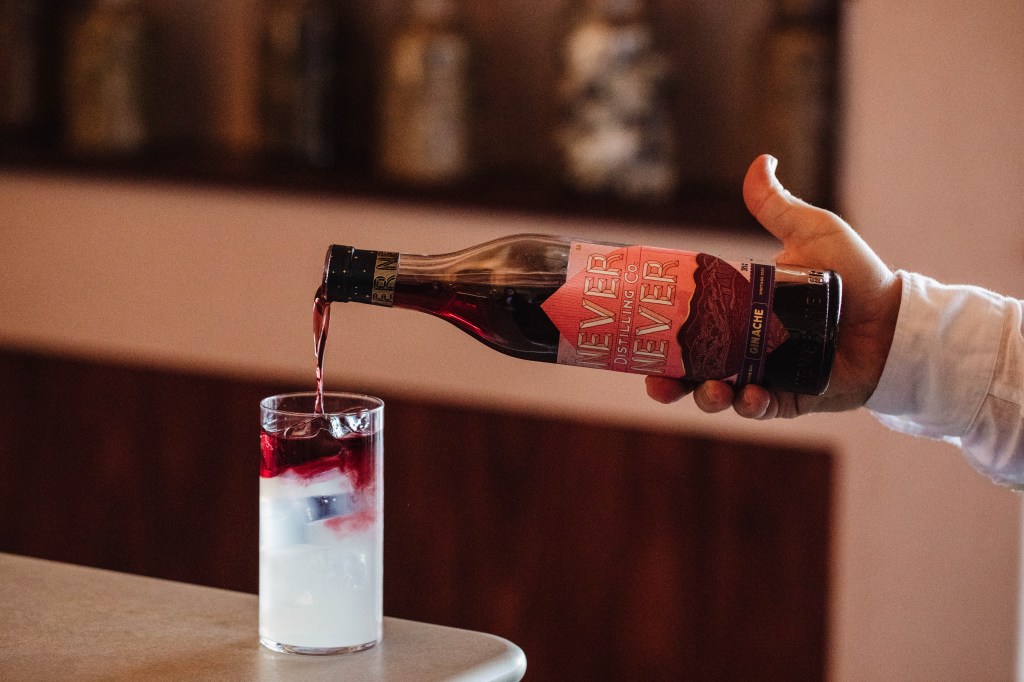 What is the retail opportunity behind these gins?
Opportunities abound for retailers in a style of gin that is wholly Australian, visually arresting on the shelf and gathering momentum. National Liquor News asked producers what key advice they had for retailers looking to capitalise.
The Durdins believe that a focus on place can help tell the story of these gins.
"The quality, and origin, of produce can greatly influence the flavour profile of grape gins, as can the distilling process. No two Shiraz Gins are the same, so it's about ensuring retailers understand the product."
This message is echoed by those at Forty Spotted.
"These gins have a unique flavour all led by the quality and locality of the grapes used," Hoedjes says.
Baxter believes that the connection to Australia's wine industry provides retailers with a compelling narrative, and one which can be capitalised by discussing provenance and terroir.
"For us and our Ginache Gin we find talking about the difference between Shiraz and Grenache a really powerful tool. Grenache wine has since had a significant increase in popularity over the past five years because of its juicy, fruit forward style and being a lighter bodied option to Shiraz," Baxter says.
"Communicating that grape gins like our Ginache use premium McLaren Vale Grenache grape juice can help customers immediately understand the quality."
Four Pillars has further lent into the wine influence, producing single vintage, single vineyard expressions.
"In August 2021, Four Pillars released the inaugural single vineyard Bloody Underhill Shiraz Gin made in partnership with the legendary Sarah Crowe, and (after it sold out in days) decided to release the 2022 vintage only weeks ago. It's a unique combination of two of the best known-Shiraz drinks from the Yarra Valley – one of the region's finest Shiraz vineyards (Underhill) and Bloody Shiraz Gin," Gregor explains.
Like his fellows in the industry, Gregor believes the key to unlocking sales of this category is focussing on the product's origin.
"It's knowing about the home, and really the heart and soul of Four Pillars which is our distillery in the Yarra Valley. We source all our Shiraz grapes from Victoria and it's just another reason why we are so proud to be a Victorian brand."
Want to know more about premium gin? Read our feature in the September issue of National Liquor News.