Thorn-Clarke Wines has been producing Barossa wines from its family estate for over 30 years. As a 6th generation grower and custodian of 240 hectares of vineyard, the family is well-versed in the unique qualities of the region.
The family lineage of viticulture has also imparted a great appreciation for the incredible diversity of climates and soils in the Barossa – a diversity that has as much influence on the resulting wine as it does on the landscape aesthetic. To celebrate this diversity, Thorn-Clarke's Viticulturist and Winemaker decided to come together in collaboration to bring you a collection of hidden gems from within the Barossa.
"We were discussing the best way to showcase the region's diversity, the significance and quality of individual sites, as well as Thorn-Clarke's own viticultural history within the region," said Head Viticulturist, Steve Fiebiger. "We realised that the best way to do this was to look at the well performing niche varietals from regarded sites and growers, and incorporate them with distinguished sites from our own estate."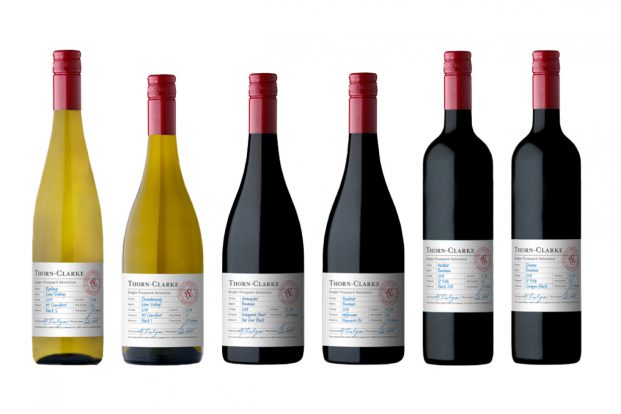 Thorn-Clarke Wines has now released their Single Vineyard Selection – an artisanal collection of small batch wines, produced only from single vineyards throughout the Barossa and Eden Valleys. Each vineyard is hand-selected by viticulturist and winemaker to ensure the end product captures the true characters of the site and variety in the glass. The label takes its cues from a winemaking lab note, reflecting the pursuit of quality found within the process of isolating and nurturing specific parcels of wine.
The Single Vineyard Selection wines receive minimal winemaking influence. "Wild yeast and whole bunch fermentation are used in some of the wines, with minimal to no filtration and matured in mostly old oak across the board. These wines have drinkability, balance and harmony with food, without compromising the complexity or the unique qualities of the individual vineyards," said Chief Winemaker, Peter Kelly.
Since launching, Single Vineyard Selection has received widespread praise, with Sam Kim (The Wine Orbit) scoring the entire range no less than 94 points. The range has also been a popular choice with the likes of critics such as James Halliday, Winsor Dobbin and Bob Campbell.
Thorn-Clarke's Single Vineyard Selection range includes:
Riesling RRP $26, Chardonnay RRP $32 and 4 reds – Grenache, Mataro, Malbec and Shiraz – all RRP $38
For more information and sales, please contact:
Thorn-Clarke Wines – (08) 8564 3030 – cwalsh@thornclarke.com.au
Mezzanine – 1300 555 821